macOS 14 rumors: release date, new features, and more
Everything we know about macOS 14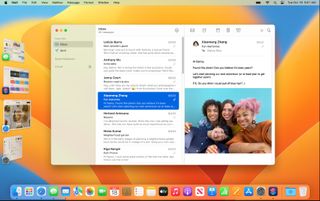 (Image credit: Apple)
macOS 14 will get its official debut today at WWDC 2023, follow along with our WWDC live blog for all of the latest if you can't watch the stream.
Because there haven't been many rumors swirling about macOS 14, it's likely that this will be more of a maintenance release than an extensive upgrade. Well-respected Apple leaker and Bloomberg journalist Mark Gurman said that there likely wouldn't be anything "groundbreaking" about this new macOS version.
Here's everything we know so far about the upcoming macOS release.
macOS 14: Release date
We should get the highlights for macOS 14 during the keynote for WWDC 2023 on June 5, but expect to hear plenty more over the following days as developer sessions dig into more features through June 9.
After macOS 14 is officially announced, Apple will likely release the developer beta. A month later, we should see a public beta release. With macOS Ventura last year, it was announced on June 6, 2022, the first day of WWDC. The Ventura developer beta was released that same day, and five weeks later on July 11, the public beta was released.
The official public release of macOS 14 should be in late Oct. 2023, a few short weeks after the iOS 17 release. macOS Ventura was released on Monday, Oct. 24, 2022 and macOS Monterey was released on Monday, Oct. 25, 2021. If this pattern continues, it's likely we could see the macOS 14 public release on Monday, Oct. 23, 2023.
macOS 14: Possible name
For years, Apple named its macOS versions after cats, like Tiger or Snow Leopard. Starting with macOS 10.9, the company opted for names of California locations. The past five names were Ventura, Monterey, Big Sur, Catalina, and Mojave. All of these names were pulled from a list of names Apple had trademarked.
Vox Media's Parker Ortolani tweeted a list of places in California that Apple has trademarked but never used. Here are all the currently unused, trademarked names:
Diablo
Condor
Tiburon
Farallon
Miramar
Rincon
Pacific
Redwood
Shasta
Grizzly
Skyline
Redtail
Sonoma
Sequoia
Mammoth
Because macOS 14 is likely a maintenance release, people are guessing the version will be named after a location close to Ventura, like Rincon or Skyline. Mark Gurman from Bloomberg suggested Malibu as a potential version name, but Malibu hasn't been trademarked by Apple yet.
macOS 14: Likely supported devices
With macOS Ventura, Apple ended support for certain Macs built between 2013 and 2017. However, that macOS version brought way more features than macOS 14 is rumored to. Since macOS 14 is likely going to be a smaller maintenance update, it's possible that every device able to receive the Ventura update last year will also receive the macOS 14 update.
Nothing is confirmed, but here are the most likely contenders to receive the macOS 14 update:
MacBook (2017 or newer)
MacBook Air (2018 or newer)
MacBook Pro (2017 or newer)
iMac (2017 or newer)
iMac Pro (all models)
Mac mini (2018 or newer)
Mac Pro (2019 or newer)
Mac Studio (all models)
macOS 14: Rumored features
All the rumors swirling about macOS 14 indicate that it won't be a beefy update with a ton of new features. Gurman says that he thinks the focus will be more on updated features in iOS and elsewhere, and then Apple will work on supporting those features on macOS 14.
He says, "The dream scenario is that you own an Apple Watch, an iPhone, a MacBook, an iPad, an Apple headset, and all five of those devices are capable of doing all the same things just in different use cases and at different times of the day." With macOS 14, it's possible there could be some new built-in support for features already on iPhones.
Regardless of what features will officially be a part of macOS 14 at launch, we've got a few things on our wishlist that we'd absolutely love to see in this newest macOS version.
macOS 14: Features we'd like to see
iPhone users have been enjoying (or hating) the Dynamic Island since the iPhone 14 Pro. The Dynamic Island acts as a hub for notifications, reminders, widgets, and everything else that could potentially clutter up your iPhone. While improvements to the Dynamic Island still need to be made for iPhones—and we're hoping to see improvements with the iOS 17 release—it'd be nice to see Dynamic Island brought to macOS 14.
When macOS Ventura was released last year, we saw the Clock and Weather apps from iPhones gain support on Macs. Hopefully, we can see more iOS apps make their way to Macs, like Translate, Health, Wallet, or Watch. Even if we just saw support for one of these iOS apps come to Macs, we'd be happy campers.
It'd also be nice to see functionality expanded for the Clock app on Macs. Right now, the Clock app doesn't sync between all of your devices, and that just feels dumb. We'd love to be able to set an alarm or create a timer on an iPhone and see those same alarms and timers show up on an iPad or a Mac.
Another iPhone and iPad feature that we'd love to see come to Macs is automatic back up to iCloud. Right now, you have to set up and maintain Time Machine on Macs, and that's your only easy option for backing up your files.
If Apple integrated Time Machine into iCloud, the current storage cap of 2TB could be an issue. Or, it could be an opportunity for Apple to make money by selling more iCloud+ storage. Some iPhone users would happily pay for access to Time Machine on iCloud for peace of mind.
Lastly, this wouldn't be a new feature, but we'd love to see the return of desktop widgets. Apple deliberately removed support for Dashboard with macOS Catalina in 2019, and many users were not happy. Since Apple has started adding support for widgets in iOS and iPadOS versions, it's not implausible to think Apple might add widget support back to Macs.
Stay in the know with Laptop Mag
Get our in-depth reviews, helpful tips, great deals, and the biggest news stories delivered to your inbox.