3 accessories that make my iPhone more useful — you're missing out if you don't have 'em
I tested a slew of Belkin accessories with my iPhone, and these are the best ones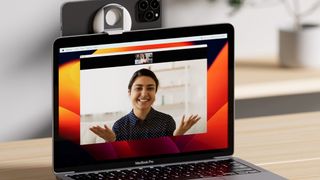 (Image credit: Belkin)
Over the last few weeks, I've equipped my iPhone mini 13 with a bunch of Belkin accessories to get more out of it and address some of its biggest pain points. For instance, it doesn't last longer than a day on a single charge anymore, but snap Belkin's wireless magnetic charger on its back and I instantly have an extra 2,500mAh of battery life. A handy mount lets me place the iPhone on any screen so I can use it as a webcam on my Mac Mini. Another handy device brings MagSafe charging to my Hyundai, whose own built-in wireless charging pad is limited to 5W speeds.
These peripherals offer some sweet quality-of-life upgrades and make my two-year-old iPhone far more useful. As a cherry on top, they're affordable, too. The BoostCharge Pro wireless car charger will set you back $100, the iPhone Mount costs $40, and the BoostCharge Magnetic Wireless Power Bank is priced at $50. So you've got affordability and functionality potentially meeting up for a happy dance. But do these Belkin products live up to the hype? Here's my experience.
Belkin iPhone Mount for Desktops and Displays
Belkin's desktop mount is engineered to do one job: enable your iPhone to double as a Mac webcam, and it does it well. Its unique, clever design helps it sit on top of practically any monitor or display without any clips or clasps. Its bottom half is made up of two parts. One has a lip at the end of it, which lets it latch onto a monitor's frame. The other works as an adjustable foot and pushes against the back of a screen to provide tension that keeps the mount firmly in place. While it's constructed out of metal, there's a smooth, rubber coating over it to prevent scratching the desktop.
On top rests a MagSafe-shaped magnetic puck that can hold your iPhone wirelessly in landscape or portrait orientations. Its tilting mechanism can point the iPhone's camera down by up to 25 degrees, which comes in handy because my monitor sits a little above my face. It can also move vertically in case you want to adjust the distance between you and the camera.
Belkin's unusual mount layout does take a bit of getting used to, and even then, I ended up dropping it a couple of times initially because I didn't realize its position wasn't secured. After a couple of days, however, it became a comfortable habit, and I can now simply drop it over a monitor or even a relatively thick laptop screen like my Chromebook without fussing over any clasp and cables.
Speaking of which, though the mount seems like it supports Magsafe, it can't charge your iPhone. Thankfully, there is a little hole for a wire to pass through. Another downside is that it works best with MagSafe-supported iPhones (12 or above). While you can stick other phones to the magnets, they'll eventually slip off –– I've learned that the hard way.
For iPhone owners who frequently take advantage of their Mac's Continuity Camera tools or similar third-party apps, the Belkin mount is a must-have. The one I reviewed is meant more for desktops and external monitors. However, Belkin has a dedicated model for MacBooks instead.
Belkin BoostCharge Magnetic Wireless Power Bank 2.5K
Like most smartphones, my iPhone 13 mini's battery has lost its full battery capacity after about two years of use and it can't last a day without a top-up or two. But I don't always have a charger handy and plugging it into a typical power bank is cumbersome for someone like me who's always on the phone.
So it's no surprise Belkin's BoostCharge magnetic power bank and my iPhone have become inseparable. It magnetically latches onto the phone's back so that I don't have a wire dangling out of my pocket and can continue operating it normally. I chose the 2,500 mAh option instead of the 5,000 mAh variant for one reason. It's small and doesn't add much bulk to affect the one-hand mini experience, but can still give my iPhone mini one full charge.
Surprisingly, the BoostCharge power bank doesn't get uncomfortably warm as other MagSafe-enabled alternatives. I was also glad to discover it functions fine even when I have a thick, leather case on. There are four LEDs on the side to tell you the power bank's charge levels, and a button to turn it on or off. It's not restricted to an iPhone either: I can place my Qi-compatible earbuds and they'll begin charging, too. Another highlight is that it supports pass-through current, which means when you plug it into an adapter while it's connected to your phone, it will top up both the power bank and the phone.
However, the Belkin magnetic power bank has its flaws. For starters, its charging speed is restricted to 5W, which is three times slower than a typical MagSafe connection. But since it doesn't intrude on usability, I didn't mind it as much. It also doesn't support wired charging at all, so you can't switch to that in case you do need a faster top-up. Unlike Apple's own MagSafe Battery Pack, you can't track Belkin's battery from your iPhone either and have to rely on LED indicators. That said, it's half the price of Apple's magnetic power pack and offers nearly 1,000 mAh more capacity.
For iPhone mini users, an accessory like the Belkin magnetic power bank is a no-brainer and certainly worth the $30 it usually retails for. If you've got a higher-end Pro model, you may want to opt for the 5,000 mAh model, which not only has a larger battery, but also quicker charging speeds.
Belkin BoostCharge Pro Wireless Car Charger
The third and final Belkin accessory in this article is also the most expensive, which isn't saying much since it's only $100. The BoostCharge Pro is a MagSafe-enabled wireless charger for your car.
For so long, I've been frustrated with the charging setup in my Hyundai. For one, the built-in wireless charging pad under the stereo is slow and has no way to keep the phone in place, leaving me with the same charge I started with at the end of a trip. Two, when I switch to a wired connection, the cables dangle around the gear stick, affecting the driving experience. For its price, I was hoping the Belkin BoostCharge Pro would solve both of these issues and luckily, it did.
It mounts on the air vents, which helps with the heat emitted from wireless charging, and is compatible with 15W MagSafe speeds. Plus, you can switch the iPhone between vertical and landscape (music playlist to Google Maps, for instance) orientations without disconnecting it like any other MagSafe charger. It requires a minimum 20W output, for which Belkin bundles a power supply unit in the box.
The Belkin BoostCharge Pro does everything I expect, and its sleek, metallic exterior looks nice, too. At $100, it is a bit expensive, but I've frequently found it on sale. Alternatively, if you're fine with 10W charging speeds, you can grab its non-Pro counterpart.
Stay in the know with Laptop Mag
Get our in-depth reviews, helpful tips, great deals, and the biggest news stories delivered to your inbox.
Shubham Agarwal is a freelance technology journalist from Ahmedabad, India. His work has previously appeared in Business Insider, Fast Company, HuffPost, and more. You can reach out to him on Twitter.