Ultimate Home Office Accessories Guide 2021: Year of the Freelancer
The best home office accessories are already at your fingertips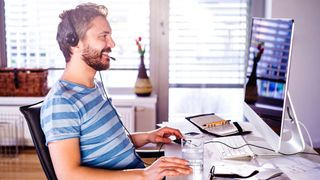 (Image credit: Shutterstock)
Since the pandemic started, the need for home office gadgets and accessories has been on the rise. But as businesses worldwide continue adapting to an ever-evolving health crisis, one thing remains clear: the term "working from home" is in constant flux. Long-story-long: Winter is here, and our home offices need to be on point, especially if we're going to push this planet into the future together. In short, adapt or get left behind, folks.
Of course, adaptation is easier said than done. (And it hasn't exactly been smooth sailing for Mother Earth's collective workforce, regardless of one's metaphorical canoe.) But for many, now that we've dug our heels in a bit, the accompanying freedom ain't so bad — if you can hang on to your general sanity, that is.
Creating a daily, weekly, and monthly structure for your (entirely subjective) home office lifestyle requires the proper tools, and that's where Laptop Mag comes in. I've scoured our archives (and beyond) for the best cutting-edge home office accessories to keep you organized, holistically healthy, and ready to take on…well, whatever's coming next. Read on for the best home office accessories to optimize your office space.
1. Business laptop
Why you can trust Laptop Mag Our expert reviewers spend hours testing and comparing products and services so you can choose the best for you. Find out more about how we test.
Lenovo ThinkPad X1 Carbon (8th Gen)
Build a better base station
Specifications
CPU:
10th Gen Intel Core i5/Core i7
Storage:
256GB/512GB/1TB SSD
Display:
14-inch, 1080p or 4K
Size:
12.7 x 8.5 x 0.6 inches
Reasons to buy
+
Slim, lightweight design
+
Bright, vibrant 1080p and 4K display options
+
Best-in-class keyboard
+
Zippy performance
Reasons to avoid
-
Weak graphics
-
Fairly expensive
This wouldn't be Laptop Mag if we didn't have at least one laptop recommendation for your home office, and most business-minded professionals will find a friend in the Lenovo ThinkPad X1 Carbon (8th Gen). As far as we're concerned, the X1 checks off all our boxes when it comes to everyday productivity — and much, much more.
Thanks to 10th Gen Intel Core i5 and i7 processors, up to 16GB of RAM, and up to a whopping 1TB of fast SSD storage, this 14-inch laptop is fantastic for getting work done, each and every day. The starting price is a bit high (around $1,300 for the base configuration), but it's the best business machine you can buy right now, and we're willing to put your money where our mouth is.
See our full Lenovo ThinkPad Carbon X1 (8th Gen) review.
2. Digital drawing pad
Wacom One
For content creators of every medium
Specifications
Display:
13.3 inches (1080p)
Size:
14.1 x 8.9 x 0.6 inches
Reasons to buy
+
Android compatible
+
Less expensive than competitors
+
Comfortable pen, responsive screen
Reasons to avoid
-
Only two available drawing angles
-
Screen could be more colorful
-
Lack of express keys
While premium drawing pads are often aimed at seasoned artists, the Wacom One is more affordable than you'd expect, and it's a great tool for digital artists of all types. The beautiful 13.3-inch, 1080p anti-glare display works incredibly well with the Wacom One pen, making it easy to sketch or paint directly on the screen, create diagrams, annotate documents, and edit photos/videos. (Android compatibility is a welcome feature, too.) For budding photographers, videographers, and content creators, this drawing tablet is worth a look or three, and it's definitely worth the investment.
See our full Wacom One review.
3. Note-taking tablet
reMarkable 2
A dead-simple tool with a singular purpose
Specifications
CPU:
1.2-GHz dual-core ARM
Display:
10.3-inch, 1872 x 1404
Size:
9.7 x 7.4 x 0.2 inches
Reasons to buy
+
Incredibly low latency
+
Slick, simplistic design
+
Long battery life
+
PDF and ePUB support
Reasons to avoid
-
Marker not included
-
No backlight
-
Difficult to search documents
-
Pricey
Zoom meetings are often accompanied by the same note-taking chores as in-person meetings, and the reMarkable 2 was built with this one purpose in mind; think of it as a blank 100,000-page notebook that organically eliminates other distractions. That's right, there are no downloadable apps to install, nor any social media integration to speak of. And at just 0.19 inches thick, the reMarkable 2 is classified as the world's thinnest tablet. The end result? An ultraportable digital notebook that feels...err, remarkably like the real thing. Trust us, you'll want one of these lying around your home office, and it's more useful than you'd think.
See our full reMarkable 2 review.
4. External [gaming] monitor
Acer KG251Q bmiix monitor
Double your desktop workspace — on the cheap
Specifications
Display:
23.6 to 27 inches (1920 x 1080, 2560 x 1440)
VESA mount compatibility:
Yes
Reasons to buy
+
Affordable
+
AMD FreeSync built in
+
Super-slim bezels
+
Sleek design
+
VESA mount compatibility
Reasons to avoid
-
Out the box recalibration required
Even if you've got a monster 17-inch gaming rig at home, you may find that there's simply no such thing as "too much" screen real estate for basic productivity chores. And these days, you don't have to break the bank to level-up your desktop to a dual-screen setup. The extra 24.5 inches of workspace will do wonders for multi-tab multitasking, allowing you to compare several windows at once without straining those oculars too hard.
Bonus: the Acer KG251Q bmiix supports AMD FreeSync technology, so when office hours are over, this monitor makes a seamless transition from productivity companion to gaming accessory. (You're welcome in advance for the excuse.)
Still on the fence? We've got other recommendations for cheap monitors, in addition to the best gaming monitors.
5. 1080p webcam
Logitech HD Pro Webcam C920
Put your best face forward (in high-res)
Specifications
Field of view:
78 degrees
Reasons to buy
+
Sharp, clear photos and video
+
Long cord
+
Wide field of view
In the time of COVID, the best webcams are no longer an optional luxury. On the contrary, they've become downright essential for proper communication between business colleagues, families, and medical professionals across the planet — especially since we have way fewer eyeball-to-eyeball conversations than before.
For the first half of 2020, it was almost impossible to find a good 1080p webcam in stock. That goes (literally) double for the popular Logitech HD Pro Webcam C920: its normal MSRP of $80 skyrocketed to $158 last August, back when Logitech was at the peak of its webcam shortage. But now that prices have normalized, the C920 is still one of the best webcams you'll find anywhere thanks to its wide 78-degree viewing angles, crystal-clear 1080p (30 fps) videos, and uber-accurate colors. It's not exactly like being in the same room as someone, of course, but it's about as close as we can get for now. (If you have a little extra money to spend, the Logitech C920e has wider viewing angles and additional video conferencing compatibility.)
See our full Logitech HD Pro C920 review.
6. Halo ring light
ESDDI PLV-R120 10-inch Ring Light
Every side's your good side when you've got a ring light
Specifications
Color Temperature:
3000K, 4000K, 5600K
Size:
10.2 x 10.2 x 1 inches
Reasons to buy
+
Instantly improves light for video chats
+
Includes phone holder
+
Bluetooth smart switch
+
Doubles as a desk lamp
+
Bright and shiny
Reasons to avoid
-
Can drain laptop battery life quickly
Most ring light manufacturers like to brag about great selfies, but that's not all the ESDDI PLV-R120 10-inch Ring Light is good for. Now that so many of us are stuck indoors en masse, video chats can be the only human interaction some of us get on a regular basis. And from a professional standpoint, it's always in your favor to enter a Zoom meeting with proper three-point lighting; this is the COVID equivalent of putting your best foot forward, even when you're not wearing any shoes. (Bonus: you can attach your smartphone to the light itself, and the PLV-R120's Bluetooth remote lets you take pictures from a distance.)
7. Docking station
Corsair TBT100 Thunderbolt 3 Dock
Make plentiful ports a priority
Specifications
Ports:
USB-C (2), USB-A (2), HDMI (2), Thunderbolt 3, SD card, 3.5mm headphone jack, Gigabit Ethernet, and Kensington lock slot
Light Size:
8.9 x 3.3 x 1 inches (without tripod)
Reasons to buy
+
Premium, durable design
+
Plenty of ports
+
Supports two 4K, 60Hz displays
If you're serious about maximizing the productivity of your laptop, you're gonna need a bigger boat...of ports. (Especially if your machine is more than a few years old.) And boy howdy, does Corsair deliver with the TBT100 Thunderbolt 3 Dock, which happens to be one of the best USB Type-C hubs you'll find anywhere — if you can afford it. This premium dock looks sleek as hell with its durable aluminum housing, and it's packed to the brim with all the ports you could possibly need: USB-C (2), USB-A (2), HDMI (2), SD card, 3.5mm headphone jack, Gigabit Ethernet, and Kensington lock slot.
The whole thing is powered by a singular Thunderbolt 3 port, and it's compatible with both Mac and Windows 10. If your laptop is lacking in the ports department (here's looking at you, Chromebook users), this one accessory could be a godsend for your freelance hustle. The Corsair TBT100 Thunderbolt 3 Dock is expensive, to be sure, but this is one understated home office accessory that's totally worth it.
See our full Corsair TBT100 Thunderbolt 3 Dock review.
8. Mechanical/gaming keyboard
Corsair K100 RGB Mechanical Gaming Keyboard
Overhaul your touch-typing experience
Specifications
Switch Type:
Corsair OPX or Cherry MX Speed
Size:
18.5 x 6.54 x 1.5 inches
Reasons to buy
+
Premium build
+
Comfortable typing experience
+
Blazing-fast key inputs
+
Tons of functionality and customization options
Reasons to avoid
-
Pricey
-
OPX keys take some getting used to
Just because you're on the clock doesn't mean you can't make it rock. Plus, if you're all alone in your home office anyway, the awesome RGB lighting of the Corsair K100 RGB Mechanical Gaming Keyboard won't be a distraction for your persnickety colleagues. This particular keyboard might be overkill for non-PC-gamers, but here's a fun fact: the best mechanical keyboards and best gaming keyboards go hand-in-hand, and they're universally the most comfortable keyboards for touch-typists; there's nothing quite so satisfying as the clickety-clack of a quality mechanical keyboard, and it's an easy upgrade for any home office setup. (Bonus: this'll go great with your new external monitor.)
See our full Corsair K100 RGB Mechanical Gaming Keyboard review.
9. Bluetooth mouse
Logitech MX Master 3
Ditch the clumsy touchpad for smoother, smarter scrolling
Specifications
Size:
4.9 x 3.3 x 2 inches
Reasons to buy
+
Comfortable design
+
Great ergonomics
+
Helpful extra buttons
+
Innovative scroll wheel
+
Helpful software profiles
Reasons to avoid
-
Not designed for lefties
-
Expensive
Some of the best business laptops and best workstations have some of the best touchpads built right in, but no touchpad can match the precision and flat-out functional ergonomics of the Logitech MX Master 3 Bluetooth mouse. Representing the combined evolution of its two predecessors, the latest iteration of the MX Master mouse has a unique scroll wheel with two different modes (one ratcheted, one free-scrolling), and it charges via USB-C (as opposed to micro-USB).
You can pair the MX Master 3 with up to three devices simultaneously, and it can connect via USB or Bluetooth to Windows, Mac, Android, and (with a few tweaks) even iOS devices. It's comfortable enough for daily use, and the gesture controls might come in handy if you're a graphic designer, video editor, or serial web page-scroller. If you have smaller hands, consider the MX Anywhere 3, a smaller version of the Master.
See our full Logitech MX Master 3 review.
10. Noise-cancelling bluetooth headphones
Bose 700
Tune out unwelcome distractions — in style
Specifications
Battery Life (Rated):
20 hours (ANC on);40 hours (ANC off)
Bluetooth Range:
30 feet (10 meters)
Digital Assistant Support:
Yes
Reasons to buy
+
Detailed, accurate sound
+
Impressive noise cancellation
+
Best-in-class voice calls
+
Sleek, low-profile design
+
Responsive touch controls
+
Comfortable
Reasons to avoid
-
Pricey
-
No EQ controls
-
Ear cups rotate outward
Unless you live by yourself, part of acclimating to the working-from-home lifestyle is adjusting to the (completely subjective) ambient noise levels around you, which can have a direct effect on your overall productivity. The best noise-cancelling cans, however, allow you to remain in your miniature bubble of (relative) seclusion, even if your noisy kids are just one room over. The Bose 700 headphones are our absolute favorite when it comes to noise cancellation, and if you keep them hooked up to your phone during office hours, it's easy to create instant privacy (a miniature conference room, if you will) at a moment's notice; the active noise cancellation feature works impressively well. If you spring for the Bose 700 UC model, you also get additional workplace compatibility with Microsoft Teams, Google Meet, and Zoom. The Bose 700 are bulkier than the sportier Apple AirPods Pro (they are over-ear headphones, after all), but they're also far better at noise cancellation if you don't mind the heft.
See our full Bose 700 review.
11. All-in-one office printer
Canon Pixma TR8620
Stay on top of your paperwork
Specifications
Features:
Print, copy, scan, fax
Display:
4.3-inch color touchscreen
Ink/Toner:
Five cartridges (black, pigment-black, cyan, magenta, yellow)
Connectivity:
802.11 b/g/n Wi-Fi, Ethernet, USB 2.0
Reasons to buy
+
Fast photo printing
+
Speedy copying
+
High image quality
+
ADF and duplexer
Reasons to avoid
-
Above-average ink costs
-
Does not make two-sided copies/scans via ADF
-
Some scan/copy settings not in LCD menus
One look at the Canon Pixma TR 8620's colorful 4.3-inch touchscreen and you already know this ain't your granddaddy's color printer. (Which actually might not exist, come to think of it, depending on how old you are.) From scanning and faxing to printing and mailing, this printer has all the main features you'd expect from a solid all-in-one, and then some. Add in smart home support (via Amazon Alexa or Google Assistant), and you've got yourself a digital taskmaster for the home office.
See the full Canon Pixma TR8620 review from our friends at Tom's Guide.
12. Standing desk
Fully Jarvis Bamboo Standing Desk
Upgrade your office desk — organically
Specifications
Weight Capacity:
350 pounds
Height Range:
24.5 to 50 inches
Desktop Size:
30 x 24 x 1 inches to 78 x 30 x 1 inches
Weight:
46 pounds (frame only) and up
Reasons to buy
+
Gorgeous, sustainable desktop
+
Fantastic for improved posture and better joint health
+
Lots of customization options (via Fully website)
+
Sturdy electric motors
+
Long warranty
If you're mostly working from home, you better believe that swapping out your conventional office desk for an electric standing desk is an absolute game-changer. But the Fully Jarvis Bamboo Standing Desk takes things to another level — quite literally, in fact. This desk is made from sustainable materials that lend a sophisticated air; the dual motors are quiet, and switching between heights is a quick, seamless process. Best of all, the frame can support up to 350 pounds. That means you can load up your new workspace with plenty of the best home office accessories from this list.
Why should you test-drive a standing desk? Well, the more time you spend hunched over a laptop keyboard with poor posture, the worse it is for your neck, spine, hips, and knees. (And psyche, no doubt.) From a holistic standpoint, an uncomfortable workstation can become a ticking time bomb for potential injury — both short- and long-term.
See our full Fully Jarvis Bamboo Standing Desk review.
13. Standing desk converter
Flexispot Height Adjustable Standing Desk Converter
Turn any subpar office desk into an ergonomic workhorse
Specifications
Weight Capacity:
33 pounds (desktop), 4.4 pounds (keyboard tray)
Height Range:
5.5 inches to 19.7 inches
Size:
35 x 23.2 inches (desktop), 34 x 12.7 inches (keyboard tray)
Reasons to buy
+
Converts any work surface into a standing desk
+
Cheaper than full-size standing desks
+
Instantly adds more surface area to your home office
Reasons to avoid
-
Low weight-bearing capacity
If you don't have the extra cash for a full-size standing desk, there are plenty of other standing desk converter options to help fend off bad posture (and a sedentary lifestyle) in your home office. The Flexispot Height Adjustable Standing Desk Converter has a 35 x 23.2-inch work surface, which is big enough for a dual-monitor setup, and then some. The heavy-duty steel frame raises between 5.5 and 19.7 inches, and the vertical rising mechanism keeps your tech secure with each adjustment. This one upgrade might be the best purchase you ever made for your personal health.
See our full Flexispot Height Adjustable Standing Desk Converter review.
14. Desk bike
Flexispot Home Office Height Adjustable Cycle Desk Bike
A fantastic fitness tool for master multitaskers
Specifications
Desk Type:
Bike / Manual Adjusting
Bike Weight Capacity:
300 pounds
Desktop Weight Capacity:
110 pounds
Seat Height Range:
29.6 to 37.2 inches
Desktop Height Range:
34.5 to 47.2 inches
Desktop Size:
22.8 x 20 inches
Bike Size:
48.4 x 37.6 x 22.8 inches
Reasons to buy
+
Genuinely lets you burn calories during office hours
+
Easy to assemble, move around, and store
+
8 different resistance levels
+
Built-in cupholder and LCD monitor
+
Discourages sedentary habits
Reasons to avoid
-
Uncomfortable for extended sitting periods
-
Not ideal for longer legs
-
No back support options
-
Fairly expensive
For anyone concerned about an increasingly sedentary lifestyle, the Flexispot Home Office Height Adjustable Cycle Desk Bike could be just the fitness-furniture you've been waiting for. Half desk, half stationary bike, the Desk Bike is a deceivingly basic workstation that stays perfectly stable when in use, allowing you to burn through calories and emails simultaneously.
The 22.8 x 20-inch desktop is fully adjustable between 34.5 and 47.2 inches high, and the surface can be moved forward or backward to suit your body type. The bike seat's height adjusts between 29.6 and 37.2 inches, which is designed for users between 5-foot-1 inch and 6-foot-2 inches tall. It's by no means a miracle machine when it comes to personal fitness, but overall, it's a fantastic tool for holistic home office health.
See our full Flexispot Home Office Height Adjustable Cycle Desk Bike review.
15. Home gym treadmill