The Sony WF-C500 is the company's latest attempt at creating entry-level buds with flagship sound. It comes engineered with several Sony high-end sound features, including 360 Reality Audio, Digital Sound Enhancement Engine (DSEE), and Equalizer via the companion app. Not to mention some of the longest battery life (on a single charge) in the category. However, its biggest highlight is affordability – $100 is a sweet deal. Control and comfort issues aside, these buds achieve the sound performance that budget audiophiles desire from a low-price Sony model.
Read our full Sony WF-C500 to see why it's considered one of the best cheap wireless earbuds around.
Sony WF-C500 review: Availability and price
The Sony WF-C500 sold for $100 at launch, but you can get it for as low as $68 on Amazon (opens in new tab), Best Buy (opens in new tab) or directly from Sony. It comes in three colors: Black, White, and Green (Best Buy exclusive). In the box comes a charging case, USB-C charging cable, four sets of different-sized tips, a user guide, and a warranty.
This is a fraction of what the flagship Sony WF-1000XM4 ($279) wireless earbuds sell for. The higher price tag gets you active noise cancellation and a plethora of other features. You can also snag a pair for less than mid-range gems like the $120 Beats Studio Buds and top sellers like the $179 AirPods 3 and $249 AirPods Pro.
Be sure to bookmark our headphone deals page for the latest sales.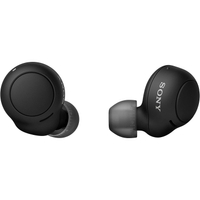 (opens in new tab)
Sony WF-C500 for $68 @ Amazon (opens in new tab)
With solid battery life, strong audio, a fun charging case and support for Sony's excellent Headphones Connect app the Sony WF-C500 is a great entry point for Sony fans on a budget. Also available for $68 at Sony (opens in new tab).
Sony WF-C500 review: Design and comfort
Sony thought outside of the box when designing the sexy WF-1000XM4 and ultramodern LinkBuds. About a quarter of that ingenuity was applied to the WF-C500. Let's start with the buds, which have what looks like a stock design that does little to stand out from the crowd. The all-plastic construction with IPX4 sweat and water resistance keeps them well protected, but that's about it. It's just too bland for my liking.
The charging case is the only creative component of the WF-C500. Pill-shaped cases aren't anything new, but integrating a semi-translucent lid is a fun, unique touch that calls back to the old-school JVC Gumy earbuds (opens in new tab) packaging. The bright orange LEDs look cool during charging. It won't weigh down your pockets either at 1.24 ounces.
Fit-wise, these buds mold precisely to your ears and the silicone ear tips create a tight seal to keep them locked in. Sony's inclusion of different sized ear tips should accommodate listeners with bigger ear canals.
Comfort is a different story. Fatigue sets in after two hours of use. I noticed the buds applying pressure around the concha. Pressing the multifunctional button only exacerbates the discomfort; pushing the buds further into your ears can hurt after a few presses.
Sony WF-C500 review: Controls and digital assistant
The control scheme is limited. Only being able to use the left bud to control volume seems peculiar. Playback and digital assistance are reserved for the right ear. Call management is the only function programmed on both buds. You can't assign or customize the single/multi-press and long-hold. In addition, button tactility is terrible, requiring users to tap two to three times before the buds register intended commands.
Alexa voice command didn't make the cut, but the WF-C500 still lets you fire up your device's native assistant – Siri, Google Assistant or Bixby – to execute tasks hands-free. Results were mostly positive with all three AI bots understanding and completing basic commands with ease. Very seldom did the mics misinterpret words or long-winded inquiries.
Some of Sony's newer voice-activated features would have been greatly appreciated. There are no motion sensors to auto-pause when taking off the buds. A feature like Speak-to-Chat could have fit in perfectly since it does the same thing when hearing the user's voice.
Sony WF-C500 review: Audio quality
The WF-C500 has an exceptionally balanced sound profile for the price. There's some nice frequency range to enjoy impactful lows, detailed mids, and crisp highs. And yes, Sony bass is present. It won't rattle your eardrums like on the WF-1000XM4, but it is satisfyingly punchy.
Pulling up LL Cool J's "Going Back to Cali" was a nostalgic trip that reminded me just how monstrous the subwoofer bassline is on this track. To hear the WF-C500 handle it with delicacy and not bloat up the soundstage was impressive. More so, Mr. Smith's laidback and softened vocals were pronounced and rode smoothly over the scratch inserts and wailing trumpet.
From there it was onto more upbeat jams like Michael Jackson's "Wanna Be Startin' Somethin,'" where the interweaving drum-machine patterns and scatty hi-hats were layered superbly. Switching to Latin Jazz was even more rewarding. The percussion effects from the timbales on Eddie Palmieri's "Vamanos Pa'l Monte" sounded fantastic, along with the melodic organs and vibrant horn section.
Sound can be personalized in the companion app using the Equalizer. You can manually adjust the frequencies and save the results or choose from one of nine well-engineered presets: Bass Boost, Bright, Excited, Manual, Mellow, Relaxed, Speech, Treble Boost, and Vocal. Each is effective when paired with the right content; Bass Boost and Treble Boost emphasize the low end on hip-hop tracks, while Vocal is ideal for dialogue-centric content.
DSEE upscales low-fi recordings a smidge to hear vocals clearer and reduce background static. 360 Reality Audio is also accessible for 3D listening, though the technology isn't as effective on these buds as on more expensive Sony earbuds. I got a feel for audience feedback when watching live performances, but nothing that wowed me off the couch.
Noise isolation isn't that great. There were times when family conversations and my toddler's whining pulled me away from what was playing. Raising the volume helped slightly, but I had to be mindful of how loud these buds get at max level.
Sony WF-C500 review: App and special features
The Sony Headphones Connect app was only available for Sony's premium headphones and earbuds, but the company has expanded compatibility to lower-priced models. Owning the WF-C500 won't earn you Sony's full suite of features, but it comes with the essentials, including the aforementioned 360 Reality Audio, DSEE, and Equalizer.
There isn't much else to explore. The homescreen greets you with battery level indicators for each bud and a music player with a volume slider. You'll find a Bluetooth Connection Quality setting to prioritize stable connectivity or sound quality. An activity tracker that records how you use the buds, firmware updates, a visual guide, and toggle controls for multiple functions round out the app.
As for what's missing, that would be active noise cancellation, adjustable ambient sound, LDAC, Speak-to-Chat, and Quick Attention.
Sony WF-C500 review: Battery life and charging case
According to Sony, a full charge nets you 10 hours of listening time, though it's really 9 hours when factoring in high volume and special features. This is a fantastic amount of playtime to have at your disposal and double what the AirPods Pro gets you with ANC on (4.5 hours). I was happy with the four days of moderate use (2 hours daily) these buds provided.
If only the charging case held more juice, a max of 20 hours isn't much. A 10-minute quick charge does generate 1 hour of listening time. Wireless charging does not come as part of the package.
Sony WF-C500 review: Call quality and connectivity
Call quality on most Sony wireless earbuds isn't good, and the WF-C500 won't change your mind. It's OK for indoor calls, though callers often told me that my voice sounded muffled. This increased whenever speaking outdoors, as the mics picked up lots of ambient noise and hindered clarity.
At least Bluetooth 5.2 lives up to its billing. Getting up to 80 feet of wireless range is something you don't get from many sub-$100 wireless earbuds; moving back and forth from the front room to the backyard gazebo led to stutter-free streaming. The WF-C500 pairs to new and recognized devices quickly. One-touch Google Fast Pair expedites the process on Android smartphones.
I'm not annoyed over the lack of multipoint technology (pairing to two devices simultaneously), but not having NFC for tap-to-pair functionality stings, especially since it is such a Sony staple.
Sony WF-C500 review: Verdict
If sound is what you prioritize most and want it in high quality for an unbeatable price, then there's no reason why you shouldn't purchase the Sony WF-C500. Powerful bass remains at the sonic forefront, and frequencies are balanced well for a more rounded listening experience. 360 Reality Audio and DSEE are sweet additions that Sony didn't have to include, but they did. Battery life (per charge) is another hallmark of these buds, and though the charging case is one of the weakest out there, it looks pretty cool.
For $100, shortcomings are expected. The poorly designed push buttons and unpleasant comfort can be annoying. I also believe Sony could have done more to make these buds more eye-catching. Not having excellent call quality isn't too much of a bummer considering Sony's track record.
Ultimately, the WF-C500 overachieves on the audio end and makes a strong case for the best-sounding wireless earbuds under $100.