The Mark Levinson No. 5909 is a budgetary steal for hardcore audiophiles and a high-priced novelty for everyone else.
Pros
+

Excellent sound and call quality

+

Strong noise cancellation

+

Long battery life

+

Hi-Res Audio-certified

+

Elegant craftsmanship
Cons
-

Heavy and uncomfortable

-

Some features need work

-

Companion app could use more features

-

Expensive compared to other popular ANC models
Why you can trust Laptop Mag Our expert reviewers spend hours testing and comparing products and services so you can choose the best for you. Find out more about how we test.
The Mark Levinson No. 5909 is the latest pair of hi-fi wireless headphones from the premium audio brand. These cans feature adaptive active noise cancellation, professionally engineered sound, lossless audio (LDAC), and mobile app support in a fancy $1,000 package.
At such a steep cost, the No. 5909 wants you to believe it isn't in competition with more affordable popular noise-cancellers like the Bose 700 and Sony WH-1000XM4. It is, and it brings some serious performance to the table. However, Mark Levinson's real sales pitch is to offer a hybrid hi-fi model that rivals the market's top circum-aural, closed-back headphones.
So, is the Mark Levinson No. 5909 an almighty hi-fi disruptor or just an overpriced ANC headphone? Read our full review to find out.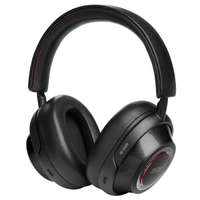 Mark Levinson No. 5909: $999 @ Crutchfield
For audiophiles that want hi-fi sound in a more portable-friendly design than the average circum-aural, closed-back headphone the Mark Levinson No. 5909 deliver at under $1,000. Also available for $999 at Audio Advice.
Mark Levinson No. 5909 review: Availability and price
The Mark Levinson No. 5909 is sold for $999 at select retailers, including Audio Advice and Crutchfield. It comes in three colors: Pearl Black, Ice Pewter, and Radiant Red. Bundled with the purchase is a hard-shell carrying case, USB-C charging cable, two audio cables (1.25m and 4m USB-C), and three adapters (3.5mm to 6.5mm, airline, and USB-C to USB-A).
Pricewise, this is much higher than ANC top-sellers like the $379 Bose 700 and $350 Sony WH-1000XM4. At the same time, it shares the same MSRP as reasonably affordable hi-fi gems like the Focal Celestee, though the No. 5909 has audio customization and Bluetooth support.
Be sure to bookmark our headphone deals page for the latest sales.
Mark Levinson No. 5909 review: Design and comfort
Mark Levinson crafted these headphones from some of the finest materials out there. Much of the No. 5909's frame is composed of aluminum and sturdy plastic. The earpads and headband are covered in soft, black leather and the earcups boast an automotive-grade paint job. Niche details like the headphone name on the side of the yokes and red accents surrounding the laser-etched logo on the front add to their appeal.
Even the carrying case screams luxe. This thing is very durable, and the outside has a sleek, shiny finish that can sustain scuffs and scratches. The inside houses a tiny compartment that holds several of the No. 5909's accessories and sits below the headband when storing the headphones.
The No. 5909 is hefty (listed at 12 ounces) and feels cumbersome on the head after 2 to 3 hours. Luckily, the earpad and headband padding feel gentle, providing enough comfort to enjoy an in-flight movie before giving your skull a breather. The extenders are lengthy and need to be adjusted properly for a secure fit, otherwise, the headphones will slip off.
Mark Levinson No. 5909 review: Controls and digital assistant
Physical buttons, motion detection, and digital assistance make up the No. 5909's control scheme. The left earcup has ANC and power/pairing buttons, while the right earcup has a three-button module with a multifunctional button and volume rockers. The MF button executes playback, call management, and digital assistant activation via single/multi-press gestures. Each button is solidly tactile to ensure it properly registers the user's commands.
I can see why the on-ear detection feature is disabled right out of the box because it is terrible on these headphones. It barely ever worked, and when it did, there was serious lag (3 seconds) before auto-pausing or resuming playback.
Google Assistant, Siri, and Bixby operate fluently for voice-based virtual assistance. Mark Levinson's four-mic array demonstrates superb speech recognition, picking up spoken commands and long-winded inquiries with precision. Voice activation isn't available (sorry "Hey Siri" fans), though the feature could become available in a future firmware update.
Mark Levinson No. 5909 review: Audio quality
The No. 5909 comes equipped with 40mm beryllium coated drivers, a metal mesh bass port, and Bluetooth 5.1 with Hi-Res Audio certification for aptX and LDAC streaming. Most of my time was spent listening to Spotify on mobile devices and my Apple Music library via MacBook Pro. In addition, I kept the No. 5909 set to its default EQ.
Songs like Phil Collins's "Take Me Home" showcased the headphones' wide soundstage. Harmonies were perfectly layered, which allowed me to distinguish voices on the chorus, and the highs sounded pristine, as exemplary by the upbeat xylophone notes. The channel separation was also superb; all drum arrangements bounced smoothly from the left to right earcup.
Low-fi recordings receive a clarity boost. The No. 5909 made an original digital copy of Wu-Tang Clan's Enter the Wu-Tang (36 Chambers) album sound like a remastered version, cleaning up the distortion on bottom-heavy gems like "Bring Da Ruckus" and "Wu-Tang Clan Ain't Nuthing…," while keeping bass punchy.
Orchestral tracks sounded even more serene. Frequency response was stable, serenading my ears with full lows, mids, and highs when indulging in Jazz classics. The flute and sax play on Oliver Nelson's "Stolen Moments" was bright and crisp, blending beautifully with the subtle double bass and hi-hats.
The engineers developed a Bass Contour feature, a three-level EQ for bass that is fantastic. Neutral is the default setting and works like a charm, but the other two are also worth checking out. I was floored by the feature's effectiveness on boomy tracks like Cypress Hills' "Stoned is the Way of the Walk." Attenuated cleaned up the snares and Enhanced made the double bass sound like DJ Muggs banged my head against the instrument.
Other headphones like the Sony WH-1000XM4 support LDAC, but these headphones do it better. Several tracks I played on lossless streaming services like Qobuz had more detail and depth to them.
The bundled audio cables let you enjoy the No. 5909 with different setups. Each of them performed up to standard.
Mark Levinson No. 5909 review: Active noise cancellation
Noise cancellation was both intuitive and strong, though I wouldn't place it the same league as the Bose 700 or Sony WH-1000XM4. Three different ANC settings are available – Low, High, and Adaptive – each one designed for different occasions.
Sticking with High is your best bet for optimal noise neutralization. It blocked out close to 85% of external sound. Daily distractions like loud chatter and TVs were muted. Other low and mid-frequency noises didn't interrupt my Spotify sessions. The setting excelled most with wind resistance, minimizing the whisking effect produced in gusty conditions at a very high level.
Low is recommended for "less noisy environments," but a fair amount of noise still came through the mics. I could hear my mom-in-law's speakerphone calls from one room over, as well as the tumbling noises from the laundry room. Adaptive was supposed to adjust ANC to my environment automatically, but it performed similarly to Low.
Unfortunately, the 5909's ANC doesn't handle high frequencies too well. Trying to avoid ambulance sirens on walks or infant cries around the house wasn't an option.
Awareness is basically transparency mode and has two settings designed to increase situational awareness while on the go. The first is Awareness, which lets in more incidental sounds to gain a greater sense of what's happening around you. Voice Pass is the second and though it is supposed to make voices clearer, it fails at the task. Every conversation I attempted to have with the missus and Starbucks baristas required me to take off the headphones to hear them.
Mark Levinson No. 5909 review: Special features and app
The Mark Levinson app can be downloaded from the App Store or Google Play. Essentially, you'll need it to switch between the ANC and EQ settings. There's also an Auto-Off Timer to place the headphones in sleep mode after being inactive for a certain amount of time, as well as a toggle for on-ear detection. That's it.
Some headphone owners can do without extras like control customization or a soundscape mode that plays different sounds to tune out background noise. However, a grand should afford you a Find My Headphones feature, at the very least.
Mark Levinson No. 5909 review: Battery life
A full charge generates 30 hours of ANC playtime. This matches the Sony WH-1000XM4 and is much higher than the Apple AirPods Max and Bose 700, which are both rated at 20 hours. Listening with the feature disabled extends playtime to 34 hours. Audiophiles jumping on an international flight will have plenty of battery life, going and returning, plus a little extra juice for the Uber ride home.
What could be more enticing? How about some insanely powerful quick charging. The 5909 can net you 6 hours of listening time in 15 minutes. The only other model that I've seen come close to this is the Sony WH-1000XM4 (10 minutes = 5 hours).
Mark Levinson No. 5909 review: Call quality and connectivity
You're looking at one of the best calling headsets money can buy. The combination of four beam-steering mics with Smart Wind Adaptation technology does a magnificent job blocking out ambient sound. I made several calls outside and my wife couldn't hear anything, including the airplane that flew over. More importantly, my voice sounded loud and clear, though she did notice some choppiness whenever I walked around.
Bluetooth 5.1 gets you dependable connectivity. Range maxes out at 60 feet before stuttering, a length that is nearly double what most wireless headphones achieve. Pairing is effortless and auto-connecting to recognized devices is instantaneous.
Multipoint technology is available to pair the No. 5909 with two devices simultaneously, but it is a mess. Several times, the headphones crashed, producing this unbearably loud static noise, and powering off when attempting to pair them with a secondary device. When the feature did work, lag was present on my secondary device, or nothing would play at all.
Mark Levinson No. 5909 review: Verdict
Are the Mark Levinson No. 5909 headphones worth the investment? That depends. For audiophiles that want hi-fi sound in a more portable-friendly design than the average circum-aural, closed-back headphone: Yes. For everyone else: not really.
These headphones deliver precise and wide sound. The EQs are engineered well, and ANC is effective against most ambient noises without compromising the listening quality. A sleek design and long battery life add to the No. 5909's high value.
One would think that $1,000 guarantees perfection, but that is rarely ever the case. The No. 5909's comfort issues and lack of specific features won't sit well with those who want the most bang for their buck. Neither will the bugginess present in certain functions.
For what it's worth, the No. 5909 is still an amazing alternative to most sub-$1000 circum-aural headphones. If you're not that serious about professional sound, then the Sony WH-1000XM4 can fill your sonic gauge and provide better ANC and features for a third of the No. 5909's price.