Some iPhone owners could be sideloading apps next year — why that's a big deal
Fantastic news for iPhone users... but only in the EU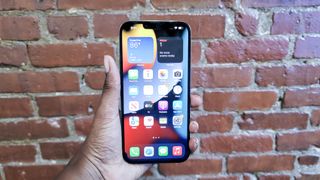 (Image credit: Future)
iPhone users in the EU may be receiving an exciting update in the first half of next year. Thanks to the EU's Digital Markets Act (DMA), Apple is required to allow its users to download apps outside of the official App Store.
This process is more commonly referred to as sideloading, and EU users may be able to sideload apps as soon as the first half of 2024, according to Bloomberg's Mark Gurman (via MacRumors). This change is a huge deal for a variety of reasons, for both iPhone users and app developers—here's why.
Sideloading apps means less "gatekeeping"
The most obvious benefit to the EU's DMA is that it requires "gatekeeper" companies to open up their services and platforms to other companies and developers. In other words, Apple can no longer force other companies and developers to promote their apps through the App Store, which means they won't be subject to paying the 15% to 30% fee required by Apple if they don't want to use the App Store.
In turn, this could mean that users may be able to pay less for an app because the developer doesn't need to work extra fees into the total price. Sideloading apps can provide an iPhone user with a more customized experience, as well as allow users to download helpful apps outside of their geographical location or apps that would otherwise be incompatible through the App Store.
Previously, Apple has said that sideloading apps could "undermine the privacy and security protections" promised to its iPhone users, citing data tracking, scams, and malware vulnerability as potential issues. However, the alternative to not being able to naturally sideload apps—jailbreaking your iPhone—poses a much greater security risk.
According to Mark Gurman, in addition to Apple introducing this "highly controlled system" for EU users to sideload apps, the company may also alter Messages and payment apps. These changes will come via an iOS 17 update specific to the EU, and will most likely happen in the first half of 2024.
MacRumors mentions a December 2022 report from Gurman, in which he says that Apple could be considering security requirements, like verification, from sideloaded apps. These requirements could conveniently charge a fee, potentially making up for the loss of money from app sales.
It's unclear whether Apple is actually pursuing this, or if the EU would allow it. If Apple doesn't comply with any part of the DMA, the company risks fines of up to 20% of its global revenue. The United States is currently debating legislation that would require Apple to allow sideloading, but there's no definitive date a decision might be made.
Stay in the know with Laptop Mag
Get our in-depth reviews, helpful tips, great deals, and the biggest news stories delivered to your inbox.