This Samsung Galaxy Z Fold 5 price leak will make everybody happy
More accessible than ever!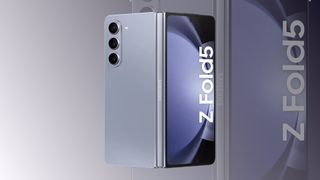 The Samsung Galaxy Z Fold 5 is days away from its big reveal at Samsung Galaxy Unpacked 2023 and we might have just seen confirmation of a rumor about its launch price after the foldable's price information in India has reportedly leaked online.
Foldables are becoming more and more popular, but their high price point is a significant barrier to entry for most. The Galaxy Z Fold 4 launched with a price tag of $1,799 — a considerable amount to fork out for a decent laptop, let alone a smartphone.
However, rumors began to spring last month that Samsung was looking to bring down the cost of the upcoming Z Fold 5, making it more accessible than ever. The recent leak of the Z Fold 5's price could give us a glimpse of how much Samsung is willing to drop the price of its foldable to grow its market share.
Galaxy Z Fold 5 price leak: affordable foldables inbound?
The Galaxy Z Fold 4 launched in India for ₹154,999, however, according to a leaked listing for Samsung's foldable by Paras Guglani, the Z Fold 5 will launch at a price of ₹143500 — ₹11,499 less than the previous generation's price. Recently, tipsters like Revegnus have revealed Samsung's desire to ship the Z Fold 5 at a cheaper price point, and these leaks appear to confirm just that.
The leaked difference in price roughly equates to $140.52, which won't make a world of difference for most but could sway many into giving the Z Fold 5 a further look if similar price reductions occur globally.
The Galaxy Z Fold 4 launched with a price tag of $1,799 in the U.S. and similar drops could see the Galaxy Z Fold 5 become available for $1,658.50. It's still a commanding price tag, but it is one heading in the right direction for wider foldable adoption by more consumers.
Outlook
Is the barrier to entry for foldable phones slowly being lifted? That remains to be seen. The Pixel Fold recently launched with a similar $1,799 price tag to the Galaxy Z Fold 4, and the decision by Samsung to drop the price could be to fend off competition or make up for the fact that there doesn't appear to be much of an upgrade when it comes to the Galaxy Z Fold 5 from what we know so far.
However, this is all speculative, and for concrete numbers on how much the Galaxy Z Fold 5 will cost, be sure to catch the Samsung Galaxy Unpacked event live on July 26. Can't catch the event as it happens? Be sure to follow Laptop Mag on Twitter or… X or whatever it's called now, Facebook, and Flipboard for breaking news as it's announced.
Stay in the know with Laptop Mag
Get our in-depth reviews, helpful tips, great deals, and the biggest news stories delivered to your inbox.
Rael Hornby, potentially influenced by far too many LucasArts titles at an early age, once thought he'd grow up to be a mighty pirate. However, after several interventions with close friends and family members, you're now much more likely to see his name attached to the bylines of tech articles. While not maintaining a double life as an aspiring writer by day and indie game dev by night, you'll find him sat in a corner somewhere muttering to himself about microtransactions or hunting down promising indie games on Twitter.