This is the cheapest RTX 3060 laptop we've ever seen: Daily Deals
Lenovo just set the record for the cheapest RTX 3060 laptop in the UK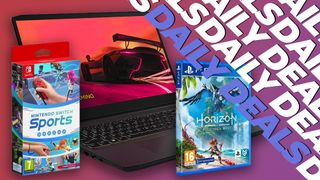 (Image credit: Future)
Lenovo just set the record for the cheapest RTX 3060 laptop in the UK — just £728 thanks to a sneaky discount code!
And don't worry. This isn't one of those "give you a good GPU but skimp on the other components" kind of deals. Alongside the RTX 3060, you'll get an AMD Ryzen 5 CPU and half a terabyte of SSD storage.
Not only that, but you can get over £150 off a 2TB PS5 SSD, a small saving on Nintendo Switch Sports and much more.
Also, not necessarily something we cover, but Cineworld day is this Saturday 26th. All tickets are available for just £3.
Today's best deals: TL;DR
Today's best deals: In more detail
Looking for more deals?
Every day, we scour the internet for the best bargains for your buck. Check out these lists for the most up-to-date curated selection of savings worth every penny.