These 5 MSI laptops are challenging for pole position
MSI's impressive Computex showing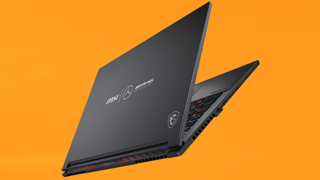 (Image credit: MSI)
If you've ever been hunting for a new gaming laptop, you'll no doubt have come across the name MSI before. The brand is synonymous with power and performance, reflected in the supercar-esque emblem adorning the hoods of some of the best gaming laptops around. However, MSI is no one-trick pony, and its reputation for crafting quality machines stretches across multiple categories that focus on everything from supercharged workstations to premium mainstream notebooks.
After a three-year pandemic induces hiatus, this year's Computex 2023 gave MSI a platform to impress the world — and it did just that. The most impressive thing of all? It did it five times over. MSI's all-new Creator, Stealth, Commercial, Alpha, and Prestige laptop lines have finally arrived, and each looks ready to challenge for pole position in its category.
MSI Stealth 16 Mercedes-AMG Motorsport
MSI Stealth 16 Mercedes-AMG Motorsport availability
The MSIxAMG Stealth 16, limited edition laptop will be available in the second half of 2023, sadly there is no official pricing as of yet.
If you're a brand like MSI, you're in constant pursuit of technological innovation — it's what gives MSI's laptops the cutting edge in terms of performance. So, if you want the world to know your laptop is the fastest and most powerful, then, of course, you'd partner with motorsports legends Mercedes-AMG.
Crossover events are sometimes more about cashing in than anything else, but the MSI Stealth 16 Mercedes-AMG Motorsport isn't just wearing the famous Mercedes star for name recognition. The brand known for its ultimate driving performance is partnering with the brand driving for ultimate performance — and the results are one of the most luxurious laptops around.
The all-new Stealth 16 is as supercharged as its motorsport partner's four-wheeled offerings, kitted out with the latest 13th Gen Intel Core i9 processor and Nvidia GeForce RTX 40-series graphics. The limited edition laptop also packs an incredible 16-inch, 4K OLED display to ensure every drop of power is backed up by stunning pictures.
Not only is the MSIxAMG Stealth 16 fantastic in its own right, but it will also come with an exclusive premium bundle pack that features everything you need to put pedal to metal, including an MSIxAMG branded mouse, mousepad, accessories pouch, and USB flash drive.
Our Laptop Mag Content Editor, Jason England, got an up close look at the MSI Stealth 16 Mercedes-AMG Motorsport at this years Computex 2023, check out the three reasons why he loved it.
MSI Stealth 16 Mercedes-AMG Motorsport specifications
Swipe to scroll horizontally
| | |
| --- | --- |
| Processor | 13th Gen Intel Core i9-13900H |
| Graphics | Nvidia GeForce RTX 4060 (8GB) / 4070 (8GB) |
| Memory | Up to 64GB DDR5-5200 |
| Storage | Up to 2TB NVMe SSD |
| Display | 16-inch OLED, 100% DCI-P3 |
| Resolution | UHD+. 3840x2400 |
| Size | 14 x 10.22 x 0.78 inches |
| Weight | 4.38 pounds |
MSI Creator Z17 HX Studio
MSI Creator Z17 HX Studio availability
Computex Best Choice Award 2023 winner, and the taker of our very own Best in Show award, the MSI Creator Z17 HX Studio is a workstation of Herculean might. Labeled as the point where tech meets aesthetic, the Creator Z17 indeed packs powerful performance alongside premium build and design.
The power in question is supplied by the latest 13th Gen Intel Core i9 HX processors with up to 64GB of DDR5-5600 RAM and the blazing power of Nvidia GeForce RTX 40-series GPUs. The Nvidia Studio verified laptop is a portable powerhouse, and its increased 16:10 True Pixel display will offer even more screen real estate across a blazingly fast 165Hz, 17-inch IPS screen to maximize your productivity.
MSI Creator Z17 HX Studio specifications
Swipe to scroll horizontally
| | |
| --- | --- |
| Processor | Up to 13th Gen Intel Core i9-13900HX |
| Graphics | Nvidia GeForce RTX 4050 (6GB) / 4060 (8GB) / 4070 (8GB) |
| Memory | Up to 64GB DDR5-5600 |
| Storage | Up to 2TB NVMe SSD |
| Display | 17-inch IPS, 100% DCI-P3 @ 165Hz |
| Resolution | QHD+, 2560 x 1600 |
| Size | 15 x 10.23 x 0.74 inches |
| Weight | 5.4 pounds |
MSI Prestige 16 Studio EVO
Featuring an incredibly powerful Intel EVO-certified processor, Nvidia Studio verification, Thunderbolt 4 support, an ultra-slim-ultra-light-ultra-chic design, and a 99Wh battery and you have the MSI Prestige 16 Studio EVO — and potentially one of the best Ultrabooks you'll come across.
Outfitted with enterprise-grade security features like Windows Hello and tobii Aware, the Prestige 16 Studio is a fantastic go-anywhere and do-anything business device for business and productivity users alike. Certain configurations will also allow for the Prestige 16 to feature Nvidia GeForce RTX 40-series GPUs for increased graphical performance, making for a brilliant all-around machine.
MSI Commercial 14
A business laptop that ticks all the boxes is hard to find. Some lack ports, some lack protection, some run loud and hot, and some just don't have the battery life to keep up with your all-day needs. The MSI Commercial 14 is the laptop to counter all of those problems and more.
Outfitted with enough ports to make even the best docking stations seem redundant, the Commercial 14 features Thunderbolt 4/USB-C, Type-A USB, HDMI, Ethernet, audio, SD card, and Smart Cart I/O, making it one of the most versatile business laptops around.
The overall design of the Commercial 14 maintains a business aesthetic — but that doesn't mean stuffy, simply that its modern and chic design won't distract from the task at hand. The Commercial 14 also features MSI's side vent technology to ensure the device stays cool and quiet under load, and a spill-resistant C-side design to help protect against accidental spills or splashes — protecting your data in the process.
MSI Alpha 17
MSI's Alpha 17 returns with a mighty revamp that delivers more power, more performance, better responsiveness, and a whopping upgrade when it comes to wireless connectivity. The latter of which is thanks to Qualcomm FastConnect 7800 Wi-Fi 7 connectivity, with the Alpha 17 being the first in the world to bring this technology to a computing platform.
FastConnect 7800 delivers full Wi-Fi 7 performance with top speeds of up to 5.8Gbps and latency as low as just 2ms. Gaming over Wi-Fi has never had it so good thanks to High Band Simultaneous (HBS) Multi-Link, making use of multiple network bands to deliver the fastest and most stable connection speeds possible.
The Apha 17's connection speeds aren't the only lightning-fast thing worth pointing out, as the 17-inch, QHD panel has an incredible 240Hz refresh rate — offering impeccably smooth and responsive pictures. Ideal if you want to take full advantage of the Alpha 17's blistering AMD Ryzen 7045 Dragon Range processor and Nvidia GeForce RTX 40-series graphics.
Outlook
MSI's new lineup of laptops are some of the best MSI laptops we've seen to date, and bring a lot to the table in terms of power and performance. With fantastic options available soon for everything from gaming, business, and portable workstation laptops, keep your eyes peeled to Laptop Mag for the latest news and reviews of MSI's latest offerings.
Category
Back to Ultrabook Laptops
Brand
Processor
RAM
Storage Size
Screen Size
Colour
Condition
Price
Stay in the know with Laptop Mag
Get our in-depth reviews, helpful tips, great deals, and the biggest news stories delivered to your inbox.
Rael Hornby, potentially influenced by far too many LucasArts titles at an early age, once thought he'd grow up to be a mighty pirate. However, after several interventions with close friends and family members, you're now much more likely to see his name attached to the bylines of tech articles. While not maintaining a double life as an aspiring writer by day and indie game dev by night, you'll find him sat in a corner somewhere muttering to himself about microtransactions or hunting down promising indie games on Twitter.