Plugable's newest docking station has real potential – let's not waste it on spreadsheets
Plugable (Adjective): Worthy of a plug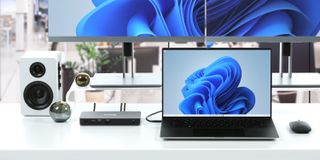 (Image credit: Plugable)
Plugable's Dual HDMI Docking Station (UD-4VPD) isn't a name that has you thinking about high-performance gaming amidst cascades of RGB lighting. Nor does it cause it to spring out as an essential tool for any content creator's editing bay – but names can be deceiving. The UD-4VPD is an 11-in-1, high-speed USB4 docking station with a unique feature designed to win the hearts and minds of those who love to create and play.
When it comes to designing a great dock, Plugable knows exactly what they're doing. Ports are essential, and the bread and butter of any good docking station on the market. Power is equally vital, keeping your workstation ticking through a full work day should come as standard. However, visual performance is something often overlooked – and while a lot of docks offer access to impressive resolutions, they remain shackled to a 60Hz refresh rate.
Those shackles have just been broken.
Plugable Dual HDMI Docking Station (UD-4VPD): The need for speed
Releasing today, Plugable's Dual HDMI Docking Station transcends the limitations of the docks that came before it to deliver high-performance at high-speeds. With its blazingly quick 40Gbps USB4 connection, 100W of unstoppable Power Delivery, and its 20W Fast Charge capabilities, the UD-4VPD is an anodized aluminum speed demon of the desktop – and from creation suite to battle station Plugable's dock has the display options to match.
The UD-4VPD features two HDMI 2.1 display outputs that tap into a 32.4 Gbps HBR3 video stream to deliver incredibly crisp, high resolution pictures at a rapid 120Hz. What results is an ultra-smooth experience that's easy on your eyes while delivering impressive 4K and 8K resolutions ideal for content creation and lightning fast refresh rates for responsiveness and picture quality in gaming.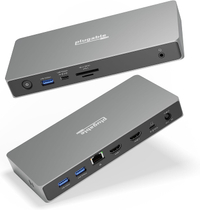 Plugable Dual HDMI Docking Station (UD-4VPD): $199.95 @Amazon
Grab Plugable's Dual HDMI Docking Station (UD-4VPD) today for just 199.95 with a $15 off launch coupon and maximize the potential of your devices with USB4 (40Gbps) connectivity, excellent external display support (2x 4K @ 120Hz, 1x 8K @ 60Hz), 100W of Power Delivery to the host machine, a 2.5Gbps Ethernet connection, and a host of USB Type-A ports, a USB-C (20W charging) port, and SD/Micro SD card readers to manage your peripherals, accessories, and keep your other devices topped up with power throughout the day!
Has your gaming laptop got the horsepower in place but a screen that won't hold up? Pair the UD-4VPD with a fast enough monitor and bring out your machine's true gaming potential. Power your peripherals, eliminate input lag, and guarantee you're gaming at your best with a 2.5Gbps Ethernet port for a solid, reliable connection.
Are you a content creator who wants the sharpest images you can get? The UD-4VPD can power two 4K displays at 120Hz, or a single display at 60Hz in full 8K resolution. All of this while a myriad of ports power your accessories and handle data transfer at a pace that would make a Lamborghini blush.
Outlook
Plugable's impressive new dock is available for just $199.95 at Amazon with a $15 off launch coupon. If you want a dock that can genuinely do it all it's well worth checking out. Especially when factoring its relatively low price point (for a docking station) and impressive on-paper performance.
We have the Plugable Dual HDMI Docking Station (UD-4VPD) on hand for a review to follow. So, if you need more time to decide, keep your eyes peeled to Laptop Mag for a full run down of the product over the next few days.
Category
Back to Gaming Laptops
Brand
Processor
RAM
Storage Size
Screen Size
Colour
Condition
Price
Stay in the know with Laptop Mag
Get our in-depth reviews, helpful tips, great deals, and the biggest news stories delivered to your inbox.
Rael Hornby, potentially influenced by far too many LucasArts titles at an early age, once thought he'd grow up to be a mighty pirate. However, after several interventions with close friends and family members, you're now much more likely to see his name attached to the bylines of tech articles. While not maintaining a double life as an aspiring writer by day and indie game dev by night, you'll find him sat in a corner somewhere muttering to himself about microtransactions or hunting down promising indie games on Twitter.