Microsoft's latest AI injection is a dose of generative blah
And about as useful as a chocolate teapot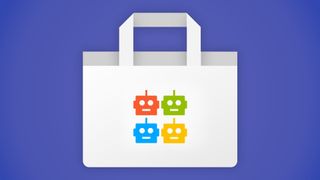 (Image credit: Laptop Mag / Rael Hornby)
AI is cool. Everybody's talking about it, everybody's doing it. If you're not using AI you're just not cool. It's the hip new thing to be knee-deep in ChatGPT, why aren't you doing it yet? Don't you want to be cool?
Microsoft is cool. It's ditched Cortana for the AI-powered Copilot, gotten itself an AI chatbot called Bing, and is currently launching AI-generated review summaries on the Microsoft Store. That's cool. That's the best type of cool — cool and entirely unnecessary.
Modern marketplace problems
Don't you just hate it when you're browsing for the next bit of Microsoft Store shovelware to beam into the guts of your system, but you just can't quite decide if an obscure app called Spotify is worth the hassle? I know I do. Sometimes I need a little help in deciding if an app is a worthwhile download. (I don't.)
Personal judgment is excellent and all, but I'd much rather take on board the digitized opinions of complete strangers hiding behind a veil of anonymity and incomprehensible grammar. The problem is, there are just so many of them to scroll through. (There isn't. The Microsoft Store is practically a graveyard for the most part.)
If only there was a quick way to garner how users have rated their experience with the app. Maybe some sort of rating out of ten, or even some sort of star-based metric for me to base my judgment on. Sadly, the Microsoft Store just isn't outfitted with something of this nature. (It is. There's a five-star rating displayed next to each app on the platform.)
Who reviews the reviewers?
Thankfully, all that is about to change. Microsoft is currently rolling out a new feature for its app platform that summarizes the legions upon legions of insightful and in-depth reviews left by users. The AI reviewer collates the often thousands upon thousands sometimes hundreds of available reviews and judges the average experience of users, including what features they liked, how easy it was to use, and what the app is good for.
For example, the Microsoft Store's AI review assistant had the following to say about Spotify from its 232 U.S. reviews:
---
Users love Spotify for its vast music library, personalized playlists, and ad-free listening. The app is easy to use and offers great tools to discover new artists. While some users have experienced occasional issues, overall, Spotify is highly recommended for music lovers.
Reviewers liked these features:
Personalized Playlists, Ad-free Listening, Discover New Artists
---
I don't know about you, but I now feel completely won over by this no-nonsense, flavorless, corporate-sanitized summary of the review section. I think I'll go ahead and give this "Spotify" a chance after all.
Previously I'd only have had the opinion of CAPTAIN-REX-21 to go by, who insists that the app "works ok but they keep changeling [sic] the ui and it looks like some one [sic] nuke [sic] a toilet."
Outlook
Nothing says modern, hip, and trendy quite like [company name] adds revolutionary new AI tech to [product name]. Though, with the AI craze shifting into overdrive, modern, hip, and trendy has quickly shifted into tired, drawn out, and lacking inspiration.
Microsoft's adoption of AI across its varying services has for the most part turned out pretty well. Bing has breathed new life into the brand's Edge browser, and Microsoft Copilot is actually doing the impossible and getting some people excited about Windows again.
However, this needless injection of AI into the Microsoft Store serves little to no purpose and is indicative of tech's current top trend of throwing AI into every crevice and crevasse in the hopes that it can solve (or at the very least distract) from otherwise sub-par services, features, or tools.
Throw as much AI at the Microsoft Store as you want, in the wise words of the great philosopher CAPTAIN-REX-21, it'll still looks like some one nuke a toilet.
Category
Back to Ultrabook Laptops
Brand
Processor
RAM
Storage Size
Screen Size
Colour
Condition
Price
Stay in the know with Laptop Mag
Get our in-depth reviews, helpful tips, great deals, and the biggest news stories delivered to your inbox.
Rael Hornby, potentially influenced by far too many LucasArts titles at an early age, once thought he'd grow up to be a mighty pirate. However, after several interventions with close friends and family members, you're now much more likely to see his name attached to the bylines of tech articles. While not maintaining a double life as an aspiring writer by day and indie game dev by night, you'll find him sat in a corner somewhere muttering to himself about microtransactions or hunting down promising indie games on Twitter.