Summer Games Fest 2023: Final Fantasy VII Rebirth, Mortal Kombat 1 and more
Here's everything that happened at Summer Games Fest 2023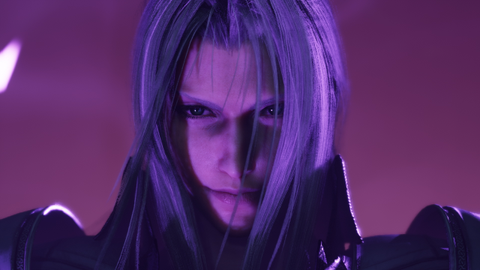 (Image: © Square Enix)
Summer Games Fest 2023 has just come to an end and we've gotten a great first look at new titles like Final Fantasy VII Rebirth, Mortal Kombat 1, Alan Wake II, and far more. With some shocking surprises like the return of Prince of Persia alongside Nicolas Cage in Dead by Daylight, it was one great show. Here's everything you missed.
Refresh
Summer Games Fest 2023 is four hours away, and as every minute passes, our hype levels grow exponentially. Don't miss the show at 12PM PDT / 3PM EDT / 8PM BST on YouTube or Twitch, and if you can't make it for whatever reason, keep up with this article. We'll be updating it with frequently throughout the show!
Summer Games Fest 2023 begins in 15 minutes, so be sure not to miss it on YouTube or Twitch. If you can't make it for whatever reason, we'll be updating this article throughout the show frequently.
Summer Games Fest 2023 is starting now! You can catch the show on YouTube or Twitch. And if you can't, we'll be covering every beat of the show!
Prince of Persia: The Lost Crown was revealed as the big show opener. It's a 2d side-scrolling action game with tons of huge bosses as the player dodges through obstacles, swapping between melee attacks and ranged attacks to emerge victorious. It's launching on January 18, 2024.
Mortal Kombat 1 is the next game being shown off with an extended look with gameplay, story and fatalities. We're seeing tidbits of the narrative alongside story-related fatalities inside arenas like an expensive high-rise apartment, traditional temple and gorgeous restaurant. We're being shown tons of different corners of the Mortal Kombat 1 world, before characters are seemingly brought together to fulfill some greater purpose. And of course, a brutal compilation of nonsensical fatalities end off the demonstration. The game launches September 19.
Afterwards, Ed Boon was welcomed onto the stage to discuss more about Mortal Kombat 1. He explains how Mortal Kombat 1 is changing and rebooting the whole world through a reset timeline, with old friends becoming enemies and vice versa. They also discuss cameos, which are side-characters the player picks that can be used to summon them into the battle.
Any characters can be combined to create crazy different builds. They can be called at any time, but are on a refill timer to prevent spamming. Some of the cameos are playable characters, but some cameos are not available in the roster. Jean Claude Van Damme will be in the game as Johnny Cage as well.
Path of Exiles 2 received its first trailer in two years, showing off our first look at developed gameplay, with a magician-esque character casting tons of electricity-based spells against large crowds of vicious enemies within a temple. We then see a huge beast jump at her before the trailer ends.
A new Street Fighter VI content piece is being shown off now, revealing Bikitoa Island alongside a mechanical Ryu and Ken who fights a giant dinosaur in a Exoprimal x Street Fighter VI collaboration. It seems to be set within Exoprimal itself. It comes July 14.
Nicolas Cage is coming to Dead by Daylight. Shortly afterwards, he was brought onto the stage to talk to Geoff. Cage describes the game as a "museum of horror," which is why he decided to play the game. His character is an exaggerated version of himself who was going to make a movie before waking up within the game.
It comes out July 25. Afterwards, we got an extensive first look at him in-game, leaping over barriers, hiding from a killer, fixing generators, and swiftly dodging away from enemy attacks before escaping.
A world premiere of Season 3 of The Witcher Netflix series is being shown off now. It opened with a small introduction from the cast before showing off a trailer with a epic version of Radiohead's Burn the Witch over it.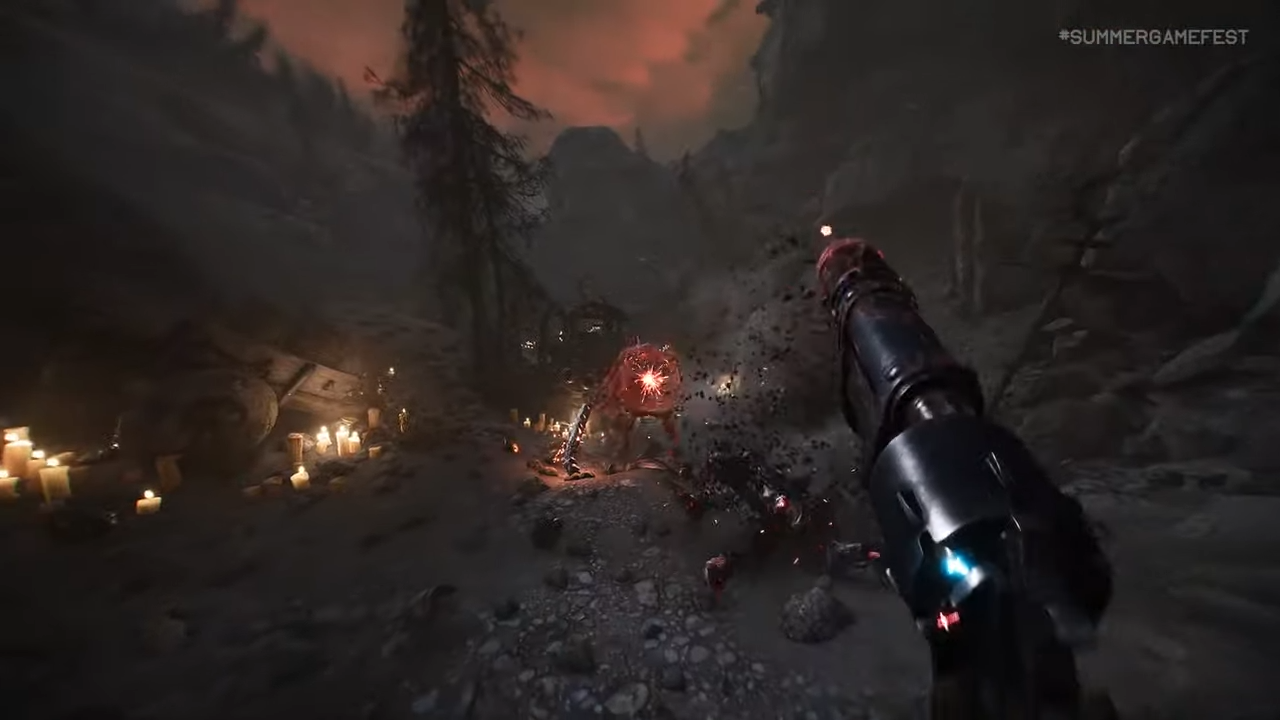 A new game from the creators of The Vanishing of Ethan Carter is being shown off. It's an Epic Games exclusive first person shooter that has the player in a fantasy world fighting giant bosses throughout castles and towers. It's called Witchfire and is available September 20.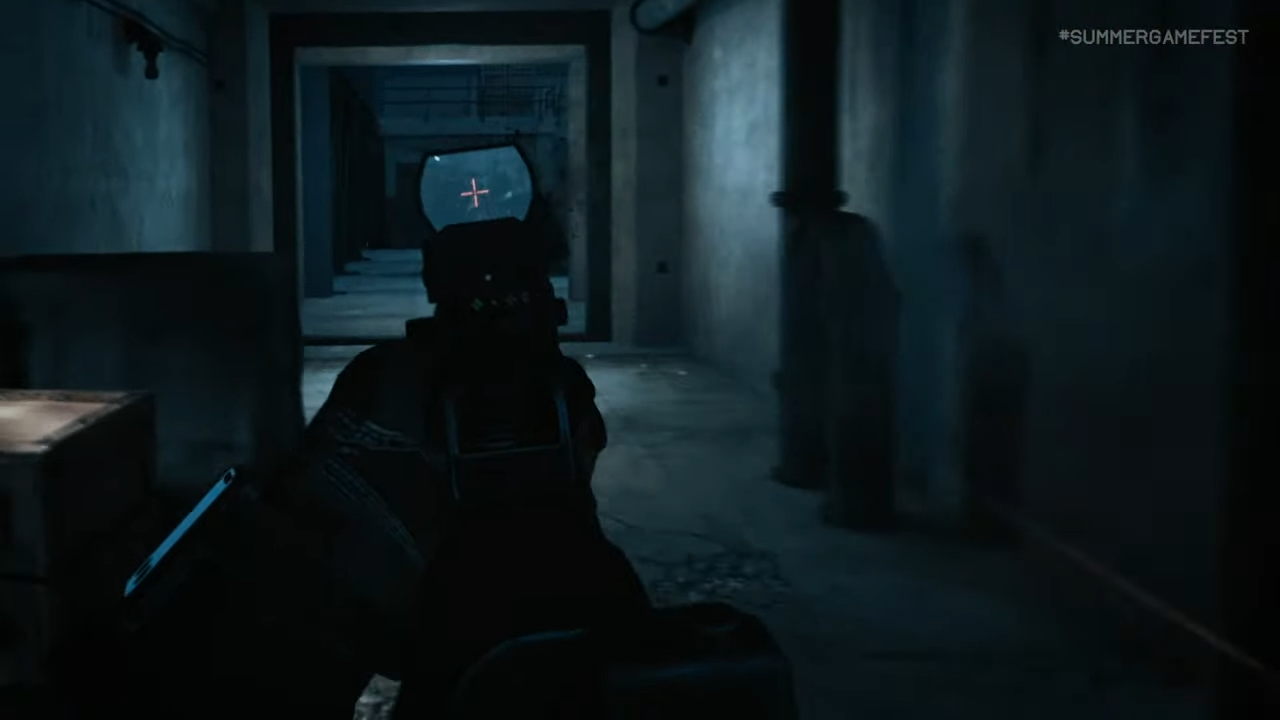 A VR game is being shown off right now, a first-person multiplayer shooter called Crossfire Sierra Squad.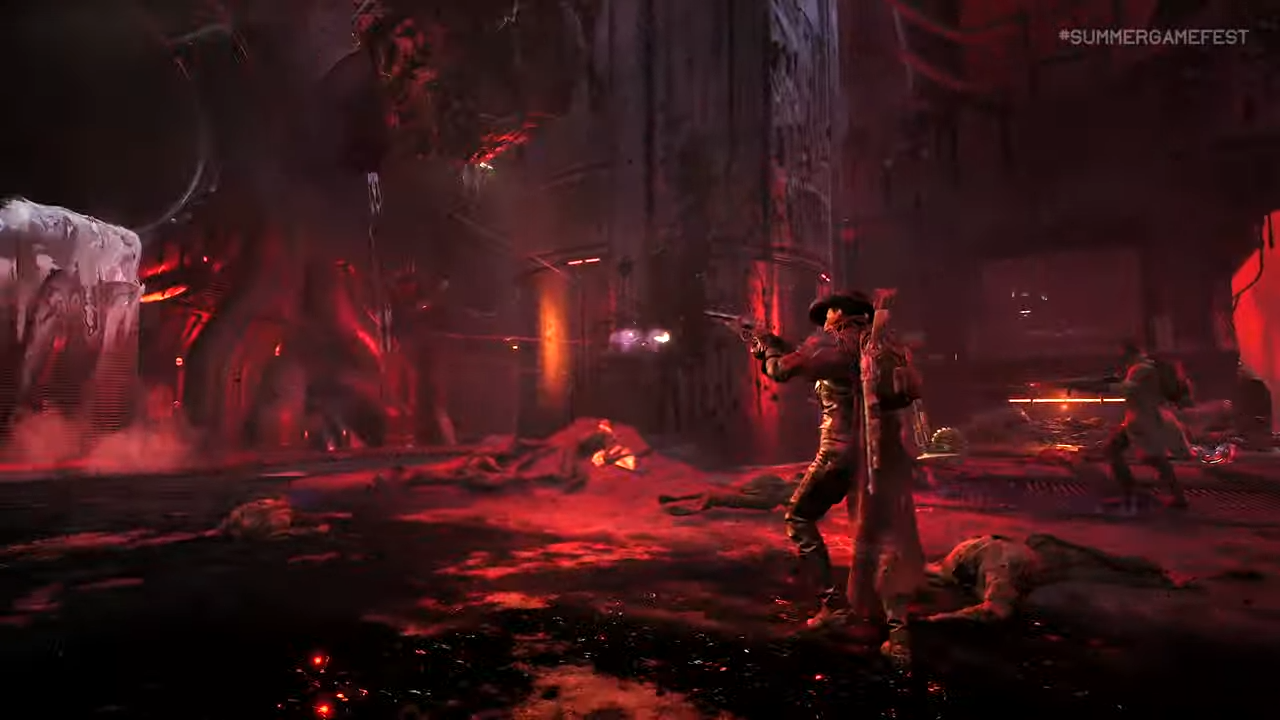 Remnant II is briefly getting more footage, showcasing the bosses and weird mix of Sci-Fi areas and huge monsters. It comes out July 25.
A new 2D Sonic is being shown off, giving us a first look at spins on some classic environments, allowing users to play Sonic, Tails, Knuckles, and Amy in multiplayer play. It's called Sonic Superstars and comes Fall 2023.
Honkai Star Rail is being shown off, giving us a look at some new characters, tournament footage and character with a mechanical arm who's constantly cracking wise jokes. It's coming for PS5 Q4 2023.
Lies of P received a new trailer and will be releasing on September 19. We see what looks like the opening of the game, before an introduction to the game's world overlaid with some compelling wide shots of the main character within the huge environments, With crazy beasts and bizarre twists on European architecture, it is absolutely nuts.
The next game is developed by huge anime creator Akira Toriyama, responsible for the beloved Dragon Ball series. We see the player traversing a gigantic desert environment, driving a tank and battles enemies. It's called Sandland.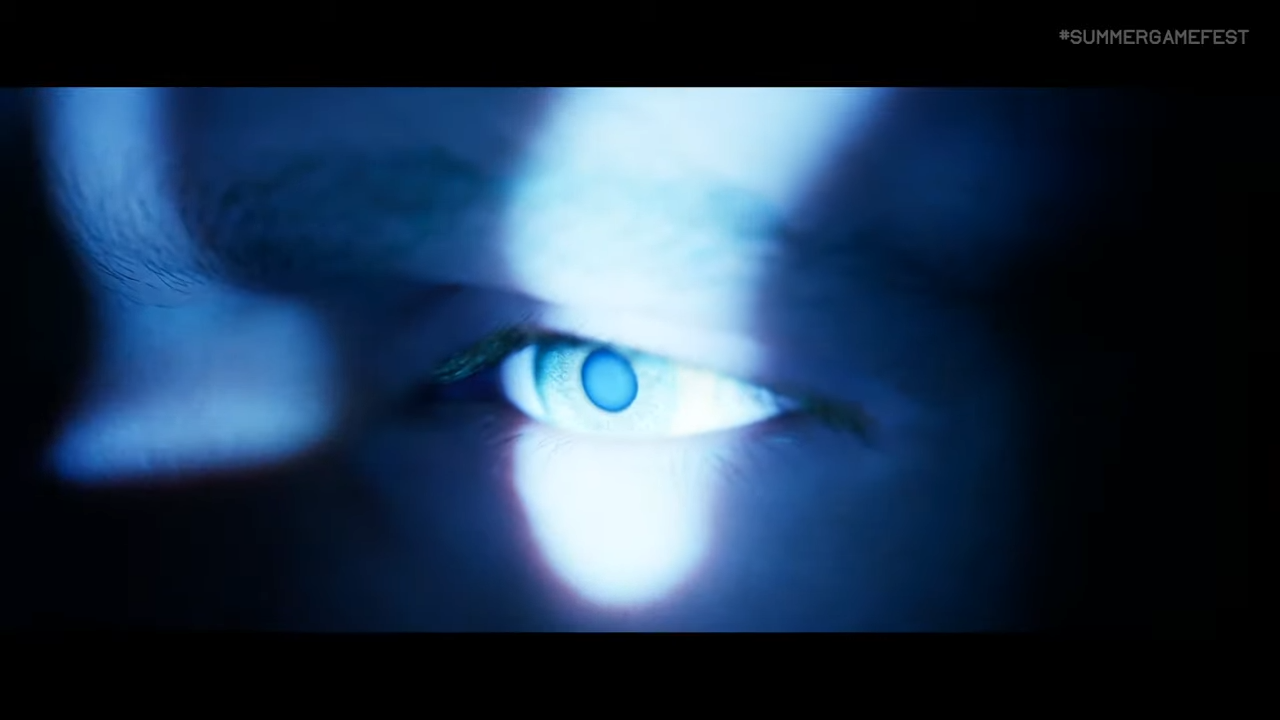 We're seeing an Annapurna tease right now, revealing that the company will be hosting an event on June 29. A hint towards one of the company's biggest games ever ended the trailer.
Throne of Liberty is a new RPG from Amazon Games inside a fantasy world where the main character shifts into a giant hawk before landing onto a dock. It seems combo-heavy, with the player grapple-hooking up into the sky and shapeshifting, battle huge golems and monsters later in the trailer.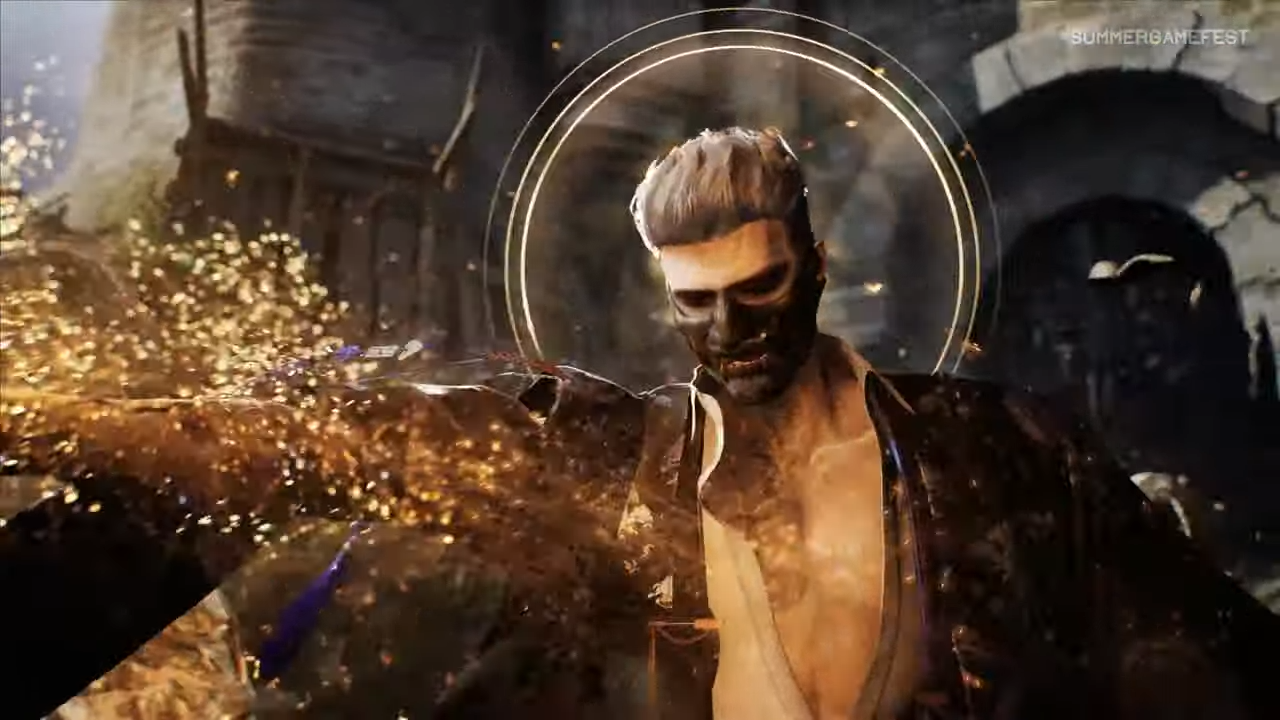 We're seeing a new fantasy multiplayer game from Nexon showcasing tons of players on top of castle walls battle each other, with some using daggers, riding horses, casting spells, and using huge swords. It's called WarHaven.
A brief trailer of YouTubers playing Party Animals was shown as an advertisement for the game's ridiculous shenanigans. It comes September 20.
Dying Light 2 is getting a new update, with more dangerous nights and improved parkour.
Crash Team Rumble was given a brief trailer.
Sam Lake is being brought on stage now to talk more about Alan Wake II. He's discussing how it is the company's first survival horror game, and how the player will control two different characters and be able to switch between them at different points in the story.
Alan seems to be trapped in a Nightmare dimension, and the game's premise revolves around a detective attempting to unravel a set of ritualistic murders. The game is not built upon people enjoying the original game, so those who haven't played it can jump right in. The player is free to switch between them, and there's lots of connection points.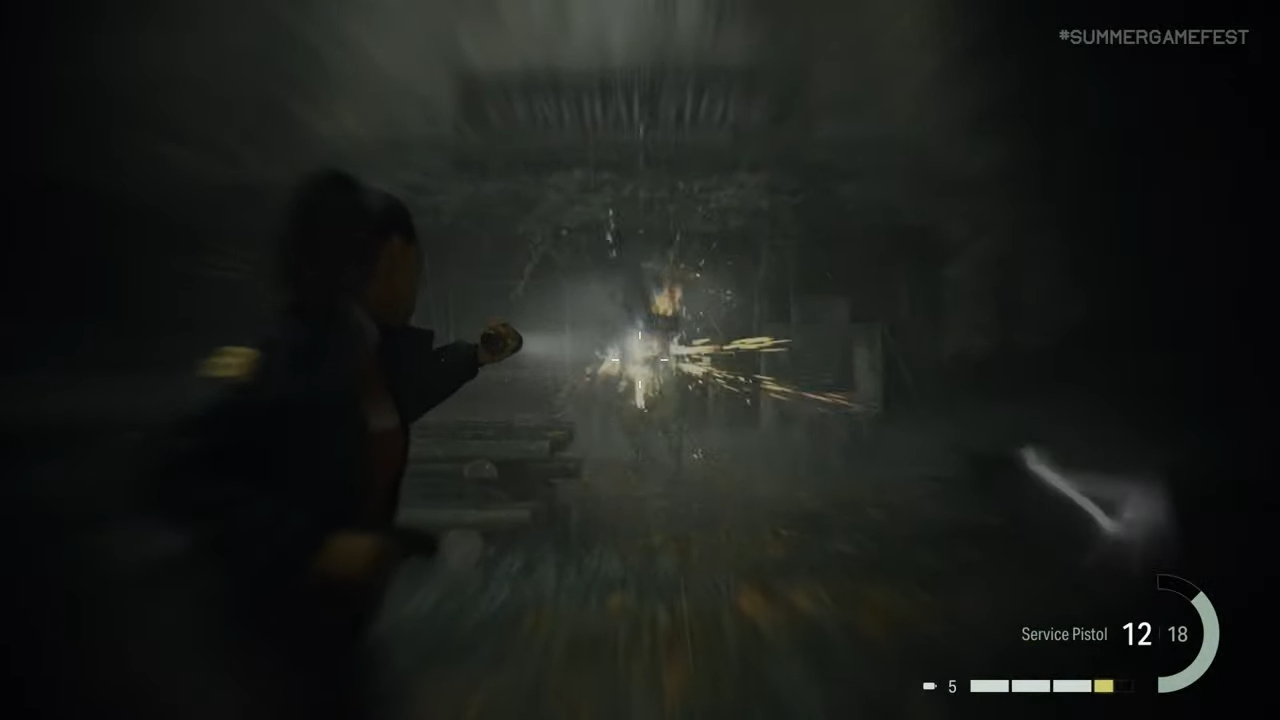 You can go on all the way to the end of the game with one character without doing it on the other character. We're also being graced with raw, unedited gameplay. We see the FBI detective stepping through a forest, making her way towards an apartment. We then see a deer run through the screen before the player is hunted by a man with a deer mask, holding an axe and running at the main character. Afterwards, we get a repeat of the original trailer shown at PlayStation's showcase. The game launches October 17.
Warhammer: Space Marine II's co-op campaign received a new trailer, showcasing the massive combination between fantasy architecture with futuristic technology, blasting through tons of aliens using huge melee weapons and powerful firearms. The scale of the world is genuinely impressive, featuring a campaign with up to three players. It's coming this winter.
Brave at Night is showing off its new 2d kingdom-based title where players make choices regarding their people. It's called Yes Your Grace Snowfall and launches 2024.
A new game from John Carpenter made by Saber and Focus Entertainment, showcasing a car full of marines driving towards a monster before a title card Toxic Commando, which is a first-person zombie slaying game with up to four other players. While it opened with a cinematic trailer, we're quickly seeing the player driving cards through a huge world murdering tons of zombies and enormous monsters. It's coming 2024.
More footage of Baldur's Gate 3 is being shown off, revealing new footage of Jason Isaacs voicing a character we have yet to see just yet. The game launches August 31, 2023.
Spider-Man 2 returns with the director to talk more about the game. We see the cover art show up briefly, and it's confirmed we have more than two villains within the game. They discuss Kraven, who's just sort of a guy with excellent skills, which makes him different than other villains.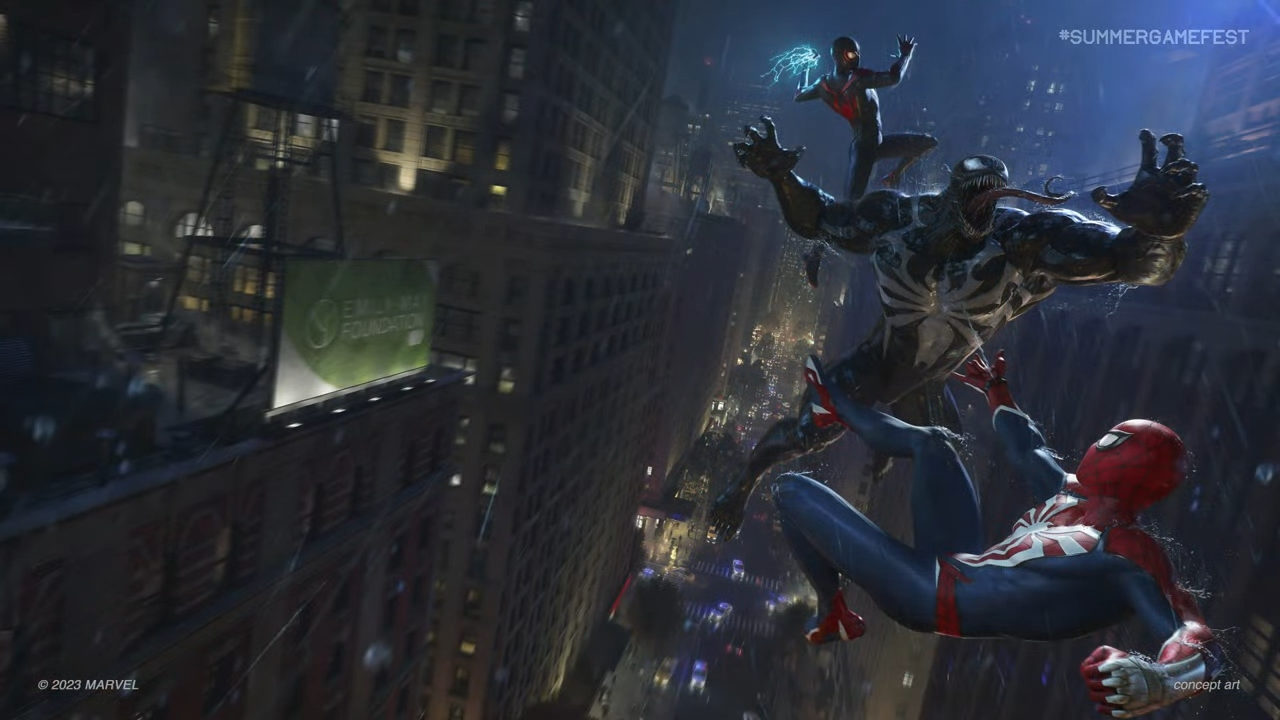 Venom image is shown off, with Miles and Peter battling him for their life. It's apparently not Eddie Brock, with the secret being who he actually is. We were given a release date of October 20.
Palworld, which has been frequently called Pokemon but with Guns, is being shown off. Early access is January 2024.
Pearl Abyss is showing off Land of the Morning Light, where the player fights huge monsters and beasts in intense battles.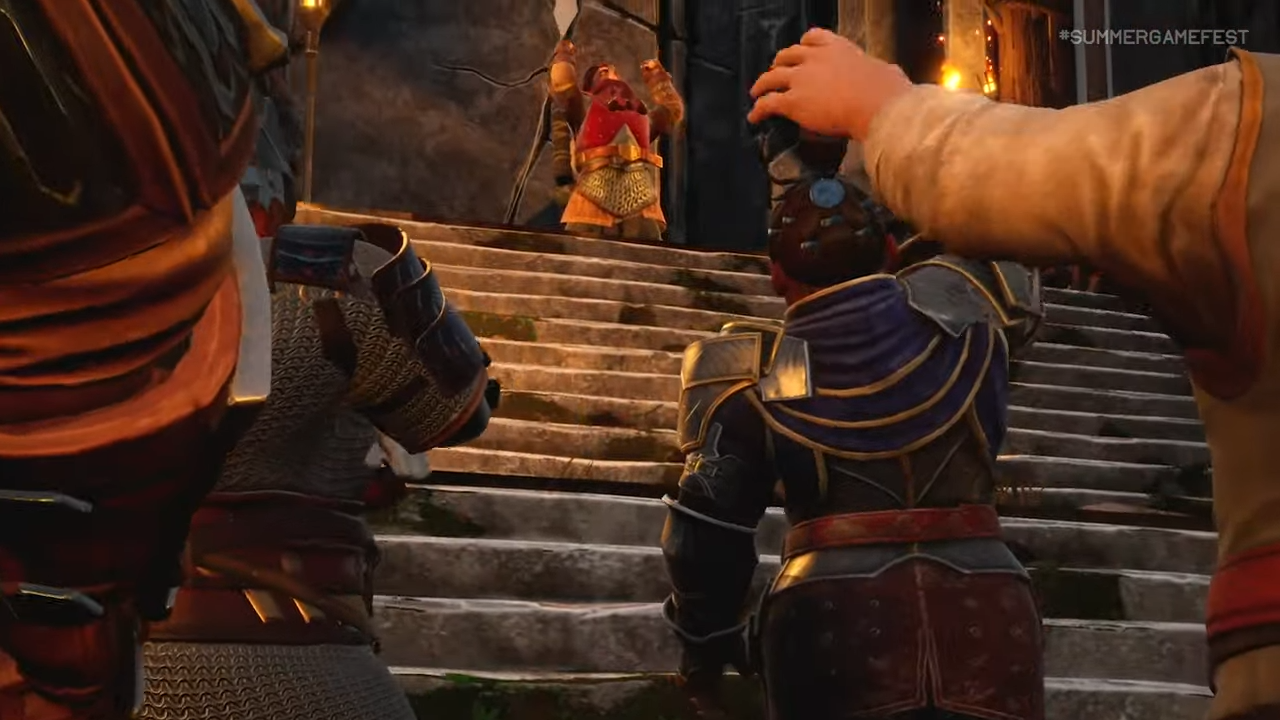 A Middle-Earth based multiplayer game where players build and battle throughout the Mines of Moria is being shown off now. It's called Lord of the Rings: Return to Moria.
A Final Fantasy VII mobile game is being shown off now, seemingly featuring a turn-based combat system with tons of classic characters alongside new ones, promising to get us to know Sephiroth better. Final Fantasy VII Ever Crisis is the name.
Banishers: Ghost of New Eden, a new game by Don't Nod, is being shown off further in depth. We're seeing more cinematics showcasing the bizarre horror moments we'll witness, alongside the player's martial arts against enemies, utilizing those powers to cross huge gaps. Players also can make story choices throughout the world.
A new Yakuza game is being shown off now, giving us a first look at the new chapter in the series. We see the player using crazy combat skills to toss an energy lasso at items and send those pieces flying around at enemies. It's called Like a Dragon Gaiden: The Man Who Erased His Name.
A new game is being shown off, seemingly a third person exploration title in which the user is exploring a world in a submarine. The narrative involves them being trapped beneath the water, hearing ghosts of their past. It's called Under the Waves and launches August 29.
Season 4 of Modern Warfare II and Warzone is being shown off now. We're seeing a new map called Vondel, with players traveling through some sort of European town.
Xbox teamed up with Porsche to create 75 unique consoles inspired by designs of different cars. Geoff is currently showing off one of them.
A new farming sim called FaeFarm is being shown off now, featuring several seasons with fishing, house building, and fantasy forests. It seems to feature some light top down combat as well. It's called FaeFarm and coming on September 8.
Marvel Snap revealed a new gamemode coming next week called Conquest mode. It's a more competitive version of the base game. We're seeing a ProZD video explaining the pains of the game's unfortunate unlucky moments.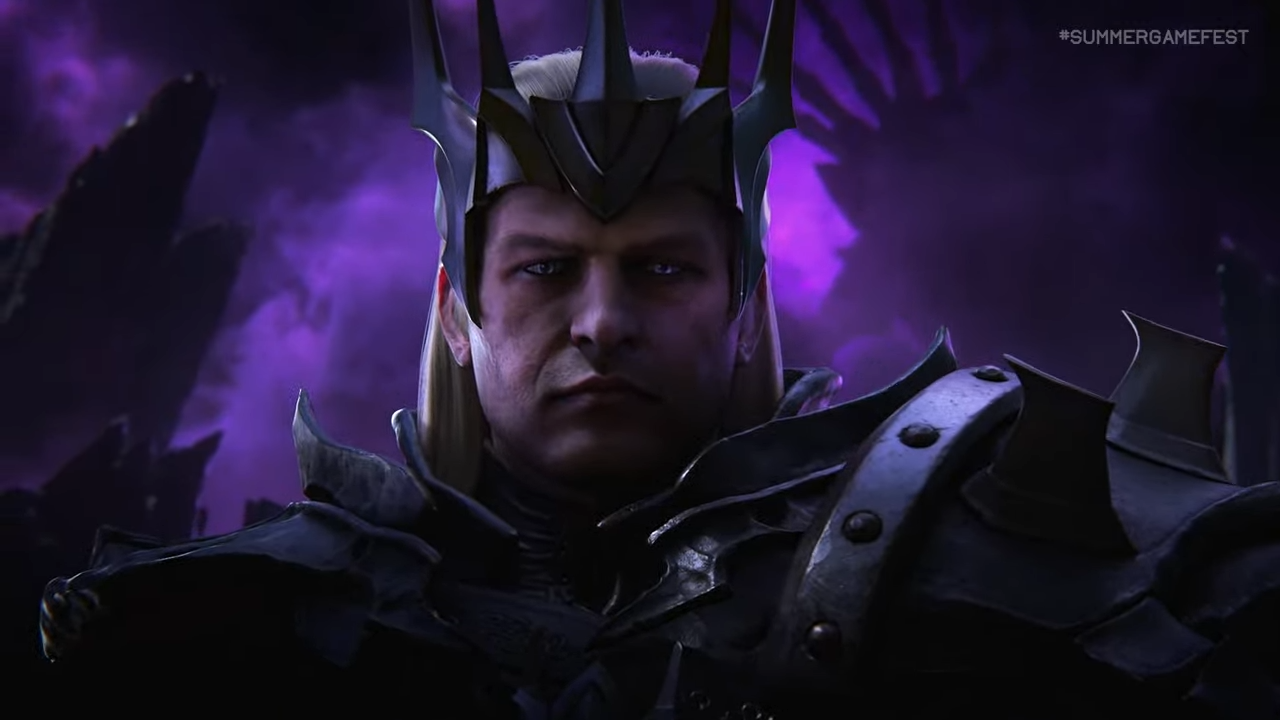 King Arthur: Legends Rise, a cross-platform UE5 game received a cinematic trailer of him and his companions battling tons of undead monsters within a dark land.
We're seeing an open-world multiplayer title with fantasy inspiration but with the twist of firearms included. It's called WayFinder.
A new Paradox game set within the Star Trek world. We see an enormous Borg cube appear, with a zoom out of the galaxy, showcasing Star Trek Infinite. It's being fully revealed on June 16.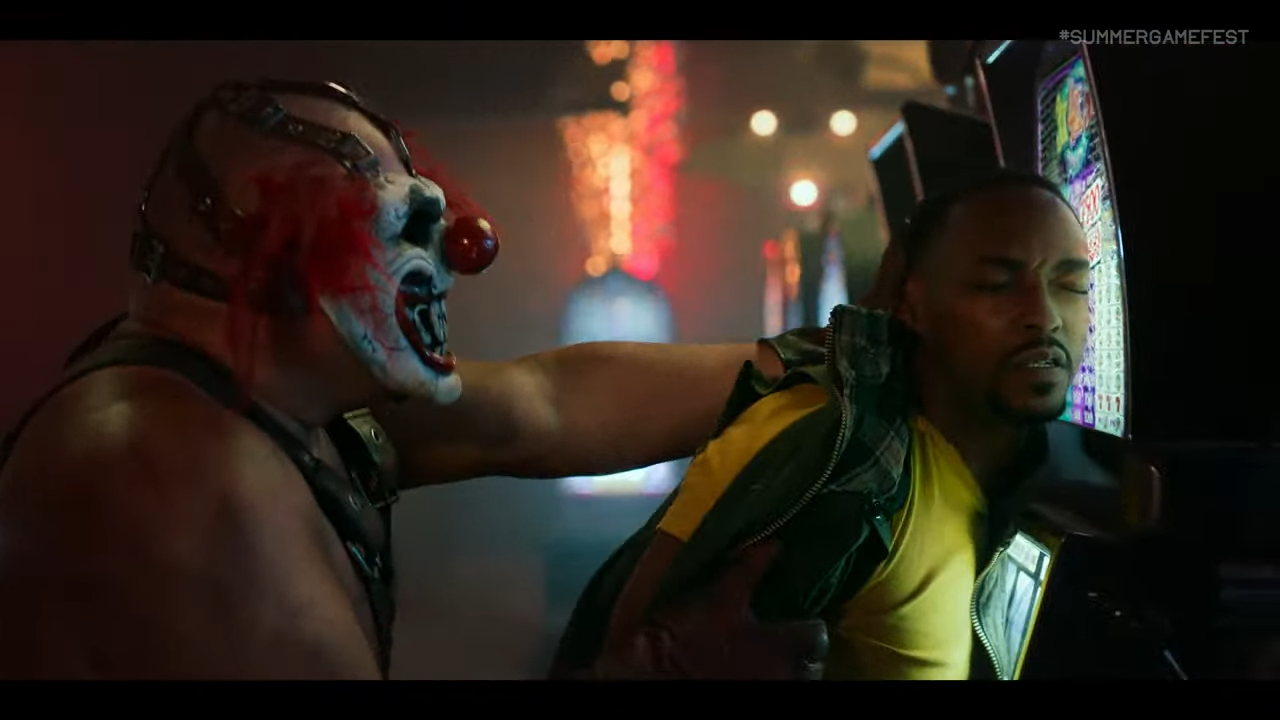 A quick trailer for the Twisted Metal TV show was shown off. We see Sweet Tooth beating the absolute stars out of Anthony Mackie's character, who's played by Will Arnett, before being smashed into a slots machine.
A hack-n-slash that allows the player to duplicate themselves in strategic combat is being shown off now, We see huge temples and duplications of the player moving around the world performing different actions at once. It's called Lysfanga and is launching this year.
Immortals of Aveum is being shown off again now. It's a first-person shooter with a fantasy focus, Darren Barnet is coming onto the stage now to talk about the title. We're now being shown a gameplay encounter against one of the huge enemies of the game.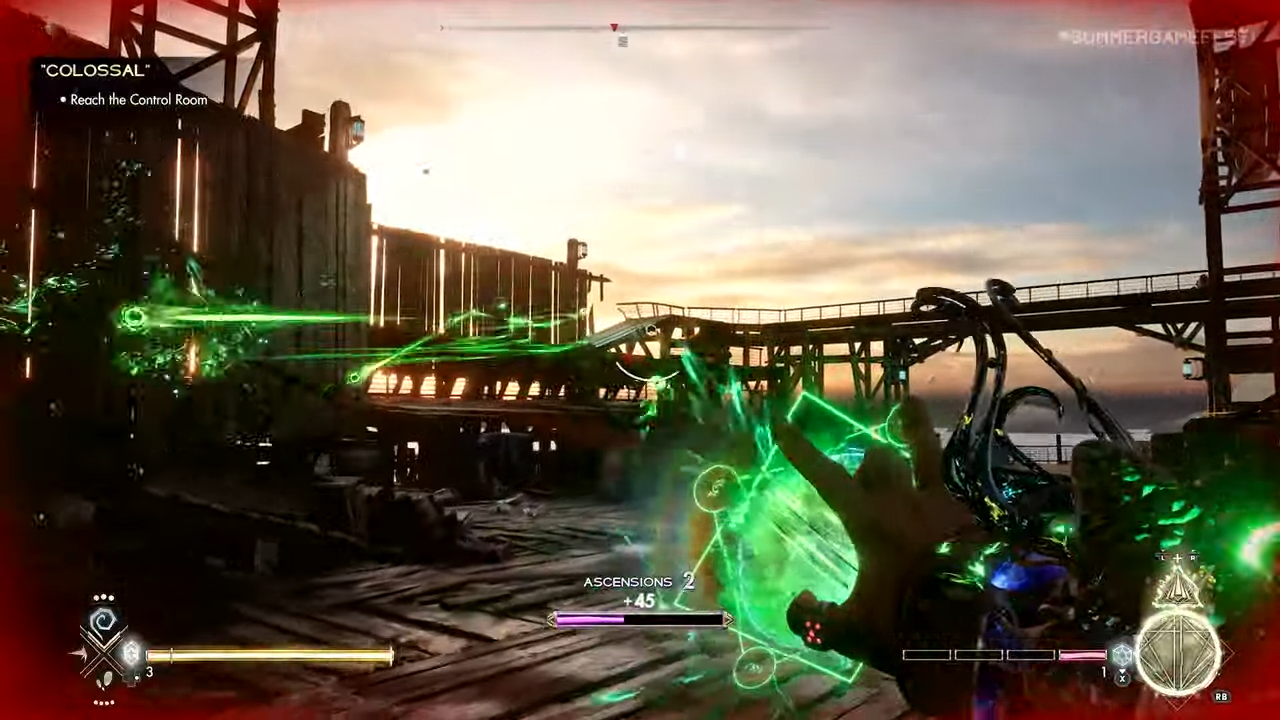 The player seems to be on top of an enormous golden statue of sorts before we see them battling tons of enemies throughout these bridges and then enters the deck of the statue and casts tons of crazy spells.
We saw the cinematic trailer for Fortnite Wilds, the new season of the game that launches tomorrow. Players will be able to "unleash the power of Cybertron" in this wild update. Players will seemingly be able to ride dinosaurs, before we see Optimus Prime appear and manifest through some wild technology. He'll clearly be playable through some sort of miniature version.
Final Fantasy VII: Rebirth is being shown off now. It opens with a first look at Midgar, showing Barret, Red XIII, Tifa and Aerith seemingly hurt. We see the world and get a great look at Cloud traveling throughout tons of natural environments, forests and caverns are shown off.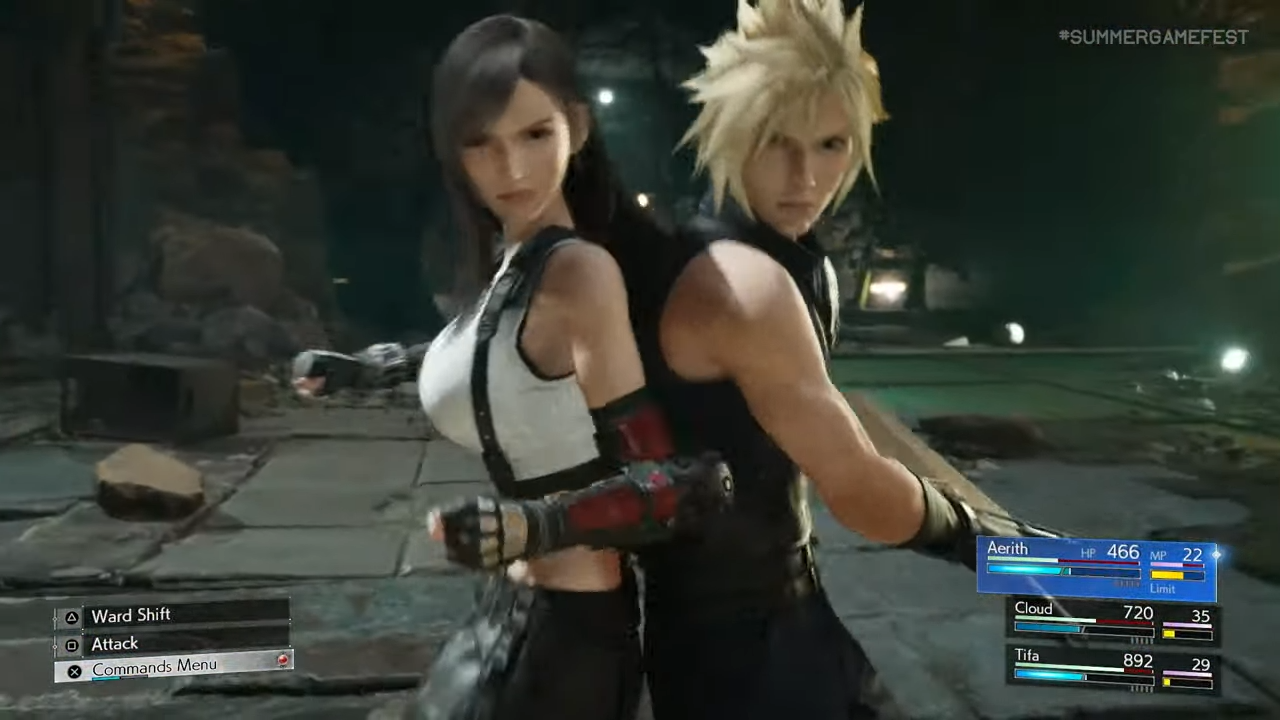 We then get a first look of some gameplay, battling other Turks, huge golems, monsters throughout the open world and some footage of Yuffie and Red XIII. We see some awesome encounters with Tifa and Sephiroth, hinting towards an awesome story development. It's launching early 2024.
Stay in the know with Laptop Mag
Get our in-depth reviews, helpful tips, great deals, and the biggest news stories delivered to your inbox.
Thank you for signing up to Laptop Mag. You will receive a verification email shortly.
There was a problem. Please refresh the page and try again.