EA Play Live 2021: Dead Space, Battlefield Portal and more
Suit up, we're going back, Isaac -- Dead Space is back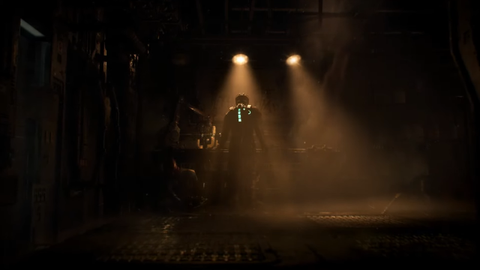 (Image: © EA)
EA moved away from the traditional E3 week event to its own day on the butt-end of July. That is, today, July 22. EA Play Live 2021 is set to stream today, unveiling what its developers have been cooking in the oven.
EA Play Live 2021 starts today at 10 a.m. PT / 1 p.m. ET and will air on YouTube, Twitch and Twitter. You can also watch the stream below.
Dead Space
Dead Space is back and it's being completely built from the ground up by Motive Studios. Dead Space will be available on PlayStation 5, Xbox Series X|S, and PC. This game is built with the Frostbite game engine, so it's going to look pretty wild. If you haven't touched Dead Space before, now is the time.
Battlefield Portal
Battlefield Portal is everything a multiplayer game should aspire to be -- a space dedicated to putting the creativity in the hands of the players. A community driven mode where anything and everything can happen.
"Players will be able to change the rules of war by creating, sharing and discovering unexpected battles from Battlefield's iconic past, present, and future."
Grid Legends
"GRID Legends is a high-stakes driving experience that combines thrilling motorsport action, incredible race variety and an immersive story that puts the player at the heart of the action."
Apex Legends Emergence
Apex Legends Emergence introduces a new character, a new weapon, ranked matches and some changes to the current map.
Lost in Random
Lost in Random looks like if a third-person action adventure game and a card-game had a baby.
"Welcome to Lost in Random, a dark and twisted fairytale where anything can happen with the roll of a dice. Together, with your companion Dicey, you'll battle fearsome opponents as you travel through the six shadowy realms of Random on a mission to save your sister from an evil Queen. Collect coins on your journey and trade them for powerful cards. Then, roll Dicey to freeze time in deadly dice combat and play your cards to unleash formidable attacks, abilities, combos, and more. You'll also meet unpredictable residents and take on courageous quests as you travel deeper into the heart of Random."
Knockout City Season 2 - Fight at the Movies
"Fight at the Movies stars a new map, the Holowood Drive-In, where the playing field changes in real-time as you brawl through scenes from movies across every genre. What's a movie without snacks, though? Grab yourself a concession-stand classic with the all-new Soda Ball. Time your throws to cover your rivals' screens with sticky soda!"
How to watch EA Play Live 2021 livestream
Don't forget, EA Play Live 2021 starts today at 10 a.m. PT / 1 p.m. ET. We expect to see some more Battlefield 2042 and FIFA 22 footage and maybe even some Apex Legends news. There have also been rumors floating around about a potential Dead Space reboot, but of course, take that with a pinch of skepticism.
Keep in mind that the beginning of the show is technically a pre-show, so it might take a while to get to the good stuff.
Refresh
WWE's Austin Creed is hosting the event, and he is hyped.
OOOOO ITS ALMOST HERE!!! Tune in to EA Play Live tomorrow starting at 10AM PT/1PM ET here: https://t.co/andGc2bQ3X & https://t.co/k2Y2apijtC. See you then 😎 pic.twitter.com/UjbcRw0R3cJuly 21, 2021
The show is going to start soon and EA is roping people in with the promise of free codes.
The show is live! Kicking off with a Japanese Breakfast song.
It's actually a Sims 4 expansion! Japanese Breakfast is in the Sims now. It's called Cottage Living, and it is out today.
The real show kicks off in roughly 13 minutes, but they're reshowing trailers we've already seen, like Lost in Random.
That was a pretty cool FIFA trailer, not going to lie
There's some news about additions to FIFA heroes. I don't know anything about football, but more content can't be bad.
This Apex Legends trailer is sick, introducing the newest Legend to the roster.
The show has finally begun!
There will be secret letters all across the show: I spotted an "I" so far.
We're getting a showcase of Codemaster games, including F1and Dirt.
Grid Legends is a new game being launched by Codemasters.
It looks like that there's real people in these cutscenes. You're watching a movie and playing a game. Grid Legends launches 2022.
The only hint we got so far is that it's an underdog story. You'll have access to plenty of new vehicles, including multi-class mixed racing.
Apex Legends takes the floor. I just saw an "S" by the way.
Apex Legends Immergence is announced -- not exactly sure what it is yet, but the map is fire.
It's actually Apex Legends Emergence -- I can't spell. Seer is an enemy tracker and he has a bunch of drones that can hunt down enemies. He's a stealth-oriented Legend.
Apex Legends Emergence introduces ranked arenas, a new weapon: Rampage LMG and a major map update to World's Edge. The update drops on August 3.
There's going to be an additional gameplay trailer for Seer on July 26.
Lost in Random is being showcased now. Let's see what's new.
We've got some gameplay footage, showcasing dice battles in Lost in Random. It looks like an action adventure game comboed with a deck-based card game. It's very reminiscent of that one Kingdom Hearts game.
There are six realms of Random that the player will travel across to save her sister, Odd.
Lost in Random launches on September 10 on PC, Xbox, PlayStation and Nintendo Switch.
Knockout City Season 2: Fight at the Movies is coming, featuring a bunch of film-themed costumes and maps.
Season 2 launches July 27 -- I just saw the letter "B"
Battlefield 2042 is up! -- I just saw the letter "A"
The new Battlefield 2042 trailer showcases a community-led game mode that introduces custom game modes, including defibrillators vs. knives. It's called Battlefield Portal.
Battlefield Portal gives players the freedom to mix and match content from a bunch of different Battlefield games to create new game modes.
There's even an advanced logic editor for people to mess with.
Confirmed: You cannot play as a penguin with a flamethrower.
Portal will be available at launch.
Issac is back in the suit for this Dead Space remake coming to PS5, Xbox Series X and PC.
EA Play Live 2021 is officially over.