Disney & Marvel Games Showcase: Black Panther game, Avatar: Reckoning, and more
Here's everything you missed at the Disney & Marvel Games Showcase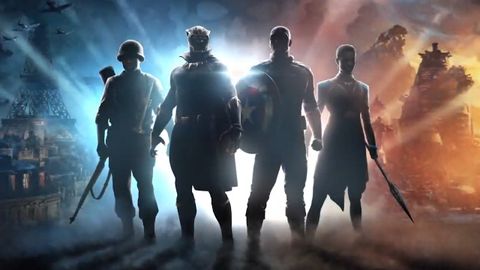 (Image: © Disney)
The Disney & Marvel Games Showcase just finished, and oh boy, it was certainly something. We saw a first look at an upcoming Black Panther & Captain America game (which isn't named for reason), but it only got a cinematic.
We also received gameplay of Illusion Island, a 2D platformer where players jump in the shoes of Mickey Mouse, Minnie, Donald and Goofy. We also saw gameplay for Avatar: Reckoning, a third-person shooter MMORPG set in the Avatar universe, primarily designed for mobile devices.
Here's a comprehensive list of everything you missed from the Disney & Marvel Games Showcase!
Refresh
The show began with a first-look at Tron Identity which is coming sometime in 2023. We saw nothing but a short tease of it, though. It can be wishlisted on Steam today, and browsing through that page reveals that it's actual a visual novel mixed with puzzle elements.
Illusion Island is a 2D platformer where you can play Mickey, Goofy, Minnie or Donald. It features grapple hooks, Goofy hovering with a giant bottle of mustard, and seemingly hand-animated cutscenes. Think Rayman except Disney. It's coming to Nintendo Switch in 2023.
Marvel's Midnight Suns received a new gameplay trailer, In the upcoming game from Firaxis, players can play Spider-Man, Wolverine, Blade and far more in a strategic action game to defeat a series of demons invading the surface world. It launches December 2, 2022 for Windows PC, PS5 and Xbox Series X|S.
We also saw a series of animated shorts that provide an introduction to some of the game's biggest characters.
Marvel's Strike Force is receiving a Hulk-based update offering Red Hulk to players.
Marvel Snap is a trading-card game where players have access to tons of Marvel characters featuring the "entire canon." The aesthetic is clearly in the style of the comics, with some taking on an 8-bit style. It's available October 18 on mobile phones.
Alien: Dark Descent is available next year on consoles and PC. We received brief snippets of gameplay footage for this top-down co-op shooter, but there wasn't too much to see outside of a group of marines shooting at Xenomorphs.
Avatar: Frontiers of Pandora was briefly mentioned, but we didn't receive any new footage. It seems like it's being largely ignored for now, but we might see it at tomorrow's Ubisoft Forward.
Lego Star Wars: The Skywalker Saga Galactic Edition comes this holiday, which seems to feature additional character packs.
Return to Monkey island, a side-scrolling point and click adventure game, revolves around a humorous series of pirates with fully voice acted cutscenes. Return to Monkey Island comes September 19.
Disney is bringing back Gargoyles through Gargoyles Remastered.
Mirrorverse is receiving a villain-based update in October, presumably one where you can play them or play against them.
A Disney kart racer called Speedstorm has been revealed. It seems absolutely surreal, showing Sully, Moana, Micky Mouse and more battling for supremacy in a clearly dangerous series of races with a surprisingly intense EDM soundtrack accompanying it. We also saw gameplay and were promised it's "coming soon."
Disney Dreamlight Valley received a brief snippet at the show. It recently went into early access, and is currently available to play through Xbox Game Pass. It's a cute life-simulator that is easily comparable to Animal Crossing. You can create your own character and interact with all sorts of Disney & Pixar characters.
Avatar: Reckoning is an MMORPG shooter that can be played on mobile devices. We've known about this game for a little while, but it's finally being shown off. You can make a character, play against others, and fight against wildlife or military machinery.
A Black Panther and Captain American game has been revealed, one that takes place during World War 2. We didn't see gameplay, and only received a short cinematic trailer. It seems to feature four main characters though, so it's entirely possible it's a co-op multiplayer game.
Marvel World of Heroes, a mobile game developed by Niantic, the company behind Pokémon Go, was revealed. We didn't see much, except that it would be coming next year. The trailer was live-action so it could be anything, but we're expecting something similar to Pokémon Go