WWDC 2021: Best new features coming to iOS 15, iPadOS 15 and macOS Monterey
Find out the latest updates from Apple's WWDC 2021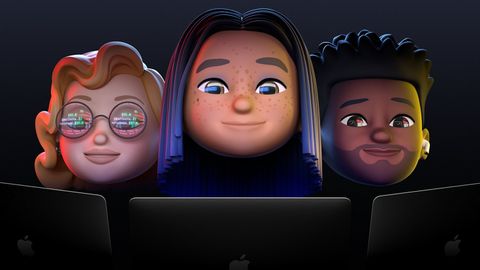 (Image: © Apple)
Apple's hugely-anticipated Worldwide Developers Conference (WWDC) unveiled a bunch of cool updates coming to the iPhone, iPad and MacBook, with new features arriving on iOS 15, iPadOS 15, macOS 12, and watchOS 8.

Reports indicated Apple was gearing up to reveal the new 14-inch MacBook Pro and 16-inch MacBook Pro models. While we didn't get any big hardware reveals, the number of software updates more than made up for that.

Check out everything announced during Apple's WWDC 2021 event below.
Refresh
1:26pm - CEO Tim Cook is gearing up for the big event with a cool clip.
Today's the day! Who's ready? #WWDC21 pic.twitter.com/oRlL8Z85X8June 7, 2021
Let the countdown begin! We are now an hour from Apple's WWDC 2021 and social media is buzzing about what could be revealed. We've put together our own article about what to expect at the event, from the potential announcement of the next MacBook Pro to new features coming to iOS 15.

Here's a look at everything we expect to see at WWDC 2021.
Not long until we finally see all the fancy new software updates from Apple. Check us out on @laptopmag in the meantime.
#WWDC21 is half an hour away!!!What are you most excited to see?June 7, 2021
If you're still looking for a place to watch WWDC 2021, look no further. For those on Twitter, you may have already spotted Apple's unique hashtag.
Corporate hashtags are almost always super cringey, but Apple is so consistent with the Twitter hashtag Easter eggs. The #WWDC21 tag gets you a little iMessage emoji. People are gonna use it for fun. Well played.June 7, 2021
With only 15 minutes to go, Apple posted the Apple Keynote livestream on its event page.
We're about to kick off! Bring on the iOS 15, iPadOS 15 and macOS 12 updates.
Apple's WWDC 2021 kicks off with a list of various ideas. And it has many different Tim Cooks involved. "Welcome to crazy ideas," apparently.
Tim Cook starts off by talking to a crowd of Memojis
Apple engineer Craig Federighi presents what's new with iOS 15
iOS 15 will bring upgrades to FaceTime, with a focus on Facetime Calls. Apple will be bringing Spatial Audio to Facetime Calls.

Facetime will also feature voice isolation to block out background sounds. There is also wide spectrum, to pick up a "symphony of sounds."
Apple will introduce "Portrait mode" to Facetime when video calling, meaning the background will be blurred bringing the user into focus.

Generate a link and make an event with Facetime Links. Android devices will also be able to use this feature. They will be end-to-end encrypted, too.
Apple also introduces SharePlay, which will allow users to share a video and and apps across multiple devices. Users will be able to watch Disney+, Twitch, NBA, HBOMax and more with friends using the SharePlay feature.
iOS 15 will introduce new ways to use Messages. Mindy Borovsky introduces a collage design feature that users can use to multiple pictures when texting.

Apple introduces Shared with You, which lets you share different articles and playlists on Apple Music that can be viewed later and replied to in Messages conversation.
Apple's Messages in iOS 15 will let users pin texts.
Notifications will have a "fresh new look," introducing the "Notification summary" on the locked home screen. This will organize messages seen on an iPhone's locked home screen.


iOS 15 will let you use different "Focus" modes, including "Do Not Disturb" and "Sleeping" modes that can be customized. The feature will be applied across different Apple devices, including iPads and MacBooks.
Apple's Chelsea Burnette introduces Apple Music being used with Memories, which are built "on-the-fly." Intelligently chosen songs will be used to make a montage, which can be personalised to a user's liking. There will be "intelligent song suggestions," but users can pick and choose their own songs to use.
Apple's Jennifer Bailey talks about updates coming to Apple Wallet. Expect more cards being added, including a card to Disney World. Apple Wallet is also adding more Keys, including hotel card keys, work place cards and keys to cars. Apple Wallet will also let users scan their driver's license to be used as a form of identification. This will be available in participating U.S. states, starting this fall.
Meg Frost introduces further updates to Apple Maps, introducing it to more countries. iOS 15 will offer new details for buildings and more, including elevations and road colors and labels. There is also a new night mode on Maps.

Apple Maps will add more road details, including turn lanes, bus and taxis lanes, and crosswalks. On highways, Apple Maps will include complex interchanges in a 3D space.

Apple Maps will also generate 3D augmented reality directions, coming to a selection of cities in the U.S., and more later this year.
Gagan Gupta talks about AirPods. iOS 15 will feature a "conversation boost" to help users listen to direct conversations when using the AirPods Pro.

Announcement notifications are also coming iOS 15 with AirPods. Siri will be able to make announcements, such as when your dinner has been delivered. Siri will also read your shopping list.

AirPods can be used with the Find My app with iOS 15, letting AirPod owners find their earbuds and be notified when they might be left behind, too.
iPadOS 15 will offer a big update with home screen widgets.

Apple will add bigger widgets specifically for the iPad, including a larger files widget, pages for gaming, and more.

App library is also coming to iPadOS. This can also be used to hide different apps.
Apple is also introducing new keyboard shortcuts. On a shared note, users can add a tag or mention other users in the note. Apple's Quick feature on iPadOS lets users jot down quick messages on a pull-up window. It can be used on Safari which can automatically add links.

Quick Note can be used with iPadOS and macOS.
Translate is coming to iPad, which can be used to translate documents using iPadOS' updated shared view and multi-tasking features, and much more.
Apple introduces "Mail Privacy Protection" during its Privacy talk. It can hide your IP address and hides your location. It also hides if you open emails. Safari will also hide your IP when surfing the web.

The App Privacy Report will let users known when apps access your information, and which third-party domains are accessing different private information. It will also let you know the times when apps access various data.
Siri can be used offline using on-device speech recognition. Users will be able to start a timer, check the weather, turn on dark mode, and more without having to be connect to Wi-Fi.
Apple introduces iCloud+ with an emphasis on privacy and security, including a "Hide My Email," "Private Relay," and more at the same price as the current iCloud subscription.
Apple Health Mobility will assess your fall risk, with Walking Steadiness. It will provide insights on the way you walk all to create the "first of its kind" health metric. It will monitor how users walk, and different ways to improve.
Apple Health will be able to share valuable (and secured) data with a doctor. The information shared with a chosen doctor can be picked, from heart health to cholesterol levels. This will currently only be available to U.S. facilities. Apple makes it clear it does not have access to any of the health information stored on the Health App.
Apple's Kevin Lynch talks about watchOS, with a focus on health. Apple's watchOS 8 will have an enhanced Breathe App, with a new animation and a "reflect" feature to help users focus. The Apple Watch will be able to monitor a year's respiratory rate as well, which will be able to be viewed o the Health App.
Apple Fitness+ will feature a list of new fitness videos with a new instructor. It will also introduce a new spotlight playlist, so users can jam to different artists during a set period while working out.
Apple's watchOS will be able to display pictures and share photos to different contacts using the Apple Watch. Users will also be able to dictate message and use the scribble feature to customize the text, along with emojis. watchOS 8 will also add gifs that can be sent using the Apple Watch to different contacts.
We're now finally getting into macOS. Apple's macOS Monterey announced, with all the features previously announced for iOS 15 and iPadOS will also be included on macOS apps. Continuity seems to be the big focus, with "Universal Control" being the main feature.

For example, the MacBook cursor will be able to be used with the iPad. Using the MacBook trackpad, the Universal Control feature will be able to drag files and more to and from different Apple devices. This includes the iMac, MacBook and iPad. It's pretty cool.
Apple will also be bringing Shortcuts to Mac, which can design shortcuts to your specific work flow. Shortcuts will be the "future" of how Macs are used, so we're looking forward to see how it might work.
Apple reimagines the Safari experience, offering a new tab design. Right in the tab bar, users can change URL instead of using the task bar. Safari will also have tab groups, which can be labelled different to what a user prefers. Tab groups can also easily be dragged into an email, and will show up on different Apple devices, including the MacBook. We're intrigued.
Apple will have a different Safari experience for the iPhone, which also includes tab groups. Apple wants to bring the MacBook safari experience to iPhone users.

Safari on iPhone and iPad will be able to use different web extensions such as Honey and more. This is stuff we like to see.
Apps on the App Store will need to hit the Apple "standards," as per usual. What's more, the App Store will now highlight events along with moments that need to be highlighted. Users will be able to opt for notifications for these new In-App events.