iPhone SE 4: Apple's upcoming budget release could look like this
The SE means Significant Enhancements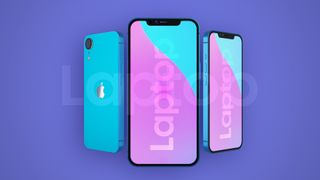 (Image credit: Laptop Mag / Rael Hornby)
The iPhone SE 4 might not make an appearance at Apple's September 2023 event, but there's no doubt that it's waiting in the wings to make an appearance sometime in early 2024.
Apple's last biennial budget offering, the iPhone SE 3, released in March 2022, donning an iPhone 8-esque design and a sub-$500 price tag. With all signs pointing towards its follow-up arriving at a similar time next year, we've already been inundated with rumors about what to expect from the iPhone SE 4 — enough that we've been able to carve out renders of how we expect the handset to look upon release.
The following is our best current idea of what the iPhone SE 4 will look like, and what its most prominent features might be.
iPhone SE 4: Something old
The Dynamic Island, while a great concept, was very rarely put to use in the way many had hoped. In fact, months later the Dynamic Island is still deserted, and it doesn't look like that's changing any time soon. Recent reports even indicate that Apple is interested in getting rid of it all together, along with notches.
However, the iPhone SE 4 has long been rumored to feature a notch similar to the iPhone 13, and we haven't heard anything to the contrary so far. Could this be the last of Apple's smartphones to feature the divisive cutout? As Apple are currently investing time and energy into developing under display cameras and sensors, the chances are high.
iPhone SE 4: Something new
Interestingly, one of the bigger changes reportedly coming to the iPhone 15 lineup revolves around the discontinuation of the iPhone's beloved mute switch. In its place, Apple apparently plans to introduce a multi-function Action Button.
According to data scraped from a recent iOS 17 beta release, the upcoming Action Button can be customized to perform various tasks depending on preference. The information collected from the beta indicated that the button could be used for anything from quickly turning on your phone's flashlight, to quickly opening the camera app, or even its predecessor's purpose — turning silent mode on and off.
Even more interestingly, this feature seems to be exclusive to iPhone 15 Pro models. However, a recent rumor indicates that the iPhone SE 4 could be next up to receive the input upgrade.
iPhone SE 4: Something borrowed
The same rumor highlighting the Action Button's potential arrival also leans heavily into the idea that the iPhone SE will borrow the iPhone 14's design. Not only would this change bring the SE in line with Apple's upcoming iPhone 15 in terms of design, but it also means the SE will be openable from both the front and back panels.
While that might not sound like a massive benefit, it means repairs can more easily be made, and for far less cost. Which is ideal if you're looking for a budget smartphone in the first place, as fixing certain elements of Apple's iPhone lineup can cost almost as much as an SE model would in total.
iPhone SE 4: Something blue?
This one's actually just wild speculation on our part, but it would be nice to see Apple add a splash of color into things. Admittedly, most of us will simply slap a case on our phones the moment we get them, with its naked self barely seeing the light of day ever again. However, the dream of seeing a little vibrancy worm its way back into the Apple line-up remains — and the iPhone SE 4 could be a fantastic opportunity to make that dream a reality.
Let's ditch the drab where we can, and enjoy a phone that says "Yeah, I'm cheap. But at least I'm cheerful!"
For news, rumors, and updates on all things Apple, iPhone, and tech, follow Laptop Mag on Twitter, Facebook, and Flipboard for the latest word as it arrives.
Stay in the know with Laptop Mag
Get our in-depth reviews, helpful tips, great deals, and the biggest news stories delivered to your inbox.
Rael Hornby, potentially influenced by far too many LucasArts titles at an early age, once thought he'd grow up to be a mighty pirate. However, after several interventions with close friends and family members, you're now much more likely to see his name attached to the bylines of tech articles. While not maintaining a double life as an aspiring writer by day and indie game dev by night, you'll find him sat in a corner somewhere muttering to himself about microtransactions or hunting down promising indie games on Twitter.