iOS 17 exposed Apple's biggest weakness — why Google is much better at rolling out updates
It's high time Apple updates its apps directly from the App Store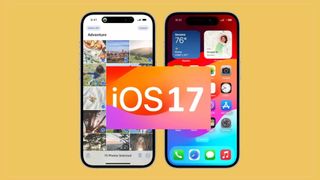 (Image credit: Apple)
During the iOS 17 segment at the WWDC 2023 keynote, Apple spent most of its time highlighting its in-house apps: turn yourself into a live sticker on Messages, leave video messages on FaceTime, log your daily moods on Health, collaborate on playlists on Music, and more. So after the 20-odd minutes Apple spent on iOS 17, I couldn't help but wonder why an iPhone owner must wait to download a nearly 3GB annual update to experience what Apple could've dispatched from the App Store.
Though you can find Apple's in-house apps like Notes and Maps on the App Store, the iPhone maker never updates them there. Instead, it refreshes them once a year as part of its grand annual iOS release. In the last few years, app-specific improvements have dominated Apple's annual iOS updates as opposed to any core OS updates that truly affect how you use your iPhone. If, like me, you don't exclusively live inside the Apple ecosystem, there's little to be excited about in recent iOS updates. But this approach may be doing more harm than good — and it's time for Apple to move on and follow Google's lead.
Why Apple needs to take a page out of Google's playbook
For much of the past decade, Google's been busy unbundling its annual Android package so that the routine elements people depend on every day aren't tied to the major version releases. In 2010, for example, when Google moved the Gmail app out of the yearly update and onto the Play Store. Why? Because, according to the search-engine giant, users "can get new Gmail stuff faster without having to wait for system updates." Google augmented this strategy with Project Mainline, an initiative that allowed both the search engine company and phone manufacturers to update Android's key plumbing through the Google Play Services module directly.
Fast forward to the present day and Google seeds regular updates to each of its apps, from Phone to Camera, via the Play Store. This not only allows Android phone owners to experience a new feature like stickers without worrying whether their device has space for a giant 3GB update, but it also has done wonders for Android security. Because Google can now deliver critical security patches and fixes as soon as they're ready, it's been able to better protect Android phones — even the ones that are a decade old — from the latest threats.
Two years ago with Android 11, for example, Google rolled out an ability for Android phones to automatically reset sensitive permissions for the apps a user hasn't opened in a while. It soon expanded this function even to phones on the 7-year-old Android 6.0 version or higher, which amounted to at the time over a billion devices. Plus, these efforts have enabled Google to seed new, important features to outdated phones.
When COVID-19 hit, Google added the exposure notification system to all users with Android 6.0 or higher, while Apple's was limited to iOS 13.7. Unlike Apple, Google also didn't need a system update to support digital state IDs on Android; it rolled it out for every Android device on 8.0 or later in an instant with Google Play Services. Most of the updates it releases for its apps like Phone, usually are not restricted to the latest Android version unless they depend on a specific hardware component.
In addition, Google continues to work towards bringing more complicated new update features to older versions. With a component called the "Extension Software Developer Kit," Google's hoping to make even more latest features available to older phones without the need to install a system update.
In comparison, Apple's reluctance to update its apps from the App Store leaves out those on outdated models or devices with insufficient storage or power. The iPhone X and the iPhone 8, for instance, don't support iOS 17, which means if their users want to access a feature as basic as even sticker texts on iMessage, their only option is to upgrade.
This year, a couple of exciting new additions like the smarter autocomplete are also exclusive to newer iPhone models. Google's Smart Compose tool, on the other hand, is available for all Android users.
Recent actions hint that Apple may be willing to follow Google's footsteps
Apple, though, appears to be taking small steps towards unbundling the annual iOS release like Google. Last year, it added a component called Rapid Security Response to its iPhones, Macs, and iPads — "a new type of software release" that lets the iPhone maker deliver important security quicker. However, for now, it's limited to devices on iOS 16.4.1, iPadOS 16.4.1, and macOS 13.3.1. On the Mac, similarly, it's been updating many of its apps like Safari and iMovie from the App Store.
The rest of the iOS 17 update is largely incremental, despite a muted iOS 16, and that may not change anytime soon as Apple shifts focus to its Vision Pro goggles in the coming years.
Though some of the new additions, like an easier way to exchange contact information and a standby charging mode, are nice to have, there are also plenty of neglected areas Apple should have addressed, including better Pro multitasking, an option for a guest account on the iPad, cleaner notification management (a snooze button, please?), and more intuitive volume controls. Whether Apple has big plans for iOS 18 remains to be seen, but until then, unless you live inside the company's ecosystem, there are few reasons for you to update to iOS 17.
Stay in the know with Laptop Mag
Get our in-depth reviews, helpful tips, great deals, and the biggest news stories delivered to your inbox.
Shubham Agarwal is a freelance technology journalist from Ahmedabad, India. His work has previously appeared in Business Insider, Fast Company, HuffPost, and more. You can reach out to him on Twitter.