Get this RTX 3060 gaming laptop for its lowest ever price: Daily Deals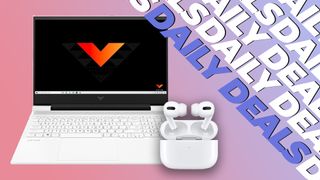 (Image credit: Future)
HP's Victus gaming laptop with RTX 3060 graphics is down to its lowest ever price after a £150 saving!
And this isn't some "cut back on the other specs to give you a lower price" kind of situation. With AMD Ryzen 5 power, 16GB RAM and a 512GB SSD, this is a power-packed portable monster that will handle your games.
Plus, with just one day left until the review embargo drops on Gran Turismo 7 (looking forward to sharing all my thoughts with you), you can get 15% off a pre-order now, save £60 on AirPods Pro with MagSafe charging and much more.
Today's best deals: TL;DR
Today's best deals: In more detail
Looking for more deals?
Every day, we scour the internet for the best bargains for your buck. Check out these lists for the most up-to-date curated selection of savings worth every penny.