Get an RTX 3060 gaming laptop for just £800 with this eBay discount code: Daily Deals
An RTX 3060 gaming laptop that's so cheap, it's daylight robbery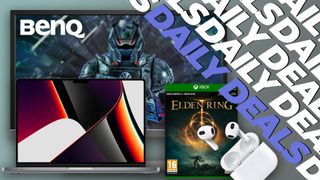 (Image credit: Future)
An eBay discount code is giving you 20% off tech right now, and we've just found an incredible gaming laptop deal because of it.
Right now, you can get nearly £300 off an Acer Nitro 5 with RTX 3060 and a massive 17.3-inch display — taking the price down to just £804. That is crazy good value for money!
That's not all the deals today, though, as you can use the same code to get the AirPods 3 for their lowest ever price, pick up Elden Ring for even cheaper and more.
Today's best deals: TL;DR
Today's best deals: In more detail
Looking for more deals?
Every day, we scour the internet for the best bargains for your buck. Check out these lists for the most up-to-date curated selection of savings worth every penny.