Sony WF-1000XM5 vs. AirPods Pro 2: Which noise-cancelling earbuds are better?
The all-new Sony WF-1000XM5 take on the AirPods Pro 2 for the true wireless crown. See which wireless earbuds come out on top.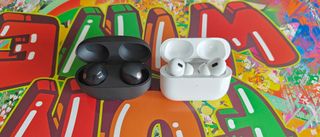 (Image credit: Alex Bracetti/Future)
The battle we've eagerly anticipated has arrived: the Sony WF-1000XM5 vs. AirPods Pro 2. These are two true wireless goliaths that share many performance hallmarks, including elite active noise cancellation, immersive spatial audio, and unique smart controls that enhance usability. Updated processing power and a plethora of special features also make these two of the best wireless earbuds money can buy.
As similar as they sound on paper, Apple and Sony's latest flagship entries are very different. Each one has a distinctive design you'll either love or hate. Battery life and platform compatibility are stronger on one over the other. Then there are the exclusive proprietary technologies that deliver unique listening experiences for their respective models.
So, does the Sony WF-1000XM5 outclass the top-selling AirPods Pro 2? Our in-depth breakdown determines the market's No. 1 true wireless release.
Sony WF-1000XM5 vs. AirPods Pro 2: Price
Excellent products warrant high MSRPs, as is the case with the $249 AirPods Pro 2 and pricier $299 Sony WF-1000XM5. The odds of getting Apple's buds for less are much higher these days; they're often on sale for $199. Even if Sony's newest buds aren't discounted any time soon, they prove to be as valuable as the AirPods Pro 2.
Winner: Tie
Sony WF-1000XM5 vs. AirPods Pro 2: Specs compared
Swipe to scroll horizontally
| Header Cell - Column 0 | Sony WF-1000XM5 | AirPods Pro 2 |
| --- | --- | --- |
| Price | $299.99 | $249.99 |
| Wirelesw charging | Yes | Yes |
| Battery life | 8 hours (ANC on); 12 hours (ANC off), 24 hours (with case and ANC on); 36 hours (with case and ANC off) | 5.5 hours (Spatial Audio and Head Tracking on) 6 hours (ANC on); 7 hours (ANC off); 30 hours (charging case with ANC on); 34 hours (charging case with ANC off) |
| Processor | V2 | H2 |
| Connectivity | Bluetooth 5.3 | Bluetooth 5.0 |
| IPX rating | IPX4 (buds) | IPX4 (buds and case) |
| Size and weight (buds) | Not stated; 0.21 ounces | 1.22 x 0.86 x 0.94 inches (per bud); 0.19 ounces (per bud) |
| Size and weight (charging case) | 2.5 x 1.5 x 1.0 inches; 1.38 ounces | 1.78 x 2.39 x 0.85 inches (charging case); 1.79 ounces (charging case) |
| Special features | ANC, transparency mode, 360 Reality Audio, Bluetooth multipoint, customizable EQ, DSEE Extreme upscaling, Google Fast Pair, hands-free Alexa/Google Assistant voice-activated assistance, LDAC, Quick Attention, quick charging, Speak-to-Chat, Spotify Tap, Tidal optimization | ANC, adaptive transparency mode, adaptive EQ, personalized spatial audio, automatic switching, Ear Tip Fit Test, physical volume controls, audio sharing, announced messages with Siri, Find My (AirPods), "Hey Siri" voice-activated assistance, Live Listen, MagSafe charging case with built-in speaker, Apple Watch charging, lanyard loop support |
Sony WF-1000XM5 vs. AirPods Pro 2: Design
What we have are two pairs of buds that replicate the silhouette and specific design elements of their predecessors.
The AirPods Pro 2 are the same as the original AirPods Pro, but with an extra mic grille on the top, touch volume controls, and the AirPods 3's skin detect sensors. Apple applies the same cheap plastic with IPX4 sweat and water resistance. These are still some of the comfiest and most optimally fit buds available, thanks to Apple's new ear tip kit and precise Ear Tip Fit Test feature. The biggest change comes from the IPX4-rated MagSafe charging case, which has a built-in speaker with Find My support to send out a tone indicating the location of a misplaced device, plus a loop on the side to attach a lanyard.
Sony updated their award-winning design by making the WF-1000XM5 lighter, smaller, and less obtrusive on the ear. These buds take on the same minimalist aesthetic as the 5-star WF-1000XM4, only instead of a complete matte finish, Sony touched the exterior with a glossy finish that surrounds the matte touch panels. It's a successful blend that adds to the buds' premium appearance. The ANC mic housings have been replaced with flush mesh covers at the bottom. Great comfort and fit are expected, as the buds rest pleasantly on the concha and don't take up the entire ear like the previous version. The charging case has also been reduced in size and weight for convenient portability and features a pairing button on the back.
As much as we appreciate Apple's functional design, the practicality and style demonstrated on Sony's buds are much more appealing.
Winner: Sony WF-1000XM5
Sony WF-1000XM5 vs. AirPods Pro 2: Controls
This is the toughest category to grade since both models have expansive control schemes consisting of precise motion detection, responsive touch gestures, and superb voice activation. We give this round to the AirPods Pro 2 for one reason: the force sensors. The pressure-based system near the bottom of each stem remains the most reliable input method. Incorporating onboard touch volume controls is ingenious. Wear detection to auto-pause content when removing the buds works well. Then comes the crème de la crème, "Hey Siri" functionality, to automatically fire up the AI bot and execute hands-free voice commands in a second.
The WF-1000XM5 have their own set of unique tricks. Sony introduced on-board volume controls via four-tap gesture. Voice activation for Alexa and Google Assistant operate well; Google Assistant and Siri can also be enabled manually. Sony's smart controls return, like Quick Attention (drops volume to 10% when speaking) and Speak-to-Chat (automatically pauses when detecting your voice). Spotify Tap is even available to automatically open the streaming service and play favorited playlists when performing the shortcut command.
Winner: AirPods Pro 2
Sony WF-1000XM5 vs. AirPods Pro 2: Active noise cancellation
The WF-1000XM5 leap over the AirPods Pro 2 with ANC that stands neck and neck with the Bose QuietComfort Earbuds 2. Sony's Adaptive Sound Control works with the QN2e and V2 chipsets, along with upgraded feed-forward and feed-back noise-sensing mics, to eliminate 95% of incidental sounds. Low frequencies and vocals are suppressed at a higher level than the WF-1000XM4, and wind resistance is flawless with the mesh grilles eliminating the harsh sounds produced by gusty winds.
We've enjoyed the AirPods Pro 2's noise reduction, but the technology doesn't "reduce up to two times more unwanted background noise" as Apple declares. It does cancel out low and mid-frequency sounds very well, as well as most blaring noises. Adaptive Transparency is the more impressive ANC mode, keeping listeners highly aware of their surroundings. Is it better than Sony's ambient listening mode? No, but only because the WF-1000XM5 grants 20 adjustable levels of transparency for full control over how much noise enters the soundscape.
Winner: Sony WF-1000XM5
Sony WF-1000XM5 vs. AirPods Pro 2: Audio Quality
Apple isn't known for their sound, but the AirPods Pro 2 show out on the audio front. Their adaptive EQ combined with a new low-distortion driver and custom amplifier result in richer bass and clearer presentation. You can tweak audio by playing around with the different EQs in iOS or enable Personalized Spatial Audio for great 360-degree sound with compatible Apple Music and Dolby Atmos content. Unique features like Headphone Accommodations let you tune audio for balance, range, and brightness. Headphone Audio Customization performs a series of listening tests to tailor audio to your hearing preferences. There's also audio sharing to hear the same music on two pairs of Apple or Beats earbuds and SharePlay to listen and watch content with a friend.
The WF-1000XM5 have stronger audio technologies underneath their gorgeous sheath. Sony developed a new Dynamic Driver X unit that works with the latest processors to widen frequency range for more detailed vocals and richer bass. LDAC enhances wireless streaming by producing three times the amount of data from standard Bluetooth audio to enjoy full-bodied sound on hi-res streaming services like Tidal. DSEE is exceptional for upscaling fidelity on lo-fi recordings. The customizable EQ with well-engineered presets is clutch for personalizing the soundstage. Lastly, 360 Reality Audio with headtracking creates an intimate and lively listening experience that accurately follows your dome's movements.
Winner: Sony WF-1000XM5
Sony WF-1000XM5 vs. AirPods Pro 2: Special features and app
Features are in abundance on both pairs of buds, though they vary, with some complementing specific mobile platforms.
Many of the WF-1000XM5's top features have already been discussed, including 360 Reality Audio, ANC/Transparency, DSEE, EQ, LDAC, Quick Attention, Speak-to-Chat, and Spotify Tap. These are accessible through the Sony Headphones Connect app (iOS/Android) and are compatible with Apple and Android devices, except for LDAC (Android only). Sony's app also provides battery level indicators for both earbuds and the charging case, toggle controls for multiple functions, a music player, and firmware updates. Bluetooth 5.3 welcomes one-tap Google Fast Pair and multipoint technology to pair to two devices simultaneously.
No AirPods come with app support. Instead, Apple developed a dedicated menu for their wireless earbuds, which can be accessed in the iOS settings to customize and enable different settings. Several of these have been previously mentioned: ANC/Transparency, audio sharing, Ear Tip Fit Test, EQ, Find My, "Hey Siri" voice activation, Personalized Spatial Audio, and SharePlay. Other notables include automatic switching, Background Sounds to enjoy different ambient sound profiles, and Conversation Boost for emphasizing vocals during chats. The AirPods Pro 2 are masterfully integrated within Apple's ecosystem, offering instant connectivity with brand devices. Bluetooth 5.3 also runs smoothly for fast and reliable connectivity.
The AirPods Pro 2 might have the bigger feature set, but the WF-1000XM5 carry the more ideal and powerful features.
Winner: Tie
Sony WF-1000XM5 vs. AirPods Pro 2: Battery life
If you want longer playtimes, go with the WF-1000XM5. Sony rates battery life at 8 hours with ANC on and 12 hours with ANC off. The wireless charging case holds up to 36 hours, depending how you use the buds, and quick charging is much stronger than their porcelain adversary: a 3-minute charge = 1 hour of listening time.
Apple did boost battery life on the AirPods Pro 2, but by a small amount. A full charge gets you 6 hours of ANC enabled and 7 hours with it disabled. Spatial Audio and high volume drop playtime to 5.5 hours. The MagSafe charging case holds a max of 34 hours and Fast-Fuel technology nets you 1 hour of playtime on a 5-minute charge.
Winner: Sony WF-1000XM5
Sony WF-1000XM5 vs. AirPods Pro 2: Call quality
Voice and video calls already sounded great on the WF-1000XM4, and they sound even better on the WF-1000XM5. Sony added bone conduction sensors to detect the vibration of your voice, helping isolate your speech from ambient noise. PVP (Precise Voice Pickup) technology clears up results on the opposite end. The wind noise-reduction structure also makes wind a non-factor when chatting in gusty conditions.
The AirPods Pro 2 take a step back in call quality. Voice and FaceTime calls still sound loud and clear, and the inclusion of head-tracking support makes conference calls more engaging. It's the noise cancellation that doesn't perform well, allowing more ambient noise and wind to enter conversations.
Winner: Sony WF-1000XM5
Winner: Sony WF-1000XM5
Just when the AirPods Pro 2 proved to be an equal competitor to the WF-1000XM4, Sony leveled up and gave us a new category leader in the WF-1000XM5. New processors create vibrant hi-fi sound that isn't compromised by adaptively smart ANC. Sony continues to add and release new features that serve well for different purposes. Refinements in design complement both comfort and style. Lastly, the controls and connectivity are on point.
Swipe to scroll horizontally
| Header Cell - Column 0 | Sony WF-1000XM5 | AirPods Pro 2 |
| --- | --- | --- |
| Value (5) | 5 | 5 |
| Design (15) | 14 | 12 |
| Controls (10) | 9 | 10 |
| Active noise cancellation (20) | 20 | 18 |
| Audio quality (15) | 15 | 13 |
| App and special features (15) | 15 | 15 |
| Battery Life (10) | 9 | 8 |
| Call quality (10) | 8 | 8 |
| Total Score (100) | 95 | 89 |
A loss doesn't make the AirPods Pro 2 any less valuable. They offer the best true wireless experience for Apple users. No other 3D audio format can compete with Personalized Spatial Audio. Stronger ANC and transparency modes aid with disruption-free listening. Additions like the MagSafe charging case with built-in Precision Finding support are also greatly appreciated.
Each model is well worth the splurge, but if we had to pick one, the Sony WF-1000XM5 offers a little more for their price.
Stay in the know with Laptop Mag
Get our in-depth reviews, helpful tips, great deals, and the biggest news stories delivered to your inbox.