Madden NFL 24 first impressions: How it runs on PC
The best Madden NFL in a decade.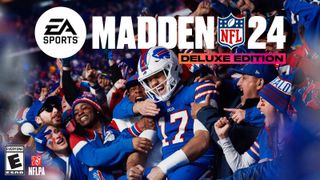 (Image credit: Future)
Since 1988, a Madden football game has existed, and I have played it. Not so much in the past ten years, but from age 18 to none of your business, I played Madden NFL religiously, upgrading every year. Some say why even review a game we know will sell millions of copies regardless of what reviewers think, and to those people, I tell you to hush your mouth.
Sure, it's not some futuristic war game on a far-off world or some bloody village slaughtering battle axe-wielding delight or some angsty, high-fantasy role-playing game. However, Madden doesn't need to be any of those things to be great, and Madden NFL 24 is improved enough to be a great "American" football game. See what I did there? Next up, world peace.
From the moment I picked up the controller, I was hooked. Having played the quarterback position once upon a time, I could feel my heartbeat speed up as I led my beloved New York Giants down the field. I was a little apprehensive as this was my first time playing Madden on a gaming PC and thought the experience would be different But it was just fun and relaxing as it was when I first played back in '88.
During my quest for a Super Bowl ring and bragging rights, I played Madden on three different gaming laptops (HP Victus 16, HP Omen 16, and the Razer Blade 18) with three different GPUs (Nvidia GeForce RTX 4050, 4080, and 4090). Two systems used Intel Core i7-13700H and HX series CPUs, while the Razer Blade 18 features a prodigiously powered Core Intel Core i9-13950HX processor combined with Nvidia's GeForce RTX 4090 GPU, which makes me drool a little every time.
I will say EA, for its part, designed this year's Madden to be hyper-realistic, with tighter graphics and over 1,700 tackling animations, so it never felt like I played the same game twice. And I was impressed by how refined and fluid players movements are.
But it's time to get back to the gridiron and see whether the game is worthy of going all the way or if it's another rebuilding year.
Gameplay
As previously mentioned, Madden 24 leveled up its gameplay and is much smoother than the last I played. For one, there's more animation diversity during gameplay, so it doesn't become overly predictable too quickly. This diversity helps create the feeling of new gameplay, although much remains the same.
I also enjoyed building my custom character in a couple of the modes, which, come on, avatar football me is way better than Daniel Jones. Hell, real me is better than Jones. Also, this personalization allows for some fun online head-to-head games with friends.
This year's Franchise mode combines some excellent, intimate team management features, including the return of training camp and mini-games that help you get up to speed and ready for the season ahead. In the Commissioner Tools and Settings, you can dig in and customize your league and micromanage the entire game if you're the controlling sort who craves that level of power. If you're a newer player, skip it, and focus on developing your in-game skills.
Some quality-of-life improvements, the AI imitates the actual play styles of the different QBs, which provides a more in-depth gaming experience as you begin to feel more like your favorite team quarterback. And when I was running the ball, I could make small adjustments within a crowd of defensemen and blockers to help spring me loose.
However, the same can be said about your opposition defenders, as they seem to adjust faster to you, making gameplay hyperrealistic and requiring you to pay attention. The days spamming plays you know will work are over as the improved AI catches on quickly.
Madden's FieldSense system afforded me greater control, especially in passing situations. The game's physics are entirely enhanced thanks to FieldSense, with help from Hit Everything 2.0 and Skill-Based Passing 2.0. I also noticed that EA updated the passing mechanics, and you can choose from Modern passing control, AI-enhanced, or my favorite, Classic, which keeps the controls familiar for those of us who have been playing a long time but may have skipped a few versions of the game.
Thanks to new and improved AI, animations, and gameplay style options, Madden NFL 24 may be the best update to the long-standing series in a decade.
Performance
I played Madden NFL 24 on three different systems using three variations of Nvidia's 4000 series GPUs. I can attest that Madden NFL 24 ran smoothly on each gaming laptop. I noticed that frame rates remained the same across the board, averaging between 29 and 60 fps which may be controlled from within the software.
You will notice that during tighter, close-up action, you will average 29-30 frames per second, and during wide downfield shots, replays, and game animation, you will see an average of 59-60 frames per second. That was across the board with each laptop. This is excellent because it levels the playing field, allowing your friends with entry-level systems an equal opportunity to win.
Each system synced up well with Madden's purposeful use of AI and CPU-friendly enhancements to deliver better visuals and smoother in-game performance, and crisper detail as more minor adjustments within the game were considered deeply.
The idea to play Madden across multiple systems was different from my own, thanks to our Editor in Chief, Sherri L. Smith, which, if left to me, I would have just played on one non-stop for three days, going without sleep or food. This was important to ensure Madden performed well for all users across the board, and it did.
However, I did notice that the throwing mechanics could sometimes be a bit wonky, but it wasn't system specific. Although more fluid, the new mechanics take a bit of getting used to. Overall, Madden NFL 24 handles well, is buttery smooth, and, thanks to a ton of new animation, never feels static.
Bottom Line
In recent years, many fans have expressed disappointment with the Madden franchise, and many reviewers consider this a last chance to keep the franchise alive. As a long-time player of the Madden NFL series, I found this year's renditions, tweaks, and improvements made a huge difference in gameplay and the overall experience.
The diversity of animations and improved quarterback play, with control options that make it easier for anyone to play, make it user-friendly for different generations of Madden fans. The updated AI makes for crisper visuals and improved gameplay, as it accurately mimics your favorite player's tendencies. Also, the fine-tuned player movements within the game give users greater control, making the game even more fun.
If you're a long-time fan or a newbie, you should give Madden NFL 24 a chance. The improved gameplay is more than shiny dressing this time; it's a winning combination that will have you spend hours playing.
Stay in the know with Laptop Mag
Get our in-depth reviews, helpful tips, great deals, and the biggest news stories delivered to your inbox.
Mark has spent 20 years headlining comedy shows around the country and made appearances on ABC, MTV, Comedy Central, Howard Stern, Food Network, and Sirius XM Radio. He has written about every topic imaginable, from dating, family, politics, social issues, and tech. He wrote his first tech articles for the now-defunct Dads On Tech 10 years ago, and his passion for combining humor and tech has grown under the tutelage of the Laptop Mag team. His penchant for tearing things down and rebuilding them did not make Mark popular at home, however, when he got his hands on the legendary Commodore 64, his passion for all things tech deepened. These days, when he is not filming, editing footage, tinkering with cameras and laptops, or on stage, he can be found at his desk snacking, writing about everything tech, new jokes, or scripts he dreams of filming.