I took the iPhone 14 Plus with me to Grenada — did its photos convince me to ditch my Android?
Which phone produced the most eye-catching photos?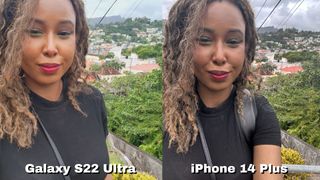 (Image credit: Future)
Grenada, a tiny Caribbean island adjacent to Venezuela, Barbados, and Trinidad and Tobago, is a lush, spice-rich, tropical wonderland begging to be photographed to memorialize its natural beauty.
Armed with the Apple iPhone 14 Plus and Samsung Galaxy S22 Ultra, I was conflicted over which phone I should use to capture this sprawling, mountainous paradise. And then I thought, "Hell, why not use both?" It'd be the perfect experiment to help myself — and others — determine which camera setup is more fitting for casual, Instagram-bound travel photography.
The Samsung Galaxy S22 Ultra is my daily driver while the iPhone 14 Plus was my new companion during my week-long trip to the tri-island country consisting of mainland Grenada, Carriacou, and Petit Martinique.
Before test driving the phones' cameras, I came up with a hypothesis of how Apple and Samsung devices would perform based on my previous experiences with phones from both brands. I theorized that the iPhone 14 Plus would take sharper, more true-to-life photos while the Galaxy S22 Ultra would provide vivid, richer imagery.
I also surmised that selfies on the iPhone 14 Plus would probably be far less visually appealing than the Galaxy S22 Ultra. Was I right or way off? See for yourself!
Which iPhone 14 Plus and Galaxy S22 Ultra do I have?
Before I dive into the meat and potatoes of this photo showdown, I thought it'd be a good idea to give you some insight into the phones I had in my possession while traipsing through Grenada.
I have the burgundy Samsung Galaxy S22 Ultra, which is packed with the octa-core Qualcomm Snapdragon 8 Gen 1 chip, 128GB of storage, 8GB of RAM, and a 6.8-inch, Dynamic AMOLED 2X, 120Hz, 3,088 x 1,400-pixel display. As of this writing, this Galaxy S22 Ultra would cost you $999, but I managed to secure the phone last year for only $375. How? I traded in my Galaxy Note 20 Ultra, which earned me a $825 credit. Plus, I got a free Galaxy Watch 4 that has been collecting dust somewhere in my house — all thanks to a Prime Day deal I snatched in 2022.
Moving on to my iOS device, Apple lent me the Starlight iPhone 14 Plus variant with the A15 Bionic chip, 512GB of storage, 6GB of RAM, a 6.7-inch, Super Retina XDR OLED, 60Hz, 2,778 x 1,284-pixel display. While the base model with 128GB of storage starts at $899, Apple's storage upgrades are pricey so you would need to shell out $1,199 to match my review unit. But like my Android, there are trade-in options, allowing you to get up to $570 in credit.
iPhone 14 Plus vs. Samsung Galaxy S22 Ultra camera specs
Swipe to scroll horizontally
| | | |
| --- | --- | --- |
| Row 0 - Cell 0 | iPhone 14 Plus | Galaxy S22 Ultra |
| Selfie camera | 12MP, f/1.9 front-facing camera | 40MP, f/2.2 front-facing camera |
| Wide camera | 12MP, f/1/5, 1.9µm lens | 108MP, f/1,8, 0.8µm lens |
| Ultra-wide camera | 12MP, f/2.4, 120-degree FOV | 12MP, f/2/2, 120-degree FOV |
| Telephoto | N/A | Dual 10MP telephoto |
| Video | 4K video at up to 60 fps | 8K video at up to 24 fps, 4K at up to 60 fps |
| Battery life (60Hz) | 11 hours and 57 minutes | 10 hours and 15 minutes |
The Samsung Galaxy S22 Ultra, on paper, has more attractive specs. It has a quadruple-camera rear setup with wide, ultra-wide and two telephoto lenses. It sports a 108-megapixel main wide camera with an f/1.8 aperture and a pixel size of 0.8µm. As mentioned, there are dual 10MP telephoto sensors: one has 3X optical zoom while the other has 10X. The 12MP ultra-wide camera delivers a 120-degree field of view (FOV) and has an f/2.2 aperture.
The Galaxy S22 Ultra's 40MP selfie camera has an f/2.2 aperture.
The iPhone 14 Plus' rear camera module is less packed; you'll only find a wide and ultra-wide camera — it has no telephoto sensors. This means zoomed-in photos on the iPhone 14 Plus won't be as sharp as the telephoto-equipped Galaxy S22 Ultra. The main wide 12MP camera has a pixel size of 1.9µm and an aperture of f/1.5. Its 12MP ultra-wide camera, delivering an FOV of 120 degrees, has an aperture of f/2.4.
The iPhone 14 Plus' 12MP selfie camera has an f/1.9 aperture.
This may all sound like gibberish to you, but to put it succinctly, although my iPhone's cameras may have a lower megapixel count than my daily driver, that doesn't necessarily mean it's automatically inferior to my daily driver. Au contraire! Photo pundits argue that there are other aspects of a phone's camera that are far more significant for producing high-quality photos, including how well it can gather light. In this case, the iPhone 14 Plus has the edge because it has a lower aperture compared to my Galaxy S22 Ultra, which means more light is collected into its cameras, making it more fitting for low-light settings. That being said, let's see how well the iPhone 14 Plus and Galaxy S22 Ultra performed while I hopped from one point of interest to another.
Annandale Falls — iPhone 14 Plus vs. Samsung Galaxy S22 Ultra
Annandale Falls, located on the southwest side of Grenada, is a 30-foot waterfall flanked with lush, Garden of Eden-esque verdant vegetation and eye-catching rocky formations. The day I visited the cascading sight, it was quite foggy and overcast, so I didn't have the sun on my side to provide the best illumination. As such, this is a great experiment to see which phone can deliver the best results despite external limitations.
I snapped a photo of Annandale Falls using the wide cameras of the iPhone 14 Plus and the Galaxy S22 Ultra. On one hand, I like the iPhone 14 Plus' capture because it appears to be sharper than its counterpart — I can see more individual droplets from the cascading waterfall. The cluster of leaves situated on the left of the waterfall are more striking; the ridges and wrinkles on them are more prominent. Even the cracked grooves on the rocky steps appear to be more conspicuous on the iPhone 14 Plus' photo.
On the other hand, the Samsung Galaxy S22 Ultra's capture has a more ethereal look — as if the image was pulled right out of a fantasy novel. The vegetation appears to be more vivid, fresh and green, but I noticed that the forest-esque area in the furthest area in the picture (above the waterfall) appears to have more of a faded, washed-out look. In this case, I prefer the iPhone 14 Plus. Interestingly, however, my vote changes when I compare the same waterfall shot with the ultra-wide lenses.
Whew! Doesn't the Galaxy S22 Ultra's photo look like an absolute dream? The most salient difference between the two is the sky. My daily driver managed to capture the cloud-speckled sky with ease while the iPhone 14 Plus struggled to recreate the wide blue yonder.
Once again, the Android delivered more striking and vivid colors — you can't even tell that it's foggy, humid and overcast. Hell, look at the pool of water — the Galaxy S22 Ultra's photo perfectly recreates a gradient that seemingly transitions from a gorgeous turquoise in the background to a ruddy green in the foreground. The iPhone 14 Plus, as expected, is more true-to-life. On the plus side, the grooves and cracks on the stone steps are more defined and marked.
Seven Sisters Falls — iPhone 14 Plus vs. Samsung Galaxy S22 Ultra
These two cascading beautes are a part of what Grenadians call Seven Sisters Falls (there are five more hidden in the forest). Located inside Grand Etang National Park, it took me about 30 minutes to trek through a muddy, treacherous trail to discover this natural wonder. (I even slipped and fell at one point!)
The Galaxy S22 Ultra captures my heart here in this wide shot — its output captures the rich, flourishing, lush vegetation that seem to adorn the double waterfalls. Look at all that green! Like the previous photos, the Galaxy S22 Ultra is much better at recreating the verdant utopia's vivid scenery. On the downside, the cascading waterfalls seem more blurry — like a watercolor painting. The iPhone 14 Plus, however, delivers a sharper, crisper image, allowing you to see more droplets flying out of the gorgeous white waters.
I switched to the ultrawide cameras and we get the same story — the Samsung Galaxy S22 Ultra loves color while the iPhone 14 Plus values crispness. One thing I noticed about the iPhone 14 Plus is that it perfectly mimics the muddy, gritty ground you encounter after you emerge from the arduous trail. After all, I had to navigate through some wet rocks to get up close and personal with the waterfall duo, and as such, I was acutely aware of the footprints and muddy terrain left by previous visitors. That being said, the iPhone 14 Plus recreates texture better. As I look at the photo, I can feel myself reliving the fatiguing, strenuous hike.
Grand Etang Lake — iPhone 14 Plus vs. Samsung Galaxy S22 Ultra
Be honest! Which ultrawide photo would you rather see on a postcard: the top or bottom one? As for me, I'd choose the top photo, which happens to be a product of the Samsung Galaxy S22 Ultra.
Grand Etang Lake, a 36-acre crater lake inside an extinct volcano that is nearly 1,750 feet above sea level, looks scenic and striking in the top photo. It seems to capture more shades of vert, from the rich forest green in the background to an eye-catching emerald hue in the foreground. The sky has a more playful, friendlier shade of blue — and the tree situated in the far-right of the photo is more conspicuous and noticeable. The iPhone 14 Plus' rendition of Grand Etang Lake seems more serious, and dare I say it, more dull. The landscape looks less welcoming and more unforgiving. The top photo would be an excellent opening scene for a lighthearted romcom while the bottom picture looks more hostile — the type of place a horror-movie protagonist would find themselves after crawling out of a haunted lake.
Fort George — iPhone 14 Plus vs. Samsung Galaxy S22 Ultra
The iPhone 14 Plus and the Galaxy S22 Ultra tagged along with me to Fort George, a historical site where former Prime Minister Maurice Bishop was executed via firing squad in 1983. Despite its tragic history, Fort George delivers stunning vistas of red-tiled homes that wrap around St. George's harbor.
Looking at the photo above, are you starting to see a trend here? I took these photos after a torrential downpour drenched the picturesque city. The iPhone 14 Plus' photo has a more realistic portrayal of the colorful town — you can almost see the mugginess clinging to the air. With the dark-green hues, menacing cloud cover, and the sopping wooden shack in the foreground, there are clear hints to the observer that it just rained over St. George's paradise-like municipality.
With the Samsung Galaxy S22 Ultra, however, one may argue that the image is slightly oversaturated. Thanks to some post-processing software magic, the photo appears to revive the scenery with richer, deeper, more striking colors and hues. On one hand, the Galaxy S22 Ultra's photo enlivens the landscape, allowing the observer to see the city in all of its colorful glory despite the gloomy atmosphere. On the other hand, others may actually want to capture the maudlin, murky, post-downpour mood. After all, it's more realistic and true-to-life. Consequently, they may be more disappointed with this Android's photographic output. Personally, I prefer the Galaxy S22 Ultra's richer tones, but I understand that others may prefer the iPhone 14 Plus' spot-on, accurate depiction of the scene that lies before them.
Selfie — iPhone 14 Plus vs. Samsung Galaxy S22 Ultra
As per my experience with the iPhone's selfie camera, it will humble you real quick! You thought you looked good when you walked out the door? The iPhone 14 Plus will say, "Go back home and try again!"
With the iPhone 14 Plus, my complexion looks drab and lackluster. Plus, flaws and blemishes are far more visible. Fortunately, the background behind me is the saving grace in this photo, showing a crisp, sharp view of the city despite the muggy, humid atmosphere.
The Samsung Galaxy S22 Ultra delivered a more visually appealing selfie. My complexion is warmer, showing off some golden undertones. The subtle green eyeliner on my lower lash line is highlighted in the photo. I'm also relieved to see that my skin looks smoother and more youthful. On the downside, compared to the iPhone 14 Plus, the background appears to be less crisp and sharp — even the clouds are less defined.
Bottom line
I was willing to drop my daily driver if the iPhone 14 Plus' photos ended up being my cup of tea, but it just couldn't seduce me to make the switch. It's worth noting that I don't think one delivers better photos than the other — I just think that they output pictures differently. As such, it just comes down to personal preference.
The iPhone 14 Plus is perfect for those who prefer cooler photos (as opposed to warm tones) and gravitate toward true-to-life captures. The Apple phone also delivers crisper, sharper photos, allowing more details (e.g., grooves, indentations and cracks) to show up on the final image. The Galaxy S22 Ultra, on the other hand, kicks butt at reinvigorating dull scenes with vivid and rich hues. When it comes to selfies, the Galaxy S22 Ultra shows a little more mercy when it comes to your flaws and blemishes. To conclude, I'm sticking by my Android phone because it spoils me with blissful delusion. Win!
Stay in the know with Laptop Mag
Get our in-depth reviews, helpful tips, great deals, and the biggest news stories delivered to your inbox.
Kimberly Gedeon, holding a Master's degree in International Journalism, launched her career as a journalist for MadameNoire's business beat in 2013. She loved translating stuffy stories about the economy, personal finance and investing into digestible, easy-to-understand, entertaining stories for young women of color. During her time on the business beat, she discovered her passion for tech as she dove into articles about tech entrepreneurship, the Consumer Electronics Show (CES) and the latest tablets. After eight years of freelancing, dabbling in a myriad of beats, she's finally found a home at Laptop Mag that accepts her as the crypto-addicted, virtual reality-loving, investing-focused, tech-fascinated nerd she is. Woot!