Google Pixel Folds are breaking: I told y'all it's fragile, but y'all didn't listen
Reports about the Pixel Fold's delicate nature are piling up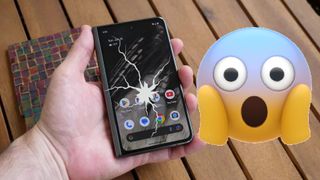 (Image credit: Future/Getty Images/Olena Agapova/Ysr Dora)
I told you so! Google's newest funky foldable, as I prophesied in my the Pixel Fold reminds me of the Surface Duo piece, is destined for the same fate as Microsoft's take on a multi-screen smartphone — and that's not a good thing.
While everyone was bouncing off the walls in excitement over the Pixel Fold when it was unveiled at Google I/O, I was profoundly concerned. "It's our thinnest phone yet," Google boasted. "And the thinnest foldable on the market."
"Uh oh," I thought. "I've heard that one before."
First of all, while the Pixel Fold may, indeed, be Google's thinnest phone, it surely isn't the slimmest foldable available — not while the Surface Duo is still around. Unfolded like an open book, the Pixel Fold has a height of 0.22 inches. In the same posture, Surface Duo has a height of 0.18 inches, hence why Microsoft bragged about it being the world's thinnest foldable upon its release.
Google and Microsoft's obsession with designing the insy-winsiest foldable possible are understandable. After all, "the slimmest foldable in the entire galaxy" sounds sexy in marketing materials, but in my personal experience with bendy, flexible phones, thinness and foldability do not mix. (At least, not yet. This may change in the future when components become more advanced.)
According to The Verge, this theory appears to be backed by a growing number of reports regarding Pixel Fold's fragility.
Some Fold owners are already complaining about poor longevity
The Pixel Fold started shipping on June 27, and already, some Pixel Fold owners are questioning its durability.
Early this week, we reported on Ars Technica Editor Ron Amadeo's account of his poor experience with his Pixel Fold review unit. After four days, Amadeo claimed that his Pixel Fold's screen stopped working despite his light usage. He suspects that some debris got in between the OLED panel and the protective plastic layer. "When I closed the display, the pressure of the other display side was enough to puncture the OLED panel," he said.
The Pixel Fold's left panel stopped responding to his touch gestures, and shortly after, a white gradient took over the display. RIP to Amadeo's Pixel Fold.
"OK," you're likely thinking. "That's just one report." Nope, there's more where that came from.
In the same area where Amadeo spotted the dent in his screen, causing the display to go haywire, another Pixel Fold owner claimed his foldable device experienced the same fate.
"With the Ars Technica post coming out talking about screen damage, I just wanted to reach out with people regarding this," Redditor cptutlor said. "I am already noticing very small dents and surface imperfections between the bezel and the screen protector." By the way, this Pixel Fold owner only had the foldable for one day before noticing these issues, but fortunately, the screen is still functioning — for now.
You can find more Pixel Fold owners claiming that their $1,799 phone are showing signs of poor longevity, including this person claiming that their Fold's cameras failed after just 12 hours, another poster wailing about a bright pink line invading the display, and this Redditor complaining about the screen's scratches.
User floatingonTheForth was frustrated that his Fold's inner screen broke after one day of use.
What's going on here?
The Pixel Fold should have learned from the Surface Duo's mistakes
When I reviewed the first-gen Surface Duo, one thing I appreciated about Microsoft is that they were surprisingly transparent about the mind-warping engineering process that took place under the hood. Because Microsoft was dead-set on rolling out an ultra-thin foldable, the components they needed to build the Surface Duo were not available in the open market.
Consequently, Microsoft had to construct their own components, including dual hinges for the Surface Duo, which, by the way, ended up being the world's smallest hinges. The cables that connect the two 5.6-inch, OLED displays on the foldable were custom-built, too — they're as tiny as a human hair strand!
The Surface Duo packs a 3,577 mAh battery, but in order to fit it inside the wicked-thin foldable, Microsoft had to split the cell between both displays, forcing them to use some gnarly wiring to ensure both displays get equal power while being juiced up with a USB-C charging cable.
Admittedly, the Surface Duo is a hardware masterpiece, but unfortunately, it's too delicate. Several tech journalists and YouTubers, including myself, reported display issues. One of the most prevalent issues is the green-screen problem (the panels would suddenly start flickering an odd green hue, often rendering the displays unresponsive and inoperable).
But hey, what did Microsoft expect? Hair-thin internal cables paired with a ridiculously slim chassis is a recipe for disaster. The Surface Duo is easily the most fragile phone I've ever reviewed. Microsoft's obsession with thinness, like it's some sort of haute couture supermodel, sabotaged the Surface Duo's success — and the same can be said for the Google Pixel Fold.
With a thinness of just 0.22 inches, the Pixel Fold was bound to be too delicate. Instead, Google should have taken notes from the Galaxy Z Fold 4, which isn't trying to be the thinnest, slimmest foldable on the market — it's just trying to be a damn good phone.
The Pixel Fold's fate isn't looking so hot
As mentioned, the Pixel Fold was due to roll out to buyers on June 27, but Google delayed a slew of shipments. Some aren't getting their Pixel Fold until July — others, like Redditor zacharyt86, said they aren't getting their foldable until September. Yikes!
Android Police suspects that Google is having "inventory issues," but Redditor zacharyt86 claimed that they reached out to the company about the delays, and here's what the spokesperson said:
"Due to overwhelming demand and unforeseen production issues, the initial launch date has been delayed until July 18th, and starting then it will be rolled out in small batches as inventory allows."
This is just speculation, but I suspect that Google is well aware of the foldable's hardware and durability issues, and before more defective units reach buyers, they're doing what they can behind the scenes to rectify the issues.
Bottom line
Fortunately, it looks like Google isn't leaving people high and dry. A Google spokesperson told The Verge that they are urging anyone who has an issue with their Pixel Fold to reach out to the company's support team so that they can investigate the issue.
Like I said, I expect the Pixel Fold may suffer the same fate as the Surface Duo line (i.e., it's doomed). Similar to Microsoft, Google may eventually heavily discount the $1,799 foldable to entice hesitant buyers to purchase the slandered handset. After the Surface Duo 2 received mixed reviews, Microsoft is reportedly ditching its design language for an entirely new concept for its next foldable. (Hopefully, it's not unfeasibly thin like the first and second-gen Surface Duo phones.)
I foresee something similar for the Pixel Fold. Perhaps a second-generation Pixel Fold will come before Google considers pivoting to a new direction.
We reviewed the Pixel Fold, and fortunately, the phone is still intact, so let's hope, for Google's sake, that the aforementioned negative reports are not an accurate reflection of users' typical experience after Google ramps up shipments again.
Stay in the know with Laptop Mag
Get our in-depth reviews, helpful tips, great deals, and the biggest news stories delivered to your inbox.
Kimberly Gedeon, holding a Master's degree in International Journalism, launched her career as a journalist for MadameNoire's business beat in 2013. She loved translating stuffy stories about the economy, personal finance and investing into digestible, easy-to-understand, entertaining stories for young women of color. During her time on the business beat, she discovered her passion for tech as she dove into articles about tech entrepreneurship, the Consumer Electronics Show (CES) and the latest tablets. After eight years of freelancing, dabbling in a myriad of beats, she's finally found a home at Laptop Mag that accepts her as the crypto-addicted, virtual reality-loving, investing-focused, tech-fascinated nerd she is. Woot!