Best Huawei Laptop of 2022: Which MateBook Is Right For You?
Huawei has some pretty interesting options, like the MateBook X Pro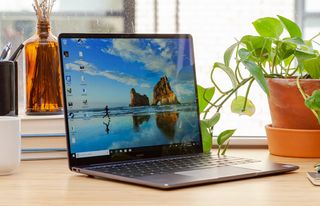 The laptops in Huawei's MateBook lineup don't just look alike; many of them also share very similar specs. These similarities can make picking between them a difficult process for customers confused about which model is right for them.
Before you scroll down to our best picks, you should be aware of Huawei's bad run of luck with the US government. Huawei's troubles began with losing access to Android, thanks to the Dept. of Commerce blacklisting the company and President Trump's executive order. Trump pushed things further, with a ban on federal agencies purchasing Huawei devices.
Fortunately for Huawei, Microsoft and Intel declared they will continue to provide software updates and new drivers for Huawei devices using those companies' technologies, and things may be getting better for Huawei, as the U.S. government signaled it will lift the ban that stops firms from selling hardware and software to Huawei.
Later, the US officially declared Huawei a threat to national security. Along with ZTE, Huawei will be blocked from doing business with US operators and playing a role in future 5G networks. As a result, we rarely get in new products from Huawei and they are increasingly difficult to purchase in the United States.
MateBook X Pro, MateBook 14, MateBook 13, MateBook D – Specs
Why you can trust Laptop Mag Our expert reviewers spend hours testing and comparing products and services so you can choose the best for you. Find out more about how we test.
Swipe to scroll horizontally
| | | | | |
| --- | --- | --- | --- | --- |
| Row 0 - Cell 0 | MateBook X Pro (2021) | MateBook 14 | MateBook 13 | MateBook D |
| Price | €1.899 | 1,199 Euro (~$1,357 U.S.) / 1,499 Euro (~$1,357 U.S.) | $999 / $1,299 | $629 / $1,099 |
| CPU | 11th Gen Intel Core i5 or i7 | 8th-Generation Whiskey Lake Core i5 or Core i7 | 8th-Generation Whiskey Lake Core i5 or Core i7 | AMD Ryzen 5 2500U / Intel Core i7-8550U |
| RAM | 16GB | 8GB or 16GB | 8GB | 8GB |
| SSD | 1TB | 256GB or 512GB | 256GB or 512GB | 256GB or 512GB |
| Display | 13.9-inch, 3:2, 3000x2000 | 14 inches (2160 x 1440) | 13 inches (2160 x 1440) | 14 inches (1920 x 1080) |
| Graphics | Intel Iris Xe | Intel UHD Graphics 620, Nvidia GeForce MX 250 with 2GB memory | Intel UHD Graphics 620 / Nvidia GeForce MX 150 with 2GB Memory (optional) | AMD Radeon Vega 8 Mobile GPU or Nvidia GeForce MX150 GPU |
| Ports | 1x Thunderbolt 3, 1x USB-C, 1x USB 3.0, headphone jack, fingerprint sensor | 1x USB-C, 1x USB 3.0, 1x USB 2.0, 1x HDMI, headphone jack, fingerprint sensor | 2x USB Type-C, Headphone jack SD memory reader | 1x USB-C, 1x USB 3.0, 1x USB 2.0, 1x HDMI, Headphone jack Fingerprint sensor |
| Battery | 10 hours and 22 minutes | 57.4 WHr— 10.5 hours of web surfing (claimed) | 6:15 (tested) / 41.8 Wh | 9:16 (AMD) / 57.4 Whr |
| Size | 11.96 x 8.54 x 0.57 inches | 12.11 x 8.81 x 0.63 inches | 11.3 x 8.3 x 0.6 inches | 12.72 x 8.7 x 0.62 inches |
| Weight | 2.93 lbs. | 3.28 lbs. | 2.91 lbs. | 3.41 lbs. |
1. Huawei MateBook X Pro
Pros: The only Huawei MateBook X Pro we've reviewed in the past two years, the latest MateBook X Pro isn't as successful as its 2018 predecessor, but it's a good laptop nonetheless. For €1.899 (roughly $2,265.91), the MateBook X Pro provides a gorgeous 13.9-inch, 3:2 display, a solid keyboard and touchpad experience, long battery life and a fast SSD.
Cons: Unfortunately, if you opt for the MateBook X Pro, you'll be stuck with middling performance, very few ports and a webcam that stares up your nose. Considering the price, you might as well buy a MacBook, but if you dislike macOS and want a Windows alternative, the MateBook X Pro is a decent choice, but it's not one of the best laptops on the market. And if you're in the US, good luck finding one available for purchase.
See our full Huawei MateBook X Pro review
2. Huawei MateBook D
Pros: Starting at $621, the Huawei MateBook D is more than $300 cheaper than most of its counterparts. And while its AMD processor doesn't provide the speeds seen in the Intel-based MateBooks, its strong battery life score (9:16) beats the 6:15 score from the MateBook 13 and isn't that far from the original MateBook X Pro's score of 9:55.
Oh, and the MateBook D offers a great set of ports for users with a lot of legacy devices. Dual Type-A USB ports means your existing flash drive and HDMI cables will work without a dock.
Cons: You're taking a hit on speed with the AMD MateBook D. This laptop scored an 8,845 on Geekbench 4, which was obliterated by the scores from the 8th Gen Core-i7, chip-powered MateBook 13 (17,136). The latter notebook features the same chipset that comes in the new MateBook X Pro and MateBook 14.
Also, the MateBook D's 14-inch, 1920 x 1080 panel is the lowest-res of the bunch, outdone by the X Pro's 3000 x 2000 panel, the MateBook 14's 2160 x 1440 screen and the MateBook 13's 2160 x 1440 display.
Read our full Huawei MateBook D 14 inch (AMD) review.
3. Huawei MateBook 13
Pros: The 2.91-lb., 11.3 x 8.3 x 0.6-inch MateBook 13 is the lightest MateBook. The 2.93-lb. MateBook X Pro isn't far behind, while the heaviest of these machines, the 3.41-lb. pound MateBook D, is half a pound heavier than the MateBook 13.
The MateBook 13 (94 square inches) also has the smallest footprint of the bunch. The MateBook X Pro (102 square inches), the MateBook 14 (107 square inches) and the MateBook D (111 square inches) take up increasingly larger amounts of your desk or bag.
Cons: Unfortunately, the MateBook 13's 41.8 Whr battery doesn't provide much stamina. Its Laptop Mag Battery Test score (web surfing over Wi-Fi) topped out at 6 hours and 15 minutes, which isn't great by anybody's standards.
Read our full Huawei MateBook 13 review.
Stay in the know with Laptop Mag
Get our in-depth reviews, helpful tips, great deals, and the biggest news stories delivered to your inbox.