The Anker PowerConf C200 is one of the best webcams on the market, but one key flaw keeps it from taking the top spot.
Pros
+

Good build quality

+

Tripod mountable

+

Outstanding 2K image quality

+

Fast autofocus

+

Excellent low-light performance
Cons
-

Noise-canceling can cause choppy digitized audio
Why you can trust Laptop Mag Our expert reviewers spend hours testing and comparing products and services so you can choose the best for you. Find out more about how we test.
Anker's PowerConf C200 2k webcam is stylish, sturdy, affordable ($69.99), and comes with a physical shutter to keep the creeps out. Since the hybrid work environment has become a staple for the modern workforce, makers have been saturating the webcam market.
The main reason webcams are still very popular is because most laptop webcams only produce images in 720p and lack clarity, color, and low-light performance in most cases. We're starting to see FHD (1920 x 1080) cameras in some premium laptops, but most of these still fall short. A good webcam can make a massive difference, especially if you're working or attending school from home and conducting many video meetings a day or streaming professionally.
Anker's PowerConf C200 is affordable at just $69, features excellent build quality, a plug-and-play setup, plus software to fine-tune your user experience.It offers comparable quality and ability to the Logitech HD C920 which has sat comfortably atop our best webcams list for far too long or the Razer Kiyo Pro, with both offering lower resolution. Where will the Anker PowerConf C200 end up ranking? Read on to find out if this new Anker PowerConf C200 will finally dethrone the Logitech C920.
Anker PowerConf C200 webcam price and compatibility
Anker's PowerConf C200 webcam costs $69.99. In the box, you will find the C200, a USB-C to USB-A cable, and the user manual.
Compatible with Windows 11 and macOS, it works with all your popular video conferencing apps like Zoom, Google Meet, and Microsoft Teams. I even used it to live stream via OBS streaming software.
Several webcam makers are now making 4K webcams or 4K conference cams but in most cases like with the Nexigo N970P, Meeting Owl Pro, Coolpo AI-Huddle, you're looking at spending between $200 to nearly $1,000, to get high quality, wide-angle, color-accurate video and images. If you're just a small business owner or a family on a budget, that can be cost-prohibitive and a struggle.
Anker PowerConf C200 webcam design
The 2 x 1.6 x 2.2-inch, all-black rectangular oval Anker PowerConf C200 has a nice unique curved design that feels sturdier in the hand than its 7-ounce weight should feel. The plastic is strong as I dropped it several times on purpose, squeezed it with my massive gorilla strength hands, and didn't damage it at all.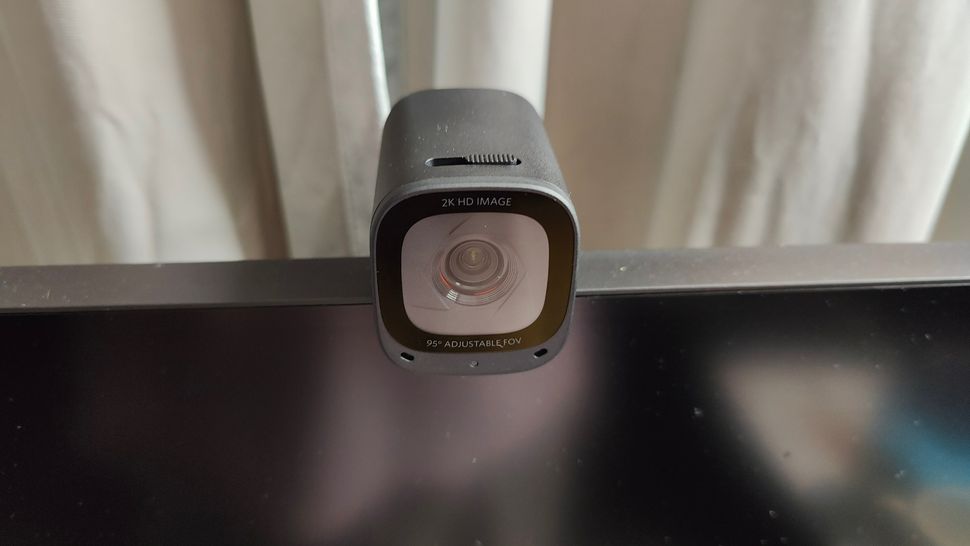 Its large lens area feels like an all-knowing eye is staring you down.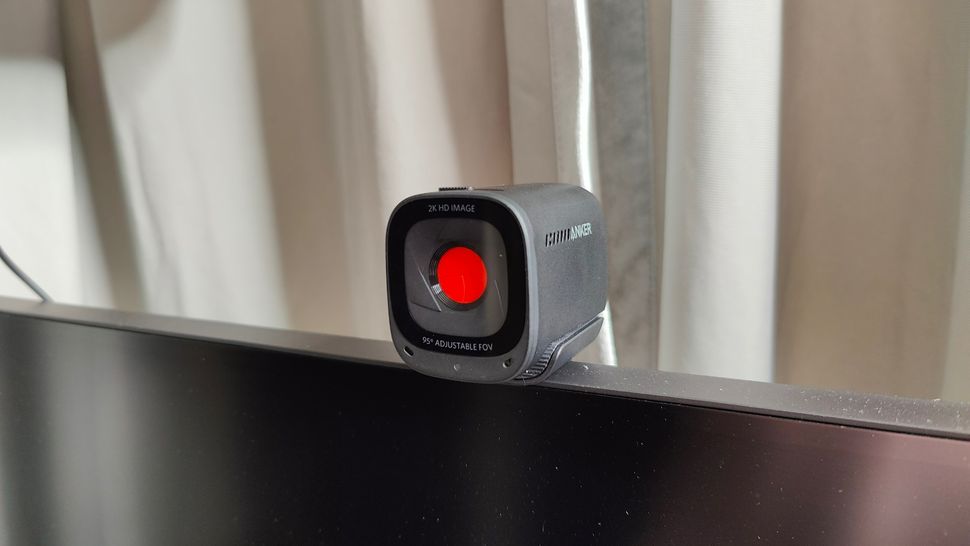 On top of the webcam, we find the slide switch for the physical security shutter that keeps unwanted eyes out. I like that the security shutter is bright orange so you know it has been engaged.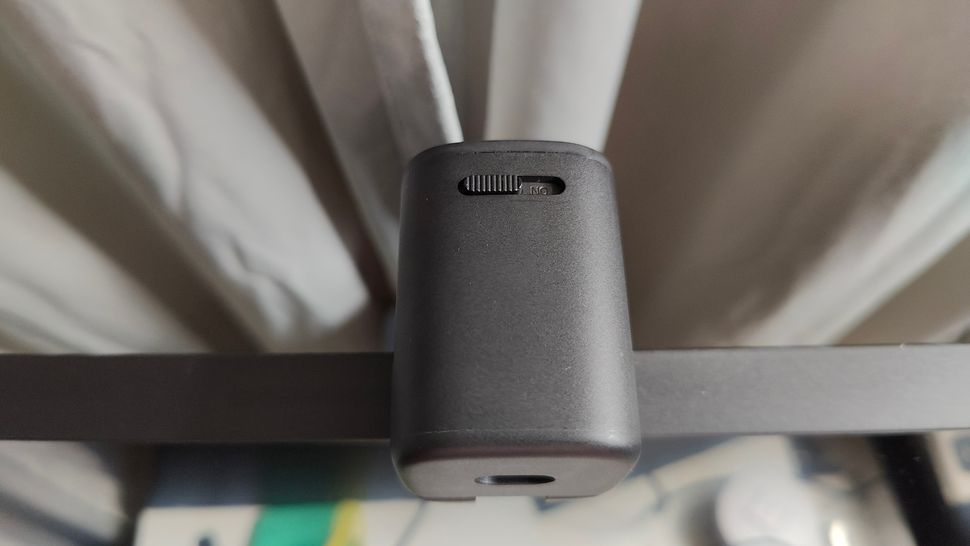 Below the lens is a tiny LED indicator light that signals when the camera's on, and beneath the lens, we find the two noise-canceling omnidirectional microphones. On the rear is the USB-C port and on the bottom, we find the flexible display mount with a rubberized interior to protect your devices. There is also a standard tripod screw mount beneath the flexible mount.
Anker PowerConf C200 webcam video and audio quality
What's wonderfully disturbing about this Anker webcam is that it is on a par or superior to many of the far pricier webcams I have reviewed in the past two years. I have one small issue with the C200 overall and will address it shortly.
I set the C200 up above my desktop monitor and cracked open Google Meet for an afternoon meeting and the image was totally on point. The colors were accurately saturated, and the image was clear and crispier than my freshly starched Calvin Klein button-down shirt. That was under the normal ring light-powered lighting of my curtained office space. After my meeting, I changed shirts, took a couple of photos using the Microsoft camera app, and got some nice photos out of it.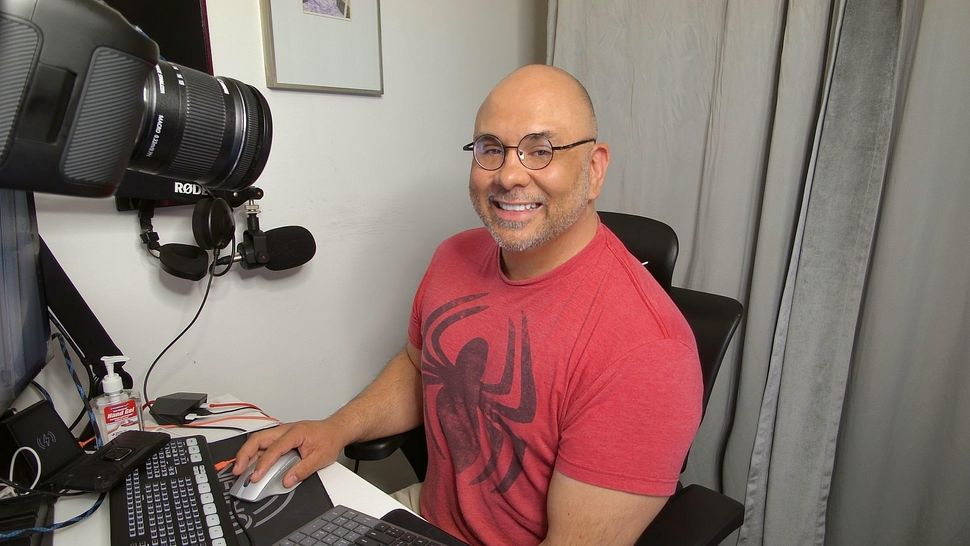 The autofocus on the C200 is blazing fast, and I only caught it once taking more than a fraction of a second to adjust during a low-light scenario.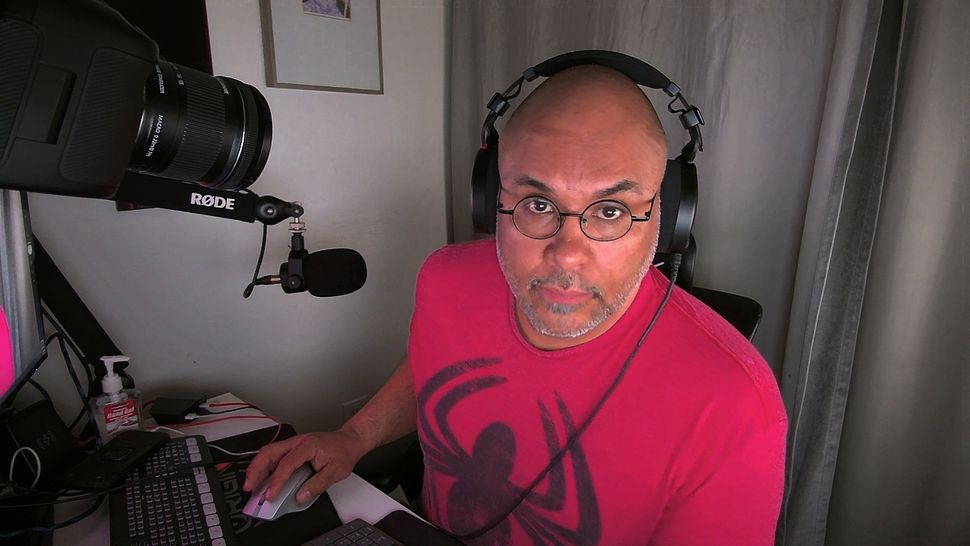 That was the easy stuff, I then started a Zoom call with my daughter because it is almost payday and I wanted to call her before she called me. She immediately commented that she loved the way the Anker webcam rendered video, even though I had turned off the lights she didn't notice it struggling at all with the low-light conditions nor see any distortion or pixelation, and neither did I. Also the image remained color-accurate which is also another point for the C200 as sometimes in low-light situations you will notice color degradation as some cameras will struggle with having less light to work with.
Overall the Anker PowerConf C200 is one of the better performing webcams I have reviewed in the past two years, when you take into consideration its price, portability and image quality, it's hard to beat. However, everything has an Achilles' heel, and the C200's is its microphones. Don't get me wrong, they're very functional, in either 90-degree directional or 180-degree omnidirectional mode. And the noise-canceling works very well, but therein lies the rub. The noise-canceling works too well and as I have experienced with some earbuds, there's a bit too much noise cancelation, so the audio can sound overly digitized, and sometimes choppy. It seems like an issue that can be addressed in a firmware update, but as it stands it could be an issue for those that rely on the built-in noise cancellation. If Anker can fix this minor issue, the C200 could be the number one webcam on the market.
Anker PowerConf C200 webcam software
Anker's PowerConf C200 is plug-and-play all-day every day. Pop its USB-C cable into the back of the webcam, then the USB-A into your computer or USB hub and you can hop into video meetings right away. You can download the company's AnkerWork software for free if you want more advanced options.
Image 1 of 4
The software gives finer control over the C200 allowing for adjustments to the resolution, the angle width, frame (65, 78, 95 degrees), brightness, color saturation, sharpness, and contrast. You can also adjust the audio angle from 180 degrees omnidirectional to a directional pickup of 90 degrees. The app is very user-friendly and you will find yourself making quick adjustments and moving on with your day. If that sounds like a hassle you can just leave the settings as they are since right out of the box, the image and video are beautiful.
The Anker PowerConf C200 comes with an 18-month warranty.
Bottom Line
The Anker PowerConf C200 is a bargain, that delivers high-quality images, and video for a fraction of the cost of many other webcams and conference cams. I include it within the conference cam realm because of its versatile adjustable field of view which grants users the ability to go from 65 degrees to 95 degrees, which is wide enough for a small conference room.
For $69.99 you're getting a webcam that delivers crisp images that are color accurate in normal and low-light conditions with super-fast autofocus. If Anker finds a way to fix the tiny audio issue, it will jump to the top of our best webcams.
Mark has spent 20 years headlining comedy shows around the country and made appearances on ABC, MTV, Comedy Central, Howard Stern, Food Network, and Sirius XM Radio. He has written about every topic imaginable, from dating, family, politics, social issues, and tech. He wrote his first tech articles for the now-defunct Dads On Tech 10 years ago, and his passion for combining humor and tech has grown under the tutelage of the Laptop Mag team. His penchant for tearing things down and rebuilding them did not make Mark popular at home, however, when he got his hands on the legendary Commodore 64, his passion for all things tech deepened. These days, when he is not filming, editing footage, tinkering with cameras and laptops, or on stage, he can be found at his desk snacking, writing about everything tech, new jokes, or scripts he dreams of filming.