Yes, we're already talking about the iPhone 17 Pro — here's the latest rumor about it
2nm chips are in our future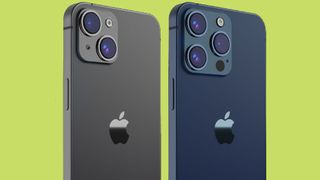 (Image credit: Rael Hornby/Future)
The iPhone 15 series is most likely going to be available for pre-order in the next few weeks, according to our most recent iPhone 15 rumors. And yet, it appears Apple is already working on the A19 Bionic chip to presumably go inside of its iPhone 17 series, specifically the Pro models.
Thanks to leaked CPU IDs from X user @_orangera1n, we have evidence that Apple is nearing the end of development of its A18 Bionic and M4 chips, and beginning the development of its A19 Bionic and M5 chips. To the untrained eye, the leaked CPU IDs look like random number strings, but the X user also included a link to the Apple Wiki page to explain how to read the CPU IDs.
For a quick overview of what these leaked CPU IDs could mean for future iPhones, keep reading.
The A19 Bionic chip may use TSMC's 2nm technology
On the Apple Wiki page, the CPU ID listed for the A16 Bionic chip (found in the iPhone 14 Pro and Pro Max models) is 0x8120. The CPU ID for the A15 Bionic chip is 0x8110. If we assume that Apple is using the same pattern for its future "A" series chips, then the leaked CPU IDs of 0x8130, 0x8140, and 0x8150 suggest the A17, A18, and A19 Bionic chips, respectively.
It appears that apple has started work on the A19 and M5 Pro/Max/Ultra SOCsAlso I wonder what 0x6033/0x6034 are pic.twitter.com/C8f5vcrlFvAugust 20, 2023
It's not unusual for major technology manufacturers to be this far ahead in research and development of future devices, but because of Apple's recent history, it's particularly interesting.
Earlier this year, Apple was pretty sneaky in getting first dibs on the 3nm chips from the Taiwan Semiconductor Manufacturing Company (TSMC) by ordering 100% of the initial supply. This left nothing for its competitors, and will make the iPhone 15 Pro and Pro Max the first smartphones to boast a chip made with 3nm technology.
Why does this matter? Well, compared to the 4nm and 5nm chips you see today, a 3nm chip packs more transistors into a chip of the same size. This translates to increased power efficiency and better overall performance for the user. These impressive 3nm chips Apple bought up from TSMC will be featured in both the A17 Bionic and M3 chipsets.
It's rumored that TSMC will start producing even speedier, more power-efficient chips using 2nm technology in 2025 — right around the time Apple might be ramping up production for the iPhone 17 premium models using an A19 Bionic chip and MacBooks using an M5 chip. If Apple strikes a similar deal with TSMC for its 2nm technology, the iPhone 17 could be the first phone equipped with a 2nm chip, resulting in an absolutely stellar battery life and buttery smooth performance.
It's wild that the iPhone 15 isn't even released yet, and we're already seeing plenty of iPhone 16 rumors and the first talks of an impressive 2nm chip on the iPhone 17 Pro and Pro Max. Nonetheless, we're excited to see the iPhone 15 Pro and Pro Max debut the first 3nm A17 Bionic chip and test out how it stacks up to previous iPhones in terms of battery life and performance.
Stay in the know with Laptop Mag
Get our in-depth reviews, helpful tips, great deals, and the biggest news stories delivered to your inbox.