We asked 5 phone experts: What is it that Android CAN do that iPhone CAN'T?
Another Android vs. iOS showdown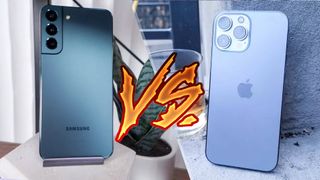 (Image credit: Future)
We love a good Android vs. iOS showdown at Laptop Mag, so we decided to stir the pot and ask five phone experts — phone-passionate folks you've seen across YouTube, TechRadar, Tom's Guide, and more — to answer a question that's been prodding my mind.
What is it that Android can do that iPhone can't?
As someone who has an absurd number of apps open at any given time, my Samsung Galaxy S22 Ultra, an Android device, lets me get rid of all of them all at once. My iPhone 14 Plus, on the other hand, forces me to swipe them off individually like I'm a card dealer at a casino. What's up with that? I also love the fact that Android devices support the faster, zippier USB-C charging standard whereas the iPhone limits you to the bogged-down Lightning port. (But Apple is reportedly changing that soon, thanks to pressure from a new EU mandate. Woo-hoo!)
On top of that, as a crypto investor, Apple's been cracking down on legitimate crypto apps, making it difficult for me to make iOS my daily driver. (For example, at one point, the Coinbase app was banned from the Apple App Store for an entire year!)
Still, I decided to ask some of my favorite phone experts — many of whom you've seen while traipsing through the tech side of YouTube and the world wide web — their thoughts on how Android devices differ from iPhones.
What is it that Android can do that iPhone can't?
Check out our interviews with phone experts MrMobile, Matt Swider, Adam Ismail, JerryRigEverything, and our very own Sean Riley to determine what Android can deliver to users that iPhone can't. Keep in mind that I told each of them that verbosity isn't necessary here. They can be as wordy or brief as they'd like — as long as they answer the question succinctly.
MrMobile, YouTuber
MrMobile, whom we've done a feature about regarding his $6,000 MacBook Pro (so you can't accuse him of being an Android shill), is a YouTuber with over 1 million subscribers known for having an affinity for foldables, particularly Samsung's Galaxy Z Fold series.
That being said, it's easy to predict MrMobile's (also known as Michael Fisher) response to the question at large. What is it that Android devices can do that iPhones can't? Bend in half!
"Foldables have introduced new features, broader utility, and frankly, more fun to a world of smartphones that long ago degenerated into a never-ending stream of stolid slabs. Thanks to my Galaxy Z Fold 4, I leave my laptop at home about 25% more often than before," Fisher said. MrMobile added that the Galaxy Z Fold 4 can unfold into a 7.6-inch tablet, making it easier and more comfortable for him to get work done while he's on the go.
"And on nights and weekends when I want to take some easy selfies or group shots with friends (or just maximize my pocket space with a retro form factor) the Galaxy Z Flip 4 and Oppo Find N2 are lovely little throwbacks. The iPhone is great for someone to whom a phone is just a utility, but for those of us who remember When Phones Were Fun, you can't beat a foldable. And for that, you need to go Android," Fisher concluded.
TLDR: Foldables, only featured among Android devices, are fun as heck while iPhones can't bend for the life of them.
Adam Ismail, Jalopnik staff writer and former Tom's Guide phone expert
Adam Ismail, former Tom's Guide phone connoisseur and current Jalopnik staff writer, gave us a short walk through history, reminding us that there was a time in which Android far exceeded iPhone in its capabilities.
"For the longest time, on an iPhone, you couldn't charge wirelessly, put widgets on your home screen, set default apps, or have an always-on display when your phone was locked. In the very early days, you couldn't even copy and paste!" However, over the years, Apple has closed the gap to Android for the most part, but it's worth mentioning that some of the aforementioned features were just recently added while Android had them for a long time (e.g., Widgets debuted with iOS 14 in 2020 while it's been an Android staple for more than a decade.)
Still, Ismail added that there are a few things Apple doesn't offer — and will likely never offer, including expandable storage and highly customizable home screens. Ismail admits that "theming" one's iPhone home screen is much easier now than it was before, but still, Android phones give users more freedom to personalize every aspect of their device. "Honestly though, the only useful difference that really stands out to me these days is that you still can't charge an iPhone over USB-C," Ismail said. "There's a good chance we'll be able to cross that one off the list come autumn, though."
TLDR: In recent years, Apple's been catching up with Android, so the list of differentiators between Android and iOS has grown smaller, but there are still cool aspects of Android that iPhones cannot match, including customizability, expandable storage, and USB-C charging.
Matt Swider, Shortcut.com founder and former TechRadar US Editor-in-Chief
You may know Matt Swider as the "PS5 restock guy" who worked tirelessly to help passionate gamers secure a PlayStation 5 at a time when there was so much demand, but a dearth of supply. The former TechRadar US Editor-in-Chief is now at the helm of The Shortcut, a consumer-tech publication that keeps subscribers "in the know" on cool gadgetry.
Swider, who's tested more than 1,000 phones, knows a thing or two about Android and iOS devices, so I decided to pick his brain and ask him what Android offers that iOS devices can't.
"Android phones lead by innovation and price – by a wide margin," Swider said. "They're the first out of the gate with modern foldables, modular phones, curved displays, big displays, always-on displays, NFC, swipe texting, and soon, rollable displays. You name the iPhone 'innovation' and Android devices have been doing it for years. Sorry, Apple, that's real 'courage.'"
Swider admits that flagship Android prices have skyrocketed recently, but notes that you get more bang for your buck compared to the iPhone — like double the storage space for the same price. "There are a bunch of mid-range Android options you just can't find from Apple. Yes, Google needs to close the gap when it comes to iMessage and its Android-to-PC ecosystem (something Apple has perfected between iPhone and macOS), but Android is the only one taking chances on new hardware at a reasonable price, and that deserves just as many points on the board," he said.
TLDR: Android phones are far more innovative compared to iPhone's MO of gen-over-gen iterative updates. Any 'new' feature Apple has rolled out in recent years has likely already been done by Android. Plus, you get more value for your money with Android devices.
JerryRigEverything, YouTuber
You've probably seen JerryRigEverything, a YouTuber with a whopping 8 million subscribers, pry into the hardware guts of countless phones, including the OnePlus 11, the Samsung Galaxy S23 Ultra, the Google Pixel 7, and iPhone 14.
JerryRigEverything, also known as Zack Nelson, admitted that he hasn't had an iPhone as a daily driver since the iPhone 4. Back then, he praised Android for being more accessible to consumers in terms of price, but added that he can no longer make that claim since flagship devices like the Samsung Galaxy S series are just as pricey as their iOS counterparts.
In the end, Nelson ended up concurring with Swider and Ismail, concluding that Android's edge over iOS devices is that they're always one step ahead of iPhones. "OLED screens, wireless charging, telephoto cameras all first debuted on Android phones," Nelson said.
TLDR: The above is pretty brief and succinct. Don't be lazy — read it in its entirety.
Sean Riley, Laptop Mag Assistant Managing Editor
Laptop Mag Assistant Managing Editor Sean Riley, and our resident phone expert who's reviewed countless phones (e.g., OnePlus 10 Pro, the iPhone 13 Pro, the Samsung Galaxy S23 Ultra, Asus ROG Phone 5, and more), says that one thing Android offers that iPhone doesn't is control.
"While Apple has offered users a taste of freedom in recent years with the ability to change the home screen on iPhone or set a new default browser or email client, it still pales in comparison to what you can do on Android. On the customizability front, you have launchers on Android that completely reskin the look, feel, and even functionality of your phone in seconds.
On a personal level, I enjoy astrophotography and Apple will not let you take longer than a 30-second exposure. On a Google Pixel 7 or a Samsung Galaxy S23 Ultra, I can capture 5-10 minute exposures that obliterate the results I can get from an iPhone 14 Pro. And it has nothing to do with the hardware; it's Apple exerting its control over the camera software. On both counts, this isn't something that every user will care about, but if you like to have full control over your devices, there is no question that Android is the only choice for you.
Finally, Riley totally agrees with Swider: Value isn't Apple's forte. This is something that's been on Riley's mind after the following buying guides landed on Laptop Mag: 5 phones that are a better value than the iPhone 14 Pro Max and 5 phones that are a better value than the iPhone 14.
"Apple has never offered bargain pricing on its phones, but the extra years of software support always balanced that out and changed the value equation. With Samsung, Google, and OnePlus now all offering 5 years of security updates and 3-4 major Android updates, the equation has changed again. That Android phone that cost potentially hundreds less than a comparable iPhone is giving you maybe 1-2 fewer years of software support, and unless you keep your phone for at least 5-6 years, that's simply not relevant."
TLDR: You can instantly revamp the look and feel of your Android phone in seconds. Plus, Android phones typically have less of an iron grip over its camera software, giving you more freedom to experiment with fun photography styles (e.g., astrophotography). Finally, with Android devices delivering more years of software updates, they offer more longevity and better value than ever before.
More from Laptop Mag
Stay in the know with Laptop Mag
Get our in-depth reviews, helpful tips, great deals, and the biggest news stories delivered to your inbox.
Kimberly Gedeon, holding a Master's degree in International Journalism, launched her career as a journalist for MadameNoire's business beat in 2013. She loved translating stuffy stories about the economy, personal finance and investing into digestible, easy-to-understand, entertaining stories for young women of color. During her time on the business beat, she discovered her passion for tech as she dove into articles about tech entrepreneurship, the Consumer Electronics Show (CES) and the latest tablets. After eight years of freelancing, dabbling in a myriad of beats, she's finally found a home at Laptop Mag that accepts her as the crypto-addicted, virtual reality-loving, investing-focused, tech-fascinated nerd she is. Woot!