The iPhone 16 Pro's camera sensor is looking absolutely stacked
Speedier, sharper snappers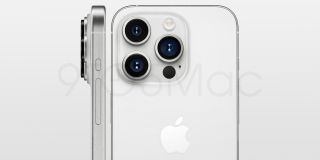 (Image credit: 9to5Mac)
News on the iPhone 15 is about to reach a tipping point as we approach Apple's Special September Event and brace for the big reveal of its launch date. However, we're already receiving word about the device we'll be expecting this time next year – the iPhone 16. Today, more specifically, we're hearing more about the iPhone 16 Pro and Pro Max.
Apple iPhone 16 Pro/Pro Max: Smartphones with stacked snappers
According to Apple analyst Ming-Chi Kuo, camera array updates heading to this year's iPhone 15 and iPhone 15 Plus models are set to carry over to 2024's iPhone 16 Pro and Pro Max models. The update in question revolves around the iPhone 15's inclusion of a 48MP rear camera featuring a stacked CMOS Image Sensor (or CIS).
Image sensors are the heart of any camera array and can greatly impact the results on every snap taken. Since the iPhone 4, Apple has made use of mainstream CIS sensors to great effect – with a number of models praised for their photography capabilities, including the latest iPhone 14 Pro models.
However, with Samsung and Google both making fantastic strides in providing excellent camera options with the Galaxy S23 Ultra and Pixel 7a, Apple is looking to up its game with the inclusion of a stacked CIS that allows for faster readout speeds and better low light imaging.
Stacked CMOS image sensors: What's the fuss?
Stacked CMOS Image Sensors are high-end chips that rearrange the components found in a basic CMOS to bring the light-sensitive photo-diode forward, while layering the image signal processor and memory just behind it.
That might not sound like much, however, the results can be hugely impactful. In layman's terms, Stacked CMOS image sensors are incredibly fast at capturing an image – and even better at focusing on your chosen subject. The reconfigured chip is also more efficient, drastically improving performance and clarity.
This means snapping a subject at speed will result in clearer, sharper images even in low-light environments – which features drastically less noise than before. All of which is working within a much more power-friendly setup.
Outlook
The iPhone 15's stacked camera sensor might not seem like a major improvement to many, but when it comes to comparing the results of a standard CMOS and Stacked CMOS configuration, the results should be as clear as night and day.
The iPhone 16 Pro and Pro Max's projected adoption of this technology is a no-brainer for sure, with the only thing stopping its inclusion in iPhone 15 Pro models already being the industry's continual hiccups when it comes to production and yield.
It may not be an upgrade that's immediately as apparent as a larger display, alternate chassis material, or new color options – but this one small upgrade could be massive for the smartphone shutterbugs among us.
For news, rumors, and updates on all things Apple, iPhone, and tech, follow Laptop Mag on Twitter, Facebook, and Flipboard for the latest word as it arrives.
Stay in the know with Laptop Mag
Get our in-depth reviews, helpful tips, great deals, and the biggest news stories delivered to your inbox.
Rael Hornby, potentially influenced by far too many LucasArts titles at an early age, once thought he'd grow up to be a mighty pirate. However, after several interventions with close friends and family members, you're now much more likely to see his name attached to the bylines of tech articles. While not maintaining a double life as an aspiring writer by day and indie game dev by night, you'll find him sat in a corner somewhere muttering to himself about microtransactions or hunting down promising indie games on Twitter.