Xbox Developer_Direct: Hi-Fi RUSH launches tonight
Here's everything that happened at the Xbox Developer_Direct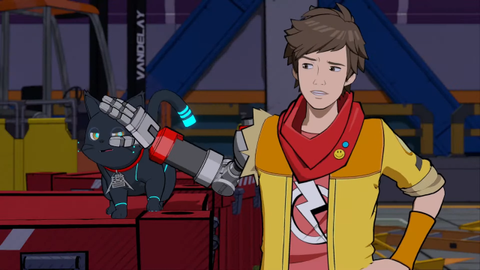 (Image: © Tango Gameworks)
Xbox's first ever Developer_Direct showcase just happened. We saw new footage (and received many release dates) for The Elder Scrolls Online: Necrom, Forza Motorsport, Minecraft Legends, and Redfall. But beyond just that, Tango Gameworks surprised us by showing off its next game, Hi-Fi RUSH.
An even bigger surprise? It's available to play on Xbox Series X and PC via Game Pass tonight. Here's everything else you missed from the conference:
Refresh
The Xbox Developer_Direct is set to begin in 30 minutes. You can catch the show on Xbox's YouTube or Twitch channel at 12pm PT/3pm ET. If you can't make it for whatever reason, keep up with this page and we'll update it throughout the presentation.
The Xbox Developer_Direct is beginning now! Catch the show on Xbox's YouTube or Twitch to see what's happening. Can't make it? Keep up with this page and we'll update it throughout the presentation.
A floating Tango Gameworks cursor visible during the Starting Soon menu. Does this mean we'll see it at this show?
The showcase begins confirming that Tango Gameworks' upcoming title will be at the show. Otherwise, the show is beginning with a look at Minecraft Legends, the latest game in the series.
Minecraft Legend is an online co-op experience, and will also feature a PvP mode that can pit four players against another four players in a tactical strategy battle.
Minecraft Legends is launching April 18, 2023.
The presentation is now moving over to Turn 10 studios to show off Forza Motorsport. Turn 10 is going over the aural improvements, including hearing every detail on the field, to new visual details including how dirt and damage is hyper-specific based on where you get hit. This includes full dynamic time of day and weather effects. It'll feature 500 cars and 20 environments, and it'll have a car-building focused single-player career mode.
Forza Motorsport is launching sometime in 2023.
Tango Gameworks' next game is being shown off now. In a huge third person open-world full of attacks revolving around combos and mind-blowing mobility.
Hi-Fi RUSH is a rhythmic action game focusing on generating combos and flowing with the beat to deal more damage and push through encounters more efficiently. The entire world follows the beat and adds to the music every time you hit on cue.
It's not about mashing buttons, instead focused on feeling the beat and keeping in touch with the tune to unleash incredible combos. By keeping in tune with the rhythm, the player gains special bonuses in-combat.
Everything in the world follows the beat, including enemy attacks. The player is fighting against a mega-evil corporation and it's up to the player to battle through each department to face against an epic boss.
Hi-Fi RUSH launches today! It's available to play in a few hours from now.
The latest expansion for Elder Scrolls Online is being shown off now. It's titled Necrom and will allow the player to hunt dragons and face gigantic demons. All past chapters of The Elder Scrolls will be free for a limited time. The expansion launches June 5 on PC and June 20 on Xbox.
Redfall is being shown off as the last big game, opening with a story-focused introduction trailer going over the base premise. Redfall revolves around four heroes boasting unique abilities to hunt vampires who've blocked out the sun.
The showcase gave us a look at the fire station, one of the hubs where players can receive quests. A quest that's shown off is to accomplish an objective at the lighthouse, where the demo goes over one of the vampire types that completely obstructs the player's vision until they're killed.
Shortly afterwards, we see the player stepping through the halls of a building with the walls coated in blood. The focus on these creepy moments are pretty immersive. After powering the lighthouse, the vampire gods become angered, which causes the Rook to be summoned.
Although Redfall has looter systems, it's not shying away from what makes Arkane exciting as a studio, allowing the player to approach situations in a number of unique ways.
Players will have to take the town of Redfall back neighborhood by neighborhood, which offer a series of missions that exist beyond the main story. When a neighborhood is claimed, the player needs to face off against the boss that previous controlled said area.
Redfall launches on May 2nd, confirming the leaks.