PlayStation State of Play February: Resident Evil 4, Street Fighter 6, and Suicide Squad: Kill the Justice League
Here's everything you missed at the latest PlayStation State of Play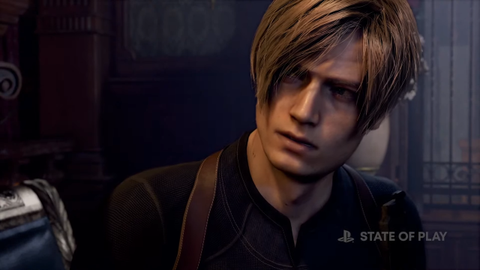 (Image: © Capcom)
PlayStation State of Play has returned for its February 2023 event, giving us a look at 15-minutes of Suicide Squad: Kill the Justice League, alongside Resident Evil 4 and Street Fighter 6 footage. The presentation was 45-minutes overall and opened with five PSVR 2 games to look forward to. Here's everything you missed from the show!
Refresh
PlayStation's February State of Play goes live on February 23 at 1 p.m. PST / 4 p.m. EST / 9pm and can be watched on Twitch or YouTube. If you can't make the show for whatever reason, be sure to keep up to date with this article as we offer live updates of everything happening.
The show is now beginning! You can tune in on Twitch or YouTube. If you can't make it for whatever reason, be sure to keep up to date with this article as we offer live updates.
The PlayStation State of Play opened with a showcase of The Foglands, a PSVR 2 game shown through a cinematic trailer where the player is battling alien monsters as a pistol wielding cowboy. You also battle spider monsters and woodland beings while shooting at enemies throughout alien-like environments. It comes sometime in 2023.
Green Hell VR is a crafting and survival game where the player is fighting nature and animals of the wilds throughout the Amazon jungle in PSVR 2.
Synapse is a game from the makers of Fracked. It's a new first-person shooter game where the player is battling waves of foes throughout expansive black-and-white caverns. The player can move boxes and enemies with their psychokinetic powers, with one scene in particular showing a barrel tossed to enemies before it blows them to bits. It's called Synapse and comes 2023.
Journey to Foundation is a sci-fi exploration game played in PSVR 2. The player is shown climbing on poles and hiding behind boxes as they sneak throughout a space station. They also shoot and battle with a series of enemies, utilizing futuristic alien-like abilities to emerge victorious. The game launches Autumn 2023.
A wolf-creature is taking the player to be judged, showing the player's life in full motion through their own memories. Every time the player blinks, time moves forward, which sounds pretty incredible. We see the player's memories shown through an adorable soft-palette indie-aesthetic in PSVR 2. It's called Before Your Eyes and launches on March 10.
Destiny 2: Lightfall launches on PS5 next week, so the game is having its launch trailer shown off now. We see the Witness shown off as an epic space battle occurs and the main protagonist's entire fleet is seemingly destroyed in an instant. For some reason the cover of a Radiohead song is playing in the background as we're given many glimpses of the game's story and cinematic shots of gameplay.
Tchia, the colorful island-based exploration game is being shown off now, showcasing the protagonist sailing throughout the world, climbing trees, jumping off cliffs and soaring through the forests. We also see them take the place of a bird and dolphin through their special eye. The game launches on March 21.
From the creators of Tetris Effect and Rez: Infinite comes a new game called Humanity. The player seemingly controls a dog running throughout blocky environments as they attempt to move an entire population of people to their destination. It's clearly a puzzle game with a minimalist aesthetic and it's launching in May. It's also playable with a creation mode, allowing users to make their own levels.
Goodbye Volcano High got a new trailer showcasing the rhythm-focused gameplay and how the animations will look in-game, alongside the decisions the player can make along the way. It seems like much of the game takes a visual novel style when the main cutscenes aren't playing. It launches on June 15.
Naruto x Boruto Ultimate Ninja Storm Connections is being shown off now, giving us a look at many key moments from the story and how they play out in-game. It launches in 2023.
Larian Studios is showing off Baldur's Gate 3 now, giving us a gameplay trailer interspliced with cutscenes of the story. We get a good sense of the environments, the character creator, and how rolling will function in-game. It looks incredible, and after so long in early access, it's good to know we'll be getting to play it this summer. It launches August 31.
Wayfinder is being shown off now, an online multiplayer fantasy game where the player runs around the world and beats on a series of enemies through melee attacks and long-range abilities. Boss fights to attain loot seem to be a huge part of the game, with the beta coming exclusively to PlayStation on February 28.
Street Fighter 6 is getting three new characters shown off now. The first is Zangief in all of his muscly glory beating on enemies with his unbelievable strength. The next character is a wind-based fighter who has gusts surrounding her. Her name is Lily and she uses these enormous curved blunt weapons to beat on her foes. The final character being shown off is Cammy, the classic British-based fighter who kicks butt with her giant muscles and thunderous thighs.
Resident Evil 4 Remake is being shown off now, giving us a deeper look at the more action-focused gameplay, the story moments that we remember so well and how the player will have to run around the castle to protect Ashley. Some of the game's most iconic moments, including the minecart and helicopter sequence, are clearly back in full glory. We also see the classic Krauser boss fight.
Suicide Squad: Kill the Justice League is being shown off now for its 15-minute presentation. We're shown a mission of the Squad being put up against an evil version of the Flash. A giant purple mechanical tentacle-like device drops onto a section of the city and begins destroys everything.
The Suicide Squad is shown going face to face with a tank while also battling against corrupted technology in general, like giant modified men and helicopters. It's clear the focus of this game is the movement, with the player running and jumping around the city to accomplish their various goals. It launches on PS5 on May 26, 2023. We're being shown how each character works, alongside support characters including the Penguin, Hack, Toyman, and Gizmo.
New playable character, cosmetics and missions will be added to the game overtime, meaning it's going to be a full live-service experience.
Stay in the know with Laptop Mag
Get our in-depth reviews, helpful tips, great deals, and the biggest news stories delivered to your inbox.
Thank you for signing up to Laptop Mag. You will receive a verification email shortly.
There was a problem. Please refresh the page and try again.