Pixel Fall Launch event: Google Pixel 6, Pixel 6 Pro, Tensor and everything announced
The latest updates from Google's Pixel 6 and Pixel 6 Pro launch event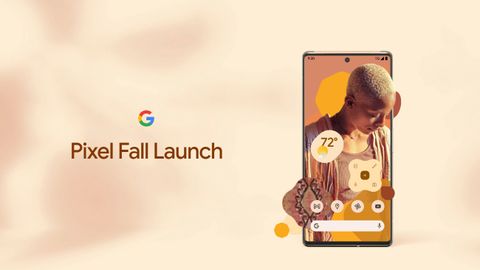 (Image: © Google)
Google's Pixel Fall Launch event finally offered a better look at the tech giant's highly anticipated Pixel 6 and Pixel 6 Pro. These aren't just any updated flagship smartphones, as these Pixels feature an all-new Google Tensor chip and a complete redesign.

The October Pixel event gave us full details on all things Pixel 6. We got a deep dive into the custom Tensor chip, how it will work with Android 12, and exclusive features no other Android phone can offer. Plus, we got a better look at the Pixel 6's cameras.
There was no word of the Pixel Fold or the Pixel Watch, but we did get a glimpse of how the Google Pixel Buds A-Series will work with the Pixel 6. Check out the event over on Google's Pixel Event website or on the "Made by Google" YouTube channel. Check out the video below.
Check out everything announced as it happened during Google's Pixel Fall Launch event.
Refresh
And we're kicking off! Google remains as timely as ever with the Pixel 6, as it's right in line with the last two years with the Pixel 5 shipping on October 15, 2020, and the Pixel 4 on October 24, 2019. Just like clockwork, almost.

The Pixel 6 and Pixel 6 Pro will launch with Google's latest OS, Android 12. The latest update is designed to breathe fun back into Android, and we believe it delivered. We believe Android 12 restored the quirky personality of Google's mobile OS and patched long-standing issues with the addition of a universal search, one-handed mode, and more. With this in mind, the Pixel 6 is already off to a great start.

Check out our Android 12 review for our full thoughts.
The Pixel 6 is coming for you, iPhone 13.

While Google already gave fans a sneak peek at the new Pixel's design, there's still plenty of features the launch event will finally offer insights on. For those wondering how both Pixels will stack up against the iPhone 13 or iPhone 13 Pro Max, it's worth tuning in.
Today's going to be (another) good day #Pixel6Launch pic.twitter.com/q2KBrlIzNVOctober 19, 2021
We already know the Pixel launch event will officially introduce us to Google's latest flagship smartphones, but will there be another surprise announcement in the mix? If so, rumor has it it's likely to be Google's foldable smartphone, the Pixel Fold.

With this being Google's first Pixel phone with an entirely different form factor, it's difficult to pinpoint when the Pixel Fold will be revealed. That said, a report from The Elec from earlier this year suggested the Fold will arrive by the end of 2021 or early 2022. Google's Pixel Fall Launch event is upon us, so we may see a surprise reveal of the foldable Pixel.

Earlier this year, tipster Yogesh Brar claimed that the launch of the Pixel Fold had been delayed, but there's a chance Google may announce the Pixel Fold during the Pixel 6 launch event. While this suggests that an early 2022 projection is more likely, senior director of Display Supply Chain Consultants, David Naranjo, states otherwise.

According to the display industry insider, the launch date of the Pixel 6 Pro and Pixel Fold fall in the same time period: the fourth quarter of 2021. This means Google's foldable phone could arrive sometime between October and December in a surprise launch. Whatever the case, it won't be much longer until we find out.
Without a doubt, the Pixel 6 is Google's most-anticipated launch in years. Despite all the excitement surrounding both the Pixel 6 and Pixel 6 Pro, some may skip it entirely and keep hold of the Pixel 5 instead. As Laptop Mag's Phillip Tracy writes, many fans chose the Pixel 5 because of its size. With a 6-inch display, the Pixel 5 is easy to grasp and every feature apart from mobile gaming can be done with one hand.

On the other hand, the Pixel 6 is large. So big that the "smaller" model is almost the size of the Pixel 4 XL. Looking at the rumored dimensions, the Pixel 6 is said to have a 6.4-inch display and measure 6.2 x 2.9 x 0.35 inches. For comparison, the Pixel 4 XL had a 6.3-inch panel and measured 6.31 x 2.9 x 0.32 inches. Now let's put that next to the Pixel 5 at 5.7 x 2.77 x 0.3 inches. Yikes.

For a more in-depth look, check out why some might skip the Pixel 6 and keep the Pixel 5 instead. Will the Pixel 6 and Pixel 6 Pro be so impressive that size won't matter? The launch event should give us a few more details.
Google Pixel is now the official fan-phone of the @NBA so we've been practicing our dribbling for tip-off tomorrow. ⛹️⛹️‍♀️Check our Instagram Stories so you can too! #NBAPixel https://t.co/FlF7aFHFkn pic.twitter.com/blcfzMPrKLOctober 18, 2021
One of the more interesting changes coming to the Pixel's design is the phones' unique colorways. As teased by Google back in August, the Pixel 6 and Pixel 6 Pro will come in three color variants that are unique to each model. The good news is they're gorgeous.

Each option follows the same design principles with a primary color below the camera module covering most of the back panel and a secondary accent color above the camera bar. It's also worth mentioning that the standard Pixel 6 has a "matte aluminum finish" frame whereas the Pixel 6 Pro has a "light polished aluminum."

One of the color options for the Pixel 6 includes a soft pink primary color below the camera bar and what is best described as a vivid salmon hue above the cameras (what Google will likely call "sorta coral"). It also comes in a bluish-gray with a pale yellow accent, along with a black (or dark gray) model with a light-gray top accent color.

The Pixel 6 Pro shares the same gray-on-gray model but the other two options differ from its siblings'. Instead of a soft yellow accent, the white Pixel 6 Pro has a cream or soft beige accent bar. The Pixel 6 Pro also comes in pale orange (almost yellow) with a muted pumpkin orange accent above the camera.
Despite being a new flagship entry to the Pixel lineup, the Pixel 6 may not be as pricey as its competitors, including the iPhone 13 and Samsung Galaxy S21.

Based on previous rumors, the peak price we would expect for the base Pixel 6 is $749, while the peak price for the base Pixel 6 Pro would be $999. However, it's possible Google comes in closer to the rumored European pricing with the Pixel 6 at $699 and the Pixel 6 Pro at $899. That would make for a logical lineup from Google when looking at the step up from the Pixel 5a ($449) to the Pixel 6.

According to a recent leak from Android Authority, however, the Pixel 6 may start at $599, while the Pixel 6 Pro $899. We're always looking for more affordable prices, so here's hoping for a more affordable price point.
We're under an hour away from the launch event. We're hoping for quite a show, Google.
60 minutes until #Pixel6Launch!Watch the livestream: https://t.co/bJRDhj2Gw2October 19, 2021
We're in the final stretch. We're sure to see all the major improvements and updates the Google Pixel 6 and Pixel 6 Pro bring, but will the tech giant have time to squeeze in a Pixel Watch announcement?

The majority of the information available originates from a significant leak revealed by Jon Prosser, which included a projected release date of October 2021, presumably alongside the Pixel 6.

Wear OS itself has been improving over the last year with visual and feature updates, and the partnership announced with Samsung at Google I/O gave some renewed hope for the platform with the most successful Android wearable manufacturer rejoining Wear OS.

Will Google unveil the Pixel Watch? Not too much longer until we find out.
T-minus one minute! We're not sure how long the Google Pixel launch event will last. Whatever the case, get the popcorn out.~

Oh, and don't worry about that refresh button, this live blog will do it all for you.
Here we go.

We're being treated with a lifestyle ad, featuring the Pixel 6, Pixel Buds, and more. Even better, we're getting young dogs taking to each other. Also pictures of dogs using the Pixel 6's camera. We're sure to hear all about that now.

"Come on in" to Google HQ in New York.
We're first being introduced with "Google AI," with Google claiming that the smartphone should be the central device when it comes to connecting. Of course, the Pixel is Google's shining glory. However, with the Pixel 6, Google claims new AI-driven experiences, and "state of the art" hardware.

The includes Google Tensor, which has been "years in the making." It will power "all kinds of new experience." We're intrigued, Google. In fact, this includes Google's best speech translation tech, along with the best Pixel camera. It is also the highest-rated phone for security.
Here's our first hands-on look at the Pixel 6 at the event, along with its packaging. Expect Material You with Android 12, along with new privacy and security features. Expect all-day adaptive battery, along with 5G connectivity.

The Pixel 6 is available today at $599. Get ordering!
The Pixel 6 and a pro, trible camera system, along with an ultra-wide front camera, which can shoot 4K vid.

The Pro will also include 12GB of RAM, along with a 120Hz adaptive refresh rate, along with the biggest battery in a Pixel phone, ever.

The Pixel 6 Pro will also be available to order, with prices starting from $899.
Going Pro? You'll need the #GooglePixel6Pro 📱✅ 6.7-inch QHD+ LTPO OLED display with up to 120Hz refresh rate🔋 4,600 mAh battery📀 Google Tensor Chip + 8GB RAM + Titan M2 Security📷 50MP main camera f/1.85 aperture + 12MP Ultrawide + 48MP telephoto$899#Pixel6Launch pic.twitter.com/YQqy2btN6AOctober 19, 2021
This is the #GooglePixel6 📱✅ 6.4-inch FHD+ OLED display with up to 90Hz refresh rate🔋 4,600 mAh battery📀 Google Tensor Chip + 8GB RAM + Titan M2 Security📷 50MP main camera f/1.85 aperture + 12MP Ultrawide🔼 5 years Android security updates#Pixel6Launch pic.twitter.com/R53dzxPiJ3October 19, 2021
Google is now talking about the design and feel of the Pixel 6. This includes the unique camera bar, along with the different colors the Pixel 6 will come in. The Pixel 6 and the Pixel 6 Pro will have three different options each.

Apparently, Google was inspired by the colors and design of luxurious jewellery and wearables for the Pixel Pro. We like the look of them.

Both phones are both water and dust resistance, and they both have an under-display fingerprint sensor.

We're also getting Pixel Feature Drops, all to boost the phone's sustainability.
The Pixel 6 is the "best expression of Android." Interestingly, the Material You UI will adapt to the wallpapers users pick, this means apps and features will change to the color scheme and style of whatever users put.

Google also appears to growing its ecosystem, from being able to bring up QR codes and tickets to the Pixel Buds being able to connect automatically and start playing music.

The Pixel 6 will also a "Tensor Security Core," which works independently from any other function on the phone. What's more, the Pixel 6 will offer users 5 years of security updates. Not too shabby at all.
We're also getting a better look at what was previously announced at Google I/O, including the Privacy dashboard.

Scam artists beware, as the Pixel 6 will also have a anti-phishing feature, too. Anything suspicious will be picked up, and users will be alerted.
Durable and sustainable 👏 #Pixel6Launch pic.twitter.com/nnxic4Zal3October 19, 2021
Google is giving us a deeper dive into the Google Tensor chip, Expect a 20-core GPU, two high-performing CPU cores, two mid cores, and four for high efficiency. The Pixel 6 is much faster than the Pixel 5, up to 80% apparently. But there's more to the chip than just speed, Google claims.
The Pixel camera offers a 50MP wide camera, and captures 2.5 times more light than other Pixel cameras. Expect a 12MP ultra-wide camera, and a 48MP telephoto lens. The Pixel 6 Pro will also have a nifty ultra-wide camera on the front that can capture 4K video.

The Camera will also offer a Super Res zoom, and you'll be able to capture zoomed pictures in low-light, too. As for video quality, the Pixel phones can pack in the pixels, too.

Another feature includes the "Magic Eraser" feature, which allows users to easily tap to remove distractions in pictures. It can even be used on pictures taken "minutes ago or years ago."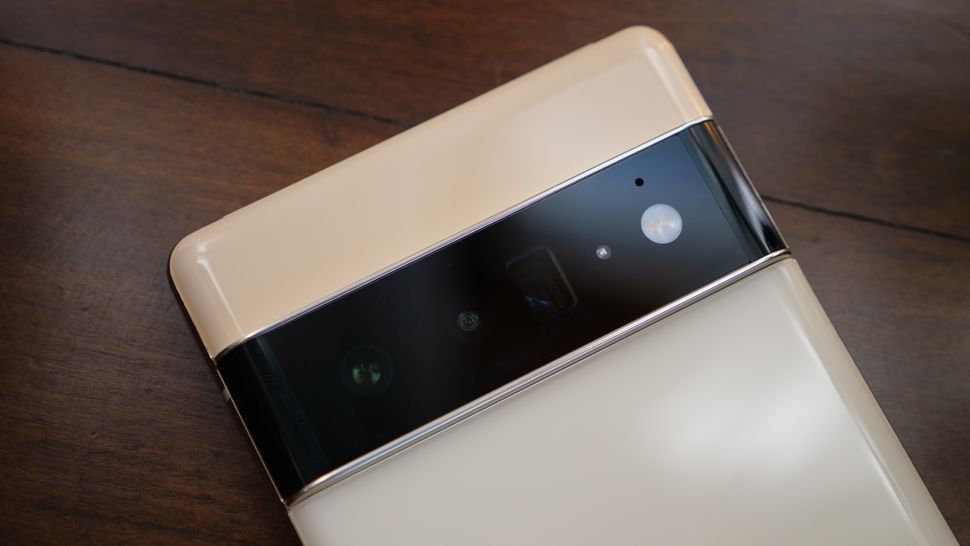 Another Pixel camera feature includes "Face Unblur", which eliminate blurriness from pictures, along with Motion Mode which can add "aesthetic blur" to the background of pictures that need it. For example, a passing train with someone standing in front of it or cyclists zooming by.

Google and Snapchat also introduced "Quick Tap to Snap", which includes tapping the back of the phone which immediately goes to the Snapchat app.
Google is also improving its camera tech with a "Real Tone" feature, which will "highlight the nuances of all skin tones equally." Google is giving us a look at how Real Tone works in different imagery, giving us a better look at image equity on the Pixel 6.
Tensor will also make typing much faster on the Pixel 6, Google claims. The Pixel 6 has an on-device speech recognition model that can transcribe speech fast. Expect fast and effortless voice typing. Google gives an example, and it's wicket fast. It even adds punctuation and a contact.

It can also be used for emojis, and is apparently 3x faster than typing regularly. Interesting. In business calls, Google will offer a schedule of times to let users know when a line is busy and when it's best to call. Even better, when you go through a pre-recorded message and menu, Pixel will remember what you did previously so you don't have to do it again.

Moving on, Google has greatly updated its translation, offering real-time translation in messages, videos, pictures taken on the Pixel camera, and more. For example, you can type something in English and have it immediately translated into Japanese as you type. We can't wait to try this out. This also works on voice messages, post haste.
Here's the final stretch. The Pixel 6 and Pixel 6 Pro are available for pre-order today, and will be available on October 28. Also expect new cases, too.

And that's a wrap! So, that's the Pixel 6 and Pixel 6 Pro for you. We're excited to try out all the features the new Pixel offers.