Nintendo Direct September 2023: Paper Mario, F-Zero 99, and Princess Peach
Here's everything you missed at Nintendo Direct September 2023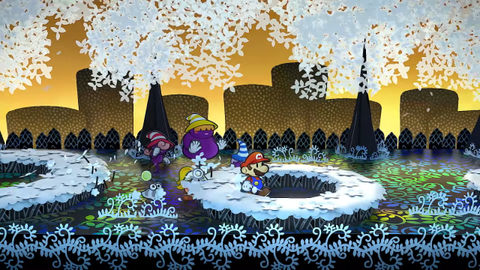 (Image: © Nintendo)
Nintendo abruptly revealed yesterday that it would be holding a new Nintendo Direct presentation today, featuring "roughly 40 minutes" of Switch games to release this winter. The internet exploded into hype mode (unsurprisingly), and now we've seen what the company had to offer.
It's no surprise that we didn't get much on the actual Nintendo Switch successor itself. Although the company did briefly talk about its upcoming Nintendo Museum. Otherwise, we were treated to announcements for a Paper Mario remaster, a new Princess Peach game and far more.
Refresh
The Nintendo Direct September 2023 showcase is now starting! Tune in on YouTube or Twitch to keep up with the latest updates for what's coming to Nintendo Switch this winter. We're expecting 40 minutes of footage, but if you can't make it, keep up with our live updates to get information on everything happening.
The Nintendo Direct opened with an immediately first look at the latest Splatoon expansion. We're seeing a somewhat colorless city that seems to be pretty monotone and gray. It seems to be a full single-player experience with upgrades that allows the user to add color back into this world. It's called Side Order and is available in the Splatoon 3: Expansion Pass. It's set to launch spring 2024.
We're seeing a 2D Mario and Donkey Kong in a game called Mario vs. Donkey Kong. Apparently Donkey Kong stole a bunch of toys from a factory, and Mario is on his way to get them back. In this updated version, you can play with friends in local co-op. It launches February 16 of next year.
A new trailer for the latest Prince of Persia - The Lost Crown is being shown off now for Nintendo Switch. It is seemingly a metroidvania with intense combat and unique abilities while also platforming throughout the world. It launches January 18.
Nintendo spent a bit of time on some smaller headlines, including:
Horizon Chase 2 is a arcadey racing game located in fast-paced stylized environments. Four players can play in couch co-op and it launches on Nintendo Switch later today.
Super Crazy Rhythm Castle is being shown off with 30 tracks and music from other Konami titles. It launches on Switch November 14.
Spy x Anya: Operation Memories is being shown off now, which is fascinating. It launches on Nintendo Switch next year.
Super Mario RPG Remake is being further shown off now, giving us a look at what the moment-to-moment turn-based combat looks like. It launches November 17.
Another Code: Two Memories is being shown off, seemingly giving us a first look at a narrative-focused title where the player has to complete puzzles to find the main character's missing father. Another Code: R, which was previously unreleased in America, is also being included in Another Code: Recollection launches January 19.
After being completely teased at the latest Nintendo Direct, we're finally getting another look at the Princess Peach game. The player has to save a theatre that seems to have been overwhelmed by dark forces as the user utilizes a ribbon to change her powers, alongside the ability to transform with new costumes, giving her a new move-set to use in different situations. There's also Detective Peach, allowing the user to "track down whodunnit."
And then the player can turn into Patisserie Peach to put together delicious meals and Kung-Fu Peach to face off in some martial arts. Others abilities are coming as well. The game is called Princess Peach Showtime! and launches March 22 of next year.
A new entry in the Saga Series is being shown off with SaGa Emerald Beyond. It features six heroes to follow each of their individual stories. It launches on Nintendo Switch next year.
A remaster for the original three Tomb Raider games is coming to Nintendo Switch. It comes with all of the expansions and secret levels with freedom to swap between each visual version and launches February 14.
The latest Detective Pikachu was shown off, and I will never stop laughing hearing his voice. Detective Pikachu Returns has the user investigate different cases to try and find the truth of the world's mysteries. It launches on October 6.
I cannot believe it. The trombone meme game, Trombone Champ, is seemingly coming to Nintendo Switch. The pitch is determined by either motion controls or the IR motion camera. Tons of different songs are available, and it's playable with up to four musicians. It launches today.
Battle Crush is being shown off now, a top-down battle royale brawler. It's free to play and launches next Spring.
Wartales is an open-world tactical RPG that allows the user to equip gear and skills to protect their townspeople. You can also play with four people online. It launches later today.
Contra Operation Galuga is being shown off now as a reimagining of the classic game. It features new weapons and enemies, alongside four player co-op.
A new tactical RPG is being shown off now with highly stylish 2D art. The player can engage in all sorts of combat scenarios with 60 unique characters. It is developed by Atlus and Vanilla Ware. It's called Unicorn Overlord and is available March 8.
Luigi's Mansion 2 HD is being shown off now, revealing how Nintendo has reimagined this classic title. It launches next summer.
Nintendo is showing off a curious question mark. Apparently it's for the Nintendo Museum, which is a gallery that fans can go visit and it is planned to finish by March 2024.
Zelda and Ganondorf Amiibo figures are coming November 3, while Noah and Mio from Xenoblade 3 are coming January 19. A new Amiibo figure for Sora from Kingdom Hearts was also announced.
A new F-Zero trailer is being shown of??? The first F-Zero game is coming back as F-Zero 99, a battle royale F-Zero title in the vein of Tetris 99 that puts nearly a hundred players against one another in a totally bonkers race. It is available exclusively for Nintendo Switch Online Members and comes out today.
A new entry to the world of Runeterra, Bandle Tale: A League of Legends story, is being shown off. It's an immensely cutesy top down farming sim that features fishing, crafting, quest-going, festivals, and mining. It launches 2024.
Another entry to the Runeterra world, Song of Nunu: A League of Legends Story, launches November 1.
The new Warioware is being shown off, giving us a first look at the tons of mini-games the user can play to win. Many of them involve creating different forms and moving their body with their joystick to fulfill criteria in those games. There's over 200 mini-games alongside multiplayer modes, WarioWare Move It launches November 3.
Another tactical RPG with Eiyuden Chronicle: A Hundred Heroes is being shown off now. It launches April 23.
Eastward: Octopia is being shown off as a paid DLC for Octopia. The user is seemingly adjusting to "country life," whipping up cooking dishes, planting delicious crops and more. It launches this holiday.
Wargroove 2 is being shown off now, giving us a look at new factions like a mousefolk faction called the Faahri. You can also battle friends locally or online. It launches on Nintendo Switch as a console exclusive November 5.
Dave the Diver is coming to Nintendo Switch on October 26.
The Mario Kart 8 Deluxe Booster Course Pass Wave 6 was unveiled and is launching this Holiday. It features Diddy Kong, Paulina, Peachette and Funky Kong.
A new Among Us map called The Fungle is coming!
Paper Mario: The Thousand-Year Door is finally being remastered for Nintendo Switch. It's coming in 2024.
Stay in the know with Laptop Mag
Get our in-depth reviews, helpful tips, great deals, and the biggest news stories delivered to your inbox.
Thank you for signing up to Laptop Mag. You will receive a verification email shortly.
There was a problem. Please refresh the page and try again.