Google's AI plans could be Bard's swan song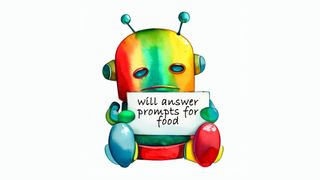 (Image credit: Laptop Mag / Rael Hornby (Base image generated with Bard powered by Dall-E))
Google, still feverishly attempting to catch up to AI rivals like ChatGPT and Microsoft Bing Chat, is reportedly ready to put generative AI front and center for user experiences across a wide range of devices — and surprisingly, it won't be Google Bard.
Bard has been Google's primary push in delivering a Large Language Model (LLM) chatbot to the public. However, arriving a little too late to the party and a few spanners short of a full toolbox hasn't quite helped the chatbot connect with a wider audience.
This could be why Google is ready to shift its focus and take everything it has learned so far and bring it to the company's primary digital co-pilot — Google Assistant.
The new Google AI Assistant
According to a leaked internal e-mail sent to employees and shared with Axios, Google is preparing an overhaul of its Assistant to explore the "profound potential of generative AI" citing a "strong desire for assistive, conversational technology" by its userbase.
In the e-mail, Google VP Peeyush Ranjan and Director John 'Duke' Dukellis stress that the upcoming changes represent a "huge opportunity to explore what a supercharged Assistant, powered by the latest LLM technology would look like."
Google's AI overhaul of its Assistant would also mark an important milestone for bringing AI into the home and allowing AI assistants to not just respond to prompts, but also actively engage with users on a wider level. While it's not the first AI-backed smart assistant on the market, with devices like that of Josh.ai breaking new ground in recent months, it will be one of the most widely adopted from the get-go.
Analysts at SerpWatch.io estimate that 3.1 billion voice searches are made each month within the U.S., with both Siri and Google Assistant evenly sharing 72% of the digital assistant market alone. Google Assistant is already available on phones, home hubs, smartwatches, TVs, and cars making it the ideal platform for an AI assistant upgrade — if it's done right.
Outlook
A complete revamp of the Google Assistant is no small feat, and while Google sees it as a "huge opportunity" there's potential for the upgrade to be overkill when the vast majority of digital assistant requests are for setting timers, reminders, alarms, and playing music.
It also leaves Google's current chatbot Bard on the sidelines, posing the question of if an AI-backed Google Assistant would leave any room at the table for the company's oft-loony LLM.
For news, rumors, and updates on all things AI and tech, follow Laptop Mag on Twitter, Facebook, and Flipboard for the latest word as it arrives.
Category
Back to Ultrabook Laptops
Brand
Processor
RAM
Storage Size
Screen Size
Colour
Condition
Price
Stay in the know with Laptop Mag
Get our in-depth reviews, helpful tips, great deals, and the biggest news stories delivered to your inbox.
Rael Hornby, potentially influenced by far too many LucasArts titles at an early age, once thought he'd grow up to be a mighty pirate. However, after several interventions with close friends and family members, you're now much more likely to see his name attached to the bylines of tech articles. While not maintaining a double life as an aspiring writer by day and indie game dev by night, you'll find him sat in a corner somewhere muttering to himself about microtransactions or hunting down promising indie games on Twitter.