iPhone 15 may have 'thunderously' fast data-transfer speeds — and it's not just due to USB-C
Fast charging with USB-C and speedy transfers with Thunderbolt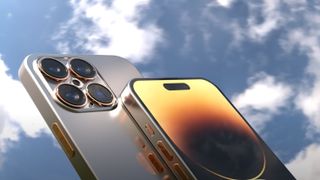 (Image credit: 4RMD)
We're supposedly weeks away from the iPhone 15 release date, and we've seen countless leaks suggesting exciting new features. Most notably, you can finally ditch your Lightning cables because the iPhone 15 series is equipped with a USB-C port. Not every USB-C port is equipped with Thunderbolt technology for fast data transfer speeds, but a report from ChargerLAB suggests the iPhone 15 will come with Thunderbolt support.
Leaked photos show a secret chip in the USB-C port that suggests Apple may be restricting charging and data transfer speeds when using a non-Apple charging cable. So to take advantage of this rumored Thunderbolt support and experience swift data transfer speeds, you'll probably need to grab a Made for iPhone (MFi) charging cable from Apple.
Without further ado, let's take a look at these leaked photos and dive into why we're so excited to see Thunderbolt support in the upcoming iPhone 15 series.
Evidence behind Thunderbolt support for iPhone 15, and why it matters
After taking a closer look at leaked photos from X (formerly Twitter) user @lipilipsi, ChargeLAB noted quite a few exciting improvements for the iPhone 15. Behind the USB-C female socket, there appears to be a Retimer chip. According to ChargeLAB, the Retimer chip is an indicator that "multiple models within the iPhone 15 series will support Thunderbolt/USB4's high-speed 40Gbps data transmission."
A Retimer chip helps reduce signal jitter and improve overall signal transmission stability. For high-bandwidth, speedy data ports like Thunderbolt/USB4, Retimer chips play a vital part in facilitating smoother transmissions over longer distances.
If the iPhone 15 does come equipped with Thunderbolt/USB4 technology, it'll be one of the first smartphones to do so. Although Thunderbolt/USB4 technology always utilizes the Type-C connector, not all USB-C ports are equipped with speedy Thunderbolt tech. USB-C ports are more universal and offer faster power delivery than Lightning ports, so this upgrade to Thunderbolt/USB4 technology is just icing on the cake.
For iPhone users, faster data transfer speeds via Thunderbolt will result in speedier experiences with charging your phone and transferring files between your phone and your computer. If Apple does integrate an MFi chip into the USB-C port, you'll need a proprietary Apple cable to take advantage of everything Thunderbolt technology has to offer.
iPhone 15 Pro max iPhone 15 Pro, iPhone 15 Plus iPhone 15 c.c flex cable pic.twitter.com/bamm85Ial3August 8, 2023
If you haven't heard much about Apple's eagerly anticipated smartphone, we've got you covered with all the latest iPhone 15 rumors and leaks. There are also plenty of iOS 17 rumors and confirmed new features to be excited about.
Stay in the know with Laptop Mag
Get our in-depth reviews, helpful tips, great deals, and the biggest news stories delivered to your inbox.