iPhone 15 guts reportedly leaked — it solidifies rumors that your Lightning cables are obsolete
Finally, a move towards the universally favored USB-C port.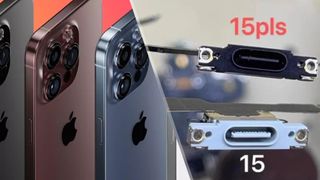 (Image credit: @John011235/Hanstsaiz)
With the Apple September event quickly approaching, new rumors are constantly swirling about Apple products online. Although there's plenty of hype around the new Apple Watch Series 9 and the iPad Mini 7, the reveal people are most excited for is the iPhone 15.
One of the most plausible rumors is the addition of a USB-C charging port (due to an EU mandate), which will finally replace Apple's proprietary Lightning port. Recently leaked photos give some validity to this particular rumor. In other words, you may need to toss your Lightning cables once and for all if you upgrade to the iPhone 15.
The proof is in the pictures, thanks to X (Twitter)
Two X (formerly Twitter) users (i.e., @lipilipsi and @John011235) shared a photo of USB-C charging ports, allegedly for the iPhone 15, iPhone 15 Plus, and iPhone 15 Pro Max. Though the photos came from two different X users, it looks like the same photo with different zoom levels.
The USB-C parts aren't attached to a phone, and neither X user has much of a previous track record for Apple leaks. One user posted some pictures and videos of behind-the-scenes assembly of the iPhone 15, so we're excited at the prospect that these could be iPhone 15 charging ports — a rumored feature that we've expected for a while.
We've known that Apple was eventually going to switch to a USB-C charging port — at least in Europe. The EU made a common charging port mandatory, forcing the iPhone to require USB-C by 2024. However, it wasn't clear whether Apple would put off the switch from Lightning to USB-C for another year, or whether Apple would bring this change to non-European countries.
With these photos and other rumors, it appears that the iPhone 15's move to the USB-C standard is imminent, but Apple is tacking on some strange restrictions. The reason everyone wants USB-C to be universal is because it's faster and more convenient for sharing a single charging cord for multiple devices.
Rumors about Apple's Made for iPhone (MFi) program suggest the company would add a verification chip to the iPhone 15's charging port to artificially slow charging and data speeds when using any third-party accessory that hasn't paid a fee to be in Apple's MFi program. This decision will force iPhone 15 users to buy Apple-certified cables if they don't want their expensive new phone to charge slowly.
It might be a while before we see Lightning cables disappear completely. Apple will likely continue to sell the iPhone 13 and 14 models for a few more years. iPhone 15 models and newer will finally have that universal USB-C port Apple users have been waiting for — just with a few limitations.
There's a ton of hype and rumors about the upcoming iPhone 15 series, and mere weeks left until the expected release date. The iPhone 15 Pro could have a record-setting battery life, there are exciting changes coming to iOS 17, and we'll hopefully see upgrades to the camera setup.
All rumors will be officially confirmed or denied at the Apple event, likely held on Sept. 12 or Sept. 13. Based on our evidence, the iPhone 15 should be available to preorder from Sept. 15 and have a release date of Sept. 22.
Stay in the know with Laptop Mag
Get our in-depth reviews, helpful tips, great deals, and the biggest news stories delivered to your inbox.