Dry your eyes, Apple fans! The iPhone 15 Pro Max may not be delayed after all
iPhone 15 Pro Max pre-orders might not be stalled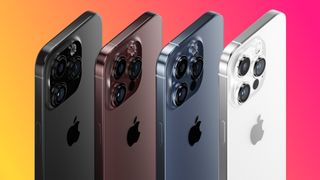 (Image credit: Hanstsaiz)
We're on the edge of our seats as the officially announced Apple September event approaches, especially with conflicting rumors on potential delays of the iPhone 15 Pro Max. Last week, we touched on the possibility that the iPhone 15 Pro Max's ship date could be delayed as much as three to four weeks past other iPhone 15 models because of a manufacturing slowdown from Sony.
Now, it seems like the iPhone 15 Pro Max could be right on schedule alongside the iPhone 15, 15 Plus, and 15 Pro. This hopeful news comes from Apple analyst Ming-Chi Kuo, who says that mass shipments of the iPhone 15 Pro Max will start this week. The iPhone 15 Pro Max is likely going to be the most popular iPhone 15 model, so this potential timeline is fantastic news for both consumers and Apple.
When can you expect the iPhone 15 Pro Max?
The previous iPhone 15 Pro Max delay rumors were based on production concerns, specifically regarding the availability of Sony's new supersized image sensor. While there could be manufacturing shortages involving Sony's image sensor, Apple analyst Ming-Chi Kuo doesn't seem to think it'll affect the initial mass shipments of the iPhone 15 Pro Max. However, there's always a possibility a dip in the availability of Sony's image sensors could affect future shipments, or other products using this same image sensor.
Kuo estimates that because the market outlook is conservative right now on iPhone 15 shipments, "Apple stock may have a rebound opportunity" soon, and Apple could even surpass Samsung as the largest smartphone maker by next year. He notes that "Apple is also increasing shipments of legacy models" in addition to potential mass shipments of the iPhone 15 Pro Max and other iPhone 15 models.
If this rumored mass shipment is true, interested users should have no problem getting their hands on an iPhone 15 Pro Max after the Apple event in mid-September. The event itself is confirmed for September 12, but it's unclear when iPhone 15 models could be available for preorder. Right now, we're thinking iPhone 15 pre-orders may start on September 15.
Until the Apple September event happens on September 12, there's no way to know for sure when the iPhone 15 Pro Max or other iPhone 15 models will be available for pre-order.
If you're an Apple fan and undecided on whether you need an iPhone 15, check out the latest rumors and the biggest upgrades to iPhone 15.
Stay in the know with Laptop Mag
Get our in-depth reviews, helpful tips, great deals, and the biggest news stories delivered to your inbox.