Cooler Master made a $25K gaming throne and I'm obsessed - here's why
Cooler Master's OrbX semi-enclosed gaming chair is the (expensive) stuff dreams are made of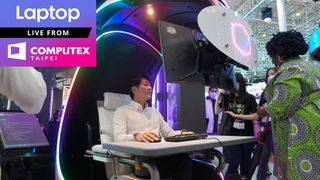 (Image credit: Future)
You never know what you'll find on the Computex floor. But I wasn't expecting to see a massive glowing gaming chair attached to a massive monitor and a behemoth desktop, but such is the nature of the show. Cooler Master, a company known for all things gaming from peripherals to components to furniture unveiled its latest creation –– the Orb X, an ostentatious gaming chair. No, that's selling it short. It's the semi-enclosed battlestation of my gaming and working dreams.
The Orb X is extremely pricey at $25K, which would net you the chair setup with the 32-inch monitor. That's a little more than a fresh-off-the-lot Nissan Altima. If that's too much for your budget to handle, never fear you can get it sans monitor for $15K. Both configurations of course, don't include the gigantic desktop that was connected to the chair. It ranks right up there with the Acer Predator Thronos, another semi-enclosed cockpit that starts at a cool $13K.
Nestled within a glossy white cage lined in gleaming, pulsating RGB lighting, the chair is more accurately a throne made of white thermoplastic polymer. A place where both work and play can coincide while shutting the rest of the world out. As I soon discovered, one does not sit in the Orb X as much as one boards.
Once seated in the white leather chair, a Cooler Master rep hit a button and the chair shifted back, allowing the desk attachment to slide and lock into place, kind of like a rollercoaster ride. Meanwhile, a massive 32-inch display descends, held in place by a large arm. All the while, the RGB is alternating between colors. When it was all done, I was extremely comfortable and the outside world faded away, well as much as it could in the middle of a noisy convention floor.
I watched a quick movie demo that played up the Orb X's custom 2.1 spatial audio system which has two full-range speakers and a subwoofer. I was instantly enveloped in sound and could feel the bass in the base of my spine. Trust me, it's a good feeling. While I'm getting the good vibes from the surround sound, my phone sat charging in the upper left corner of the huge mouse pad encompassing the length of the desk. Sadly, it's not a fast charge, but it's better than nothing.
The left armrest has controls for Bluetooth, volume, and a button for toggling the lighting on and off. There's even a cup holder made out of a silver-colored metal ring. On the right, you got a quad of USB Type-A ports and a pair of USB Type-C ports. But to control the positioning of the actual chair, there's a separate remote and if you're like me and always losing track, you'll be pleasantly surprised to learn that a portion of the desk is magnetic, keeping the small device from playing hide and seek.
The OrbX I demoed had a single 32-inch monitor. However, it can support a maximum of three 27-inch monitors for that block-out-the-world-all-I-wanna-do-is-work-game-and-watch-movies feeling. As far as resolution, the enclosure can support up multiple 4K monitors.
If you're thinking of splurging on the OrbX, be sure that your floor can handle it. Weighing an astonishing 757.3 pounds, the OrbX is far from a lightweight. But despite potential structural difficulties to my home and the hurting this thing would put on my bank account, the OrbX is so close to my ideal enclosure. I'm digging the extremely futurist design.
The RGB lighting is extra bright, just like my hair and with the multiple monitor setup, I could ramp up my productivity. And then there's the gaming and multimedia aspects. With the surround sound and the displays, I'd be almost fully immersed in whatever I was watching or playing. I'm shuddering thinking about sloppy wet wheezing sounds of the regenerators in the Resident Evil 4 Remake.
My only gripe is that the beast is only semi-enclosed. As an adult living with another person, as much as I would want to crank the sound to 11, Spinal Tap-style, more often than not, I'd have to tone down out of love and consideration for my boyfriend. But if money were no object, the Cooler Master OrbX would definitely be the centerpiece to my game room/home office.
Stay in the know with Laptop Mag
Get our in-depth reviews, helpful tips, great deals, and the biggest news stories delivered to your inbox.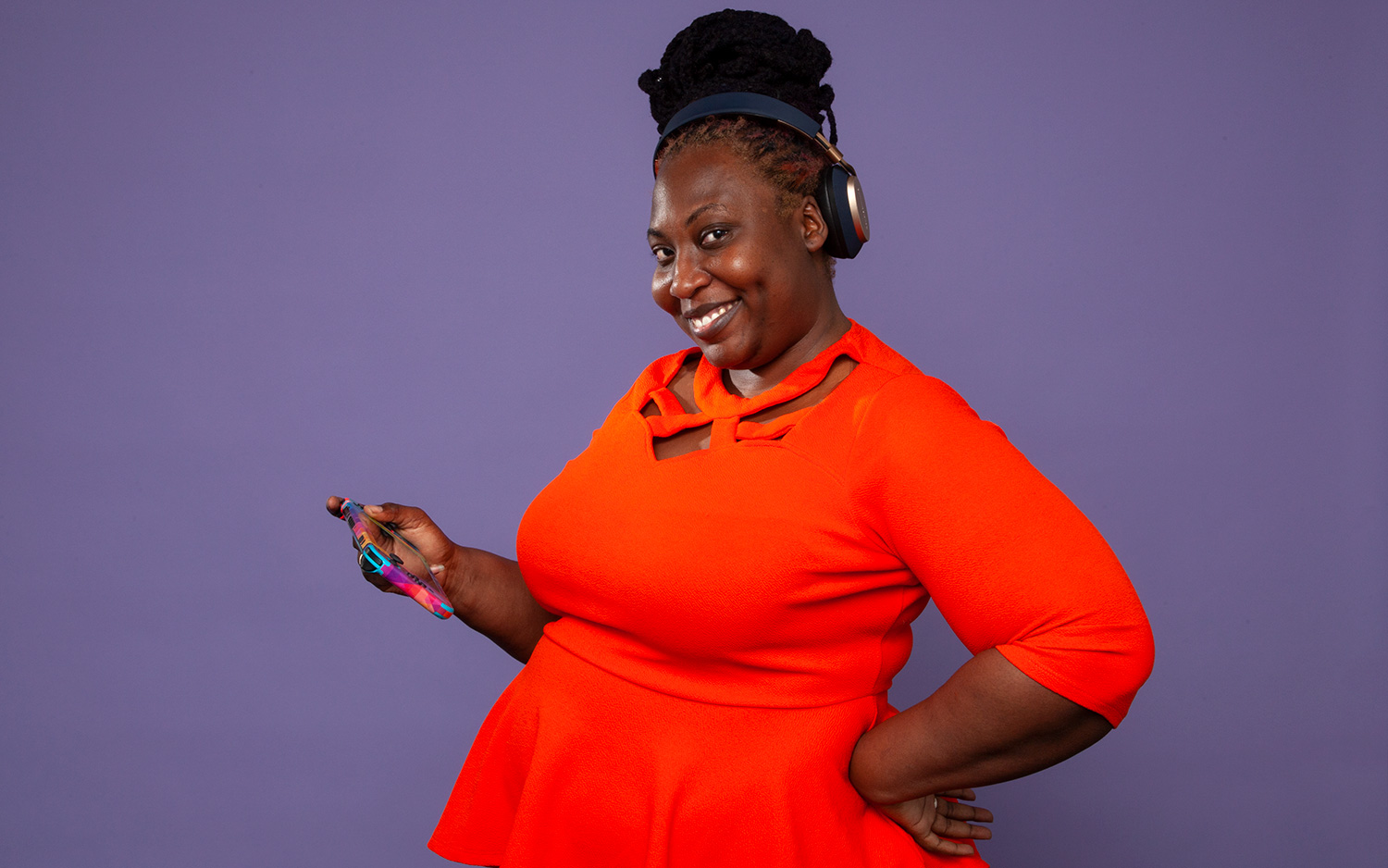 Sherri L. Smith has been cranking out product reviews for Laptopmag.com since 2011. In that time, she's reviewed more than her share of laptops, tablets, smartphones and everything in between. The resident gamer and audio junkie, Sherri was previously a managing editor for Black Web 2.0 and contributed to BET.Com and Popgadget.