Can the Asus ROG Ally actually compete with Steam Deck? Specs & pricing leaked
It's apparently not A-Lie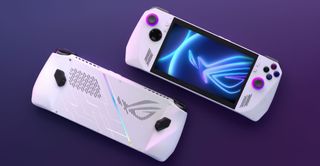 (Image credit: Asus)
We've all fallen for a tech company's April Fool at some point, but Asus announcing the ROG Ally handheld is no joke. Packing some significantly better specs over its closest competition in the Steam Deck, this should be a no brainer on paper.
So, after seeing the many videos and leaks over the past couple of days, why am I still nervous about it? Put simply, I think Asus has backed itself into a corner.
A new challenger approaches
The Nintendo Switch's massive sales numbers proved that handheld gaming was far from a relic of the past. However, with Sony's discontinuation of the PSP, Nintendo had been left running a one-horse race in terms of premium console-level offerings, and the lack of ambition for other brands to enter the market had caused handheld gaming to gently slip away from the limelight.

However, it seems that the release of the Steam Deck, with all of its portable PC gaming potential, has catapulted handheld gaming back onto center stage in a big way. More and more manufacturers are now looking to enter the market with the hopes of rivaling the success of Steam's handheld.

Enter the ROG Ally. Touting a custom Zen 4 RDNA3 4nm APU from AMD, Asus claims that the ROG Ally is capable of twice the performance of the Steam Deck while also being lighter and thinner. Pair that with a 'high-performance' 7-inch 1080p display with a refresh rate of 120Hz and you have what is on paper an absolute portable powerhouse.

But power alone isn't enough to guarantee success. After all, the Xbox Series X is hailed as the most powerful console ever, but its Sony's PlayStation 5 that is currently pulling ahead in market share and sales. While there are plenty of suitors vying for the handheld throne, the Steam Deck is in no real danger of losing its crown thanks to one key feature. A competition-leveling price point that's hard to match.
It costs to be competitive
Head of Xbox, Phil Spencer recently stated during a WSJ Tech Live Event that most modern consoles are sold at a loss. In fact, for every Xbox console sold (presumably meaning the Series X) there's a net loss of around to $200. Meaning, while the retail value of an Xbox Series X is around $499, the true cost of manufacturing the console is at least $699 — and that's before the recommended retail price is even set.

So how can companies like Microsoft and Sony afford to sell at a loss like this? Because they're not just manufacturers of consoles, they're also platforms backed by income-generating storefronts.

Back in 2021, it was estimated that up to 69% (nice) of PlayStation's revenue was driven by PS Store sales alone. For every game, DLC, microtransaction, or subscription sold on their consoles, Microsoft and Sony receive a 30% cut of the spoils. This allows the console giants to recoup their losses over time and eventually turn a profit.

Similarly, Steam — the most widely used video game distribution platform in the world, also takes a 30% share of every sale and can employ a similar strategy to Microsoft and Sony when pricing up the Steam Deck.

However, Asus, without the backing of a large distribution platform, simply can't afford to offset the manufacturing costs of the ROG Ally. Just as the also impressively spec'd Ayaneo 2 ($1,300) and OneXPlayer ($1,250) haven't been able to either. Or can they?
This might be Ally
Insider Gaming recently caught wind of a Reddit post claiming to be from an individual who witnessed a demo of the handheld by Asus employees. The Reddit user claims that the ROG Ally will run on a custom OS with access to Steam, Epic Games and also Xbox Game Pass. More interestingly, the user goes on to mention the ROG Ally's supposed pricing. A 512GB model will supposedly launch at $649, while a 1TB option will be available for $899.

I have my doubts, and by 'have my doubts,' I mean imagine me sitting beneath the mountain of salt I want you to take with that last paragraph, while my arm pokes out and waves the last part of this article in front of your face.

However, stranger things have happened in life and on the off chance this individual is to be believed.. Well played, Asus.
Outlook
Let's take nothing away from Asus' efforts to go big with their first venture into the handheld arena. If reports are to be believed, the ROG Ally is going to be an impressive device capable of impressive things. However, to be truly competitive with the Steam Deck, everything hinges on the ROG Ally's eventual price tag.

Portability is worth paying for, but not when the cost of a flashy handheld nears that of a solid entry-level gaming laptop that's capable of so much more.

We've yet to gain the official breakdown of what to expect from the ROG Ally or its pricing, but unless Asus has something up its sleeve it could very likely end up pricing itself out of the competition just as a number of other handhelds have done before.
Stay in the know with Laptop Mag
Get our in-depth reviews, helpful tips, great deals, and the biggest news stories delivered to your inbox.
Rael Hornby, potentially influenced by far too many LucasArts titles at an early age, once thought he'd grow up to be a mighty pirate. However, after several interventions with close friends and family members, you're now much more likely to see his name attached to the bylines of tech articles. While not maintaining a double life as an aspiring writer by day and indie game dev by night, you'll find him sat in a corner somewhere muttering to himself about microtransactions or hunting down promising indie games on Twitter.