Cyberpunk 2077 runs better on MacBook Pro than PS4 thanks to this update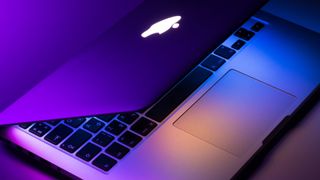 (Image credit: Dmitry Chernyshov)
Today in Apple-related news: MacBook Pros can run Cyberpunk 2077 better than a PS4. Feel free to pull a double take at that — I did too, and I wrote it. It's not clickbait, nor is it misleading. Seemingly, out of the blue, Apple's MacBook Pro is now somehow a gaming laptop.

MacOS Sonoma is currently undergoing beta testing, and so too are the features it will eventually release with. One of them, the Game Porting Toolkit announced at this year's WWDC, just received its first update — and it's already catapulting Apple Silicon-based MacBook Pros to never before seen heights.
The Game Porting Toolkit 1.0.2 update
In the month since its announcement, Apple's Game Porting Toolkit has been wowing those testing macOS Sonoma's beta with its ability to run popular PC gaming titles natively on Macs. Last week saw the toolkit get its first update, and it's making an already incredible achievement even more impressive.
YouTuber Andrew Tsai took the new Game Porting Toolkit 1.0.2 update for a spin with the M1 Max MacBook Pro, using it to test run some popular PC gaming titles — and the results will turn more than a few heads.
Not only was Tsai able to get Elden Ring running at a serviceable 32 frames per second (FPS) on low graphics settings at 1080p, but the YouTuber also showcased CD Projekt Red's Cyberpunk 2077 running at medium graphics settings in 1440p at a cool 40 FPS. Eat your heart out Sony.
Notably, the same games ran worse on Macs outfitted with an M2 Ultra chip, with Cyberpunk 2077 in particular peaking at just 18 FPS, though this is likely due to how the M2 Ultra chip is currently supported by the toolkit. However, Apple's most powerful silicon chip is capable of running Horizon Zero Dawn at 40+ FPS on ultra graphics settings at 1080p — something the toolkit was unable to do before last week's update.
Outlook
It's exciting times for Mac users who have historically been left out in the cold when it comes to gaming. Apple's macOS Sonoma update is a massive one, and it can't be overstated how important its accompanying Game Porting Toolkit is for developers and Mac owners at large.
Gaming on a Mac has been the butt of many a joke for decades now, but Apple may have struck gold with the Game Porting Toolkit and its ability to showcase the power of Apple Silicon to game publishers and developers. We could be about to witness a gaming boom on Apple devices, which leads me to believe that while the Apple Vision Pro may have stolen the spotlight, Apple's Game Porting Toolkit was the real star of WWDC 2023.
Now all we need is a MacBook with an RGB keyboard.
Stay in the know with Laptop Mag
Get our in-depth reviews, helpful tips, great deals, and the biggest news stories delivered to your inbox.
Rael Hornby, potentially influenced by far too many LucasArts titles at an early age, once thought he'd grow up to be a mighty pirate. However, after several interventions with close friends and family members, you're now much more likely to see his name attached to the bylines of tech articles. While not maintaining a double life as an aspiring writer by day and indie game dev by night, you'll find him sat in a corner somewhere muttering to himself about microtransactions or hunting down promising indie games on Twitter.