Apple's encrypted messaging is in danger in the UK — here's why
A proposed UK law could dismantle the privacy of your encrypted messages.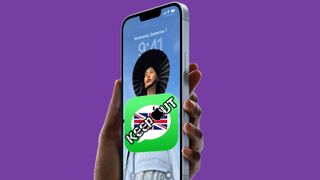 (Image credit: Future)
According to a report in arsTechnica, Apple, along with other organizations and tech companies, are opposing the Online Safety Bill brought forth by conservative members of Parliament. According to Apple, the new bill is a threat to end-to-end encryption that protects the privacy of personal messages.
Apple, in a statement given to the BBC, said " "End-to-end encryption is a critical capability that protects the privacy of journalists, human rights activists, and diplomats," The company went on to say, "It also helps everyday citizens defend themselves from surveillance, identity theft, fraud, and data breaches. The Online Safety Bill poses a serious threat to this protection and could put U.K. citizens at greater risk. Apple urges the government to amend the bill to protect strong end-to-end encryption for the benefit of all."
The BBC quoted a U.K. government rep saying, "companies should only implement end-to-end encryption if they can simultaneously prevent abhorrent child sexual abuse on their platforms." The bill in question hasn't been finalized yet, and the U.K. regulator, who would be in charge of Ofcom, discussed its preparations for this newly expanded role stating, "the bill is in "the final stages of the parliamentary process." The bill, which includes criminal penalties like imprisonment, was approved by the House of Commons in January and is nearing approval in the House of Lords."
As negotiations continue, there are changes expected to the bill. However, whether the mandatory scanning of encrypted messages will be addressed or removed from the account is unknown. However, conservatives fiercely oppose any changes, as they feel they're trying to protect the world from terrorists and child sexual predators.
It's not just Apple that's concenred
Apple isn't alone in its opposition to the bill; WhatsApp and Signal also oppose the nose, with Signal saying they would stop offering services in the U.K. if it becomes law and they're pushed to lower the level of privacy its encryption provides. WhatsApp, part of Meta, told the BBC last year it would not reduce its security or encryption standards.
Oddly enough, Apple 2021 got into a heap of trouble when they said they would scan iPhones for illicit images of children, as security experts balked at such a notion, and eventually, Apple strayed from its plan. According to the Open Rights Group, the UK law would be the first to allow the scanning of people's private messages.
They said that changes could be made to the law that improves the integrity of personal privacy. One change would be in how the law is worded, stating, " Removing the word 'privately' from the draft legislation could preserve the security and privacy of billions of messaging app users," the Open Rights Group said, referring to a requirement to identify illegal content in private messages."
The proposed U.K. law could also set off a storm of new rules the world over, which could find the users of encrypted messaging apps very uncomfortable and also create a massive landscape filled with lawsuits that will be battled out in the courts for years to come.
Especially when you consider that Ofcom would be allowed to issue notices to service providers that will force them to "use accredited technology to identify CSEA [child sexual exploitation and abuse] content, whether communicated publicly or privately using the service, and to take down that content swiftly."
However, if the content in question is being sent between two private citizens, how did they find out in the first place? The blurry lines, loopholes, and loose definitions left open to interpretation are dangerous to personal privacy.
Final Thoughts
The U.K. law does have some merit, as we have seen a massive upswing in child trafficking and sexual abuse. Also, the law focuses on the messages of possible terrorists, which we all hate terrorism. However, where are these conservatives regarding all speech shared and used to harm the LGBTQIA community? Where are these conservatives when encrypted messages are used to set up crimes against minorities and people of color? Racism is enormous on the internet, so I find this child sex crime and terrorism focus of conservatives in the UK or the US to be pure unadulterated nonsense and talking points they can sell to their conservative constituents.
If you create laws to protect children or prevent terrorism, you must also fight for and make laws that protect all people from these acts. It's a known fact that more minority children and children of color are abducted and are being sex trafficked the world over. It's also known that racist groups are committing crimes against minorities and using the internet to plot and execute these horrific crimes.
Also, who is to say such laws will not be abused and misused by those in power to go on witch hunts? It is a very slippery slope, and these are substantial privacy issues entangled in massive human and civil rights issues. Let's face it, neither the UK nor the US has an exemplary record.
In the end, yes, we need ways to identify terrorists and sexual abusers. Yes, we need ways to find human rights violators too. Still, when Conservatives, who are doing their level best worldwide to overturn every civil and human right possible, start pushing for laws that would invade your privacy, it's a major red flag. If you're a student of history and have ever read up on the "Red Scare" or McCarthyism," this should frighten you to death. All they have to do is accuse you or anyone, hack into your phone or device, and create messages. Hell, they can have AI make a video of you committing crimes if they want.
I'm not siding with giant corporations either, as they need to be held accountable for not having the courage and infrastructure to regulate the content shared on their sites or via harmful messaging apps.
We have reached a level of technological advancement that our legal system and laws have not kept up with, and it is time for the generations of us who grew up with the technology to start crafting and creating the legal structure to protect each and every one of us now and in the future.
Stay in the know with Laptop Mag
Get our in-depth reviews, helpful tips, great deals, and the biggest news stories delivered to your inbox.
Mark has spent 20 years headlining comedy shows around the country and made appearances on ABC, MTV, Comedy Central, Howard Stern, Food Network, and Sirius XM Radio. He has written about every topic imaginable, from dating, family, politics, social issues, and tech. He wrote his first tech articles for the now-defunct Dads On Tech 10 years ago, and his passion for combining humor and tech has grown under the tutelage of the Laptop Mag team. His penchant for tearing things down and rebuilding them did not make Mark popular at home, however, when he got his hands on the legendary Commodore 64, his passion for all things tech deepened. These days, when he is not filming, editing footage, tinkering with cameras and laptops, or on stage, he can be found at his desk snacking, writing about everything tech, new jokes, or scripts he dreams of filming.