What's it like to live with an Arm-based Windows PC in 2023
I tried a Windows on Arm two-in-one laptop. Here's how it went.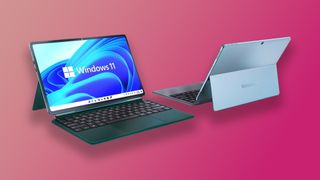 (Image credit: Future)
I've been living with an Arm-based Mac for close to five years now. Since Apple first debuted its in-house silicon, I have had few complaints, and whatever compatibility snags I faced when I reviewed the M1 Mac Mini have disappeared -- so much so that Apple's set to phase out Intel chips altogether.
Despite an eight year head start, Microsoft hasn't had the same success. Arm-based hardware like 2022's Surface Pro 9 (SQ3) hasn't done well either and met with underwhelming reviews. So when a new Chinese-American startup, Robo & Kala, sent me their latest, Arm-powered Windows two-in-one, I was skeptical, but to my surprise, weeks later, it's become the computer I reach for daily to work and leisure.
For a $799 Windows convertible, the Robo & Kala two-in-one, except for its tedious name, gets everything right on paper: it has a 12.3-inch, OLED 2.5K screen, 16GB of RAM, 512GB of upgradable SSD, and a light, slim design. But unlike most of its competition, it doesn't run on a traditional AMD or Intel chip; Instead, it's powered by Qualcomm's ARM system-on-chip, the Snapdragon 8cx Gen 3 -- the same one found inside the Surface Pro 9 ARM, whose otherwise high-end experience was marred with a range of Arm compatibility issues.
Half a year later, how far have Microsoft's arm efforts come? Here's what it was like to live with an arm-based Windows PC in 2023.
ARMed to the teeth
If you are not familiar with how an Arm SoC differs from typical computer chips, it works similarly to the processor powering your smartphone. This architecture allows manufacturers to integrate various key components like the GPU and the CPU onto a single chip, enabling a more efficient output.
However, traditionally such chips have been limited to smaller devices like a phone or a smartwatch, PC makers are now increasingly adopting them as well to capitalize on a host of upsides such as a much longer battery life, 5G compatibility, and more. Because it's so different, it also needs its own kinds of apps, and developers have to update their services for arm-based chips to get the most out of them. While even when they don't, an Arm SoC can run their x86 apps in an emulation, the experience won't be nearly as efficient, or smooth as it can be.
Historically, Microsoft has struggled to convince developers to release Arm versions of their software, unlike Apple, which is why you won't find many Arm-based PCs on sale. But things appear to be taking a turn for the better.
Over the last few weeks, I've extensively put the Robo & Kala computer through its paces. Many of the apps I rely on every day, including Mozilla Firefox, Zoom, Adobe Photoshop, VLC, and Spotify have already been updated for Windows on Arm, and run well. More, such as WhatsApp, and Dropbox, are expected to follow suit soon.
When I exclusively work from Arm-native Windows apps, the results are impressive: Not only does the Snapdragon chip perform well and do a decent job at preventing lags even when I have dozens of tabs open, but the laptop also lasts comfortably up to nine hours and longer than most Windows PCs I have tested. Another Windows on Arm quality that's on full display here is that the laptop boots near-instantly and barely warms up under heavy duress.
In the last two years, Microsoft has made a series of updates to improve Windows on Arm. It has introduced better support for third-party developers, via kits, and Arm-native versions of Visual Studio and .NET platforms. Thanks to some under-the-hood Windows 11 updates, it's also made it easier for developers to convert their existing x86 and x64 apps and ensure they're stable even if they're not completely compatible with Arm-based chips.
Not quite there yet…
At the same time, there's still a long way ahead for Windows on Arm to become a default choice for most buyers. While unlike before I'm not constantly reminded -- whether via poor performance or crashing apps -- that I'm on an Arm-based chip, non-native app support is far from perfect.
For starters, many of the popular apps people look for immediately after setting up their PC like Google Chrome have not yet received the Windows on Arm overhaul. Though most run just fine in emulation, some like Slack are particularly bad and jittery. I could, however, overcome many of these issues simply by switching to a service's web app or by changing their emulation settings from the right-click menu.
More importantly, when you do actively work on non-Arm apps, you won't benefit from the chip's extended endurance, and in my experience, it can slash the battery life by nearly 2-3 hours.
The biggest roadblock to Windows on Arm for many people could be the lack of VPN apps. Almost no VPN provider, from ExpressVPN to NordVPN, is available at all on Arm-based chips and doesn't run in emulation either due to its incompatibility with the TAP adapter, a key module needed to configure safe virtual networks. After some back and forth with the ExpressVPN team, though, I did figure out a workaround and was able to set it up manually but I doubt most users would want to do that. Plus, you still don't get to use the VPN app interface and have to connect or switch coverage areas through a tedious, technical process.
Another thing to remember about arm chips is that they're not nearly as capable of high-performance or graphic-intensive tasks. Adobe, for example, even excludes a bunch of tools from its arm-native Photoshop program like the oil paint filter and video layer edits. Often, new features such as Android's Nearby Sharing, too are limited to Intel and AMD computers.
Game on!
Gaming, surprisingly, is not terrible on Windows on Arm. Of course, you won't be able to install most titles, let alone play them, but Microsoft has been steadily rolling out improvements.
It recently updated the Xbox app for Arm-based chips so that you can stream any Xbox Game Pass Ultimate games to Arm devices, and added Unity engine support, allowing devs to target Windows on Arm devices to get native performance on current and future titles.
What was more impressive was that I could effortlessly play a couple of older games such as Team Fortress 2 at 50-60fps. Hopefully in a couple of years, you won't have to switch on another PC like me to play your usual desktop games.
Bottom Line
There's no denying the efforts Microsoft for Windows on Arm has put in have borne solid results. The Robo & Kala two-in-one is one of the best Windows experiences I have had in a while. Yet, Windows on Arm still often feels like an afterthought. Since it's such a small user set, it's difficult to get support for it too.
I couldn't find any material on VPN installation for Windows on Arm, for example, and there are no dedicated categories on the Microsoft Store for arm-native apps and games and you have to scroll all the way down to an app's technical details to understand whether it's compatible with arm chips.
A Microsoft spokesperson told me the company "regularly shares resources and continues to listen to end-users and developers feedback in these areas, and have more planned ahead."
The company appears to have momentum now with arm chips with many, reliable hardware like Lenovo's ThinkPad X13s and Robo & Kala that have done well to showcase the best of Windows on Arm and we expect more from Microsoft itself at its upcoming Surface event.
But this year and the next may very well be its chance to get it right. The question is whether it can get itself out of its long struggle with arm chips before buyers lose trust.
Category
Back to Ultrabook Laptops
Brand
Processor
RAM
Storage Size
Screen Size
Colour
Condition
Price
Stay in the know with Laptop Mag
Get our in-depth reviews, helpful tips, great deals, and the biggest news stories delivered to your inbox.
Shubham Agarwal is a freelance technology journalist from Ahmedabad, India. His work has previously appeared in Business Insider, Fast Company, HuffPost, and more. You can reach out to him on Twitter.