9 new macOS Sonoma features that will convince you to update today
Here's a breakdown of the best new features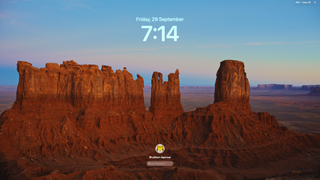 (Image credit: Apple)
macOS Sonoma was announced at WWDC 2023, and just released to the public a few days ago on September 26. As with any macOS update, Sonoma brings stability and performance improvements, but that's the boring stuff.
Everyone with a modern MacBook or iMac will likely upgrade to Sonoma at some point, but some might be hesistant to learn the nuances of a slightly different OS. If that's you, these 9 cool features in macOS Sonoma may convince you it's time to upgrade now.
1. Interactive desktop widgets
You'll find extra interactive widgets in macOS Sonoma, and you can bring over your favorite existing iPhone widgets to your Mac with the Continuity feature. You can view important notes or reminders, play a podcast episode, control your smart lights, check the day's weather, and more.
When you open an app or window, widgets will fade into the background to make it easier to focus on what you're working on. Widgets will automatically fade into a color that matches your wallpaper to make them even more inconspicuous.
2. Optimized gameplay in Game Mode
This macOS Sonoma feature is only available for those with an M-series Mac. With the new Game Mode, your Mac gives your game top priority, lowering CPU and GPU usage for background tasks. This results in a smoother overall experience with consistent frame rates.
When you fullscreen a game, this mode automatically turns on, and it'll turn off when you minimize the game or otherwise take it out of fullscreen. Game Mode also reduces latency with AirPods and any supported PlayStation or Xbox controller.
3. Easier searching in Messages
Just like iOS 17 received improvements to the Messages app, so did macOS Sonoma. Searching through your messages is a much easier task because you can combine search filters and browse specific search categories, like people, keywords, photos, and links.
If you've fallen behind in a group chat, a new catch-up arrow sends you up to the first message you haven't seen in a conversation. Swiping right on a message allows you to reply inline rather than at the bottom of the conversation.
All your stickers are synced now between iPhone, iPad, and Mac devices. You can access Live Stickers and Memoji from a sticker drawer to use them in macOS Sonoma.
4. Safari profile customization
Safari profiles can now be customized to better organize your browsing habits. You can create separate profiles for work, school, or personal research. Then, each profile has its own history, cookies, extensions, favorites, and Tab Groups. Switching between your profiles within Safari takes only a few seconds.
5. Slow-motion screensavers
One of the coolest features of macOS Sonoma is the dynamic, slow-motion screensavers. There are tons of slow-motion videos from around the world with themes like Landscape, Cityscape, Underwater, and Earth. When you log in, the screensaver becomes your wallpaper.
6. Upgrades to Notes and Reminders
Linking notes is now possible in macOS Sonoma, so you can pair up a note of your vacation itinerary with a note of recommended restaurants in the area. Apple notes this is a great way to reference recipes, create wikis, or organize research. Anything you start in Notes can now be moved to Pages to easily customize fonts, add graphics or videos, and rearrange the information.
On a similar note, the Reminders app can now automatically sort your grocery list items for you. If you create a new list using the Groceries list type, it'll automatically categorize all your items. If you move items around, the list will remember your preference for that item's location. There's also a new scrollable Column View feature in Reminders that makes it easier to visualize your lists.
7. Any website can be a Dock app
With macOS Sonoma, you can take any website you frequently visit and turn it into a Dock app. You can customize the name and icon of the app, and launch the website directly from its icon in the Dock bar.
8. More privacy features
There are a few new privacy features coming to macOS Sonoma, from password changes to browsing updates. Sensitive Content Warnings will help prevent users from unexpectedly viewing graphic images in Messages, and Private Browsing locks your browsing windows when not in use.
Private Browsing can also block known trackers and remove identifying tracking tacked onto URLs as you're browsing. Then, you can share a set of passwords with a specific group of people, and you can alter the group at any time to add or remove people.
9. Video conferencing tools
If you need to video conference a lot for work or school, you'll enjoy these new video conferencing tools in macOS Sonoma. While sharing your screen in FaceTime or third-party apps, you can use Presenter Overlay to keep yourself front and center so you can talk over your shared screen. Any Mac running Apple silicon can use this feature.
Video calls are also gaining a Reactions feature. Throughout the call, you and other participants can react with a thumbs up, thumbs down, hearts, confetti, and more—with corresponding animations showing up on screen.
If you're convinced you need this new OS update now, here's how to update to macOS 14 Sonoma as well as a list of compatible devices. If you need further convincing, check out our macOS Sonoma review.
Stay in the know with Laptop Mag
Get our in-depth reviews, helpful tips, great deals, and the biggest news stories delivered to your inbox.