I lived with AI in my browser for two weeks — here's what happened
Microsoft Edge and Opera have added AI chatbots — Are they helpful?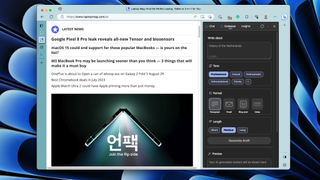 (Image credit: Future)
AI chatbots have spared no one. Within a few months, they've made their way into search engines, photo editors, and spreadsheets; the list's endless. Their next target is what most of us spend hours on each day: Web browsers.
Though the web itself has evolved beyond measure, browsers have looked and worked the same for years. We go through an immense volume of content and correspondence, often without context, and browsers do little to help us better navigate and understand it. Unlike the rest of our apps and devices, web browsers have yet to embrace automation. Now, the ChatGPT-fueled AI wave has spurred a handful of browser makers to wonder if AI could lend us a hand.
Earlier this year, Microsoft, which also backs the firm behind ChatGPT, rolled out the Bing AI chatbot to the Edge browser. Others soon followed. From Opera to alternate, niche brands like SigmaOS have raced to add an AI sidekick to their eponymous browsers. Heck, even Samsung's planning to integrate ChatGPT inside its internet browser on Galaxy devices.
The question is, do you need AI in your browser? I lived with Edge and Opera for a couple of weeks to find out.
How helpful is Microsoft Edge's AI?
Each browser AI assistant so far functions more or less the same way. It lives as a sidebar and allows you to chat with a ChatGPT-powered bot and fetch answers on any topic. You can ask specific questions, generate text for emails and social media posts, and summarize articles. Plus, the bot can read the contents of the web page you're browsing so that you can request further insights or context about it.
Microsoft Edge offers the most elaborate layout, however. When you click the big blue Bing AI option at the top-right corner, it opens up a multi-tab sidebar with dedicated sections for "Chat," "Compose," and "Insights."
The first tab functions like any typical chatbot, albeit with access to your current web page. Besides the usual queries, this lets you simply punch in, for example, "summarize this," and the chatbot will spurt out a few bulleted highlights after sifting through the website for a minute or two. What I found handy was the set of follow-up suggestions Bing AI presented beneath each response, which cut back the effort I had to put in to fetch the information. Once it summarized the review of an e-ink tablet, it checked with me if I'd like to know how an e-ink's screen works.
The second, "Compose," as the name suggests, lets you auto-generate text for any purpose. All you have to do is give a prompt. In case you're looking for a specific output, you'll also find filters to set the tone, format (like a blog post or an email), and length. The "Add to Site" button pastes the draft to a selected text box so that you don't have to copy it yourself.
The third tab is where I spent most of my time. It stitches together a dossier of the link you are on. Apart from a summary and highlights, it shows you the website's trust rating, related searches to dive deeper, and listings of a product on other platforms (if you are shopping). It worked well when I wanted to skim an article or read other related stories. On a phone review, for example, I could visit videos about it right from the Bing AI sidebar. Although I was disappointed to discover that it didn't surface its e-commerce link and price.
How helpful is Opera's AI?
Opera's Aria browser chatbot does a few tasks better. For me, its best quality is that you don't have to pull out the sidebar to use it. You can either launch a Spotlight-search bar with a keyboard shortcut and enter your query there or select a text, which is when the browser brings up three, hovering options: "Explain briefly," "Explore topic," and "Translate."
Though this menu sounds fairly insignificant, it saves up a lot of time if you actively use the browser chatbot. Bing AI's "Insights" often missed the exact phrase or word on a web page I wanted to explore more and, as a result, I had to type a question or paste it in the chat manually. Opera's quick search bar also feels a lot more natural while I'm knee-deep in research, as opposed to moving a cursor all the way to the corner on Edge.
While these AI sidebars were productive and replaced the one option I probably used to click the most: the "Search with Google" option in the right-click menu, they are also vastly limited and passive at the moment. That's both an upside and a downside.
On one hand, that means they don't interfere with your existing browsing experience, and are there when you need them. At the same time, I wished they were more proactive, and gave me suggestions or insights as I'm scrolling. Even though Opera's approach is faster, it still opens a sidebar I have to shift my vision to, and I'd rather prefer a mini hovering window in the center itself.
AI has a long road ahead
The most surprising omission was that these AI functions can't perform any browser actions like sifting my browsing history to unearth what I've read about a topic in the past, and offer that as context if I search for it again. In their current form, therefore, unfortunately, they feel no more than a ChatGPT wrapper.
A bigger worry for me is what these rampant AI assistants mean for privacy. Both Microsoft and Opera say they store conversations for a month before deleting them. Your data is also anonymously stored on OpenAI's servers, which by default trains its models on it, but you can go into settings and disable that. Security researchers have been able to trick chatbots like Bing AI into asking people for their private information, including your email inbox and bank account.
Browsers have always functioned as windows to the web. With new AI features, though, companies are hoping to take a step further. Instead of you choosing what your online experience looks like, AI chatbots limit the internet's scope to their knowledge and the chat window's borders. Though I found it helpful on occasion, these updates seem rushed and have little utility. I'd rather just open another tab.
Category
Back to Ultrabook Laptops
Brand
Processor
RAM
Storage Size
Screen Size
Colour
Condition
Price
Stay in the know with Laptop Mag
Get our in-depth reviews, helpful tips, great deals, and the biggest news stories delivered to your inbox.
Shubham Agarwal is a freelance technology journalist from Ahmedabad, India. His work has previously appeared in Business Insider, Fast Company, HuffPost, and more. You can reach out to him on Twitter.