Google AI is about to be everywhere — Search, Gmail, even your phone's wallpaper
The AI arms race is on for Google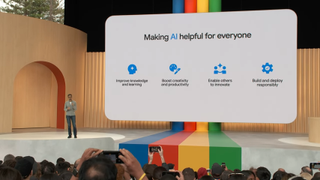 (Image credit: Google)
You'll be soon hard-pressed to not find an AI button in a Google app.
At its 2023 annual developer conference, Google I/O, the search giant spent nearly an hour and a half outlining how it's reimagining each of its products with AI — close to seven years after declaring that its future is AI. With its updated suite of apps, Google's ready to unleash AI on the masses. Whether that's writing Instagram captions, responding to friends' texts, putting together slide decks, or even finding new wallpapers for your phone, Google expects you to outsource a lot of what you do on your phone and the internet to AI.
"The shift with AI is as big as they come and that's why it's so important that we make AI helpful for everyone," said Sundar Pichai.
Google's AI wave has been a long time in the making. For years, Google has accumulated billions of users on its free services and harvested their information to train the technologies its latest AI offerings depend on. That has allowed Google to build a supply chain for AI: from the endless corpus of data AI models are based on to the tools developers and businesses would need to build AI services and AI apps that will soon be a part of our lives.
Google AI getting productive
On Google's set of productivity apps like Docs, Gmail, and Slides, you will soon have the option to ask an AI bot to write your emails and documents for you. All you have to do is tell it what it's supposed to write about. In a couple of iterations, even that won't be necessary as the AI learns more about you and the context you're working in and begins to sift through the treasure trove of your information on Google's servers to anticipate your prompts before you type them.
In one demo, for instance, Google showed how Gmail's new "Help Me Write" tool scans an email from an airline letting you know the amount of refund you're eligible for, and pens an elaborate response for requesting a full refund instead. Need original pictures for a presentation? Punch in a few words describing the scene in the sidebar on Google Slides, and it will generate them out of thin air.
What this new AI sidebar — called Sidekick — will, more importantly, do is cut down the need for you to engage in laborious tasks like looking for files and information in your Google account. It can read your spreadsheets on your behalf and summarize them in an email for you to forward, for instance, or produce speaker notes for that slide deck you prepared.
Google's AI push will be most apparent in its search engine. A new colorful section, Search Generative Experience, will soon dominate the top of the results, pushing the traditional list of blue links way down. Google calls this an "AI snapshot" and what it does is stitch together a direct answer to your query instead of forcing you to go website-hopping.
The AI Snapshot's significance will come to light especially when your questions are complex and riddled with personal variables that no website has ever covered like "What's better for a family with kids under 3 and a dog, Bryce Canyon or Arches?" Normally, you'd have to visit a couple of URLs to fetch the information you'd need to accurately answer this but in an AI age, the snapshot section will scour through those numerous web pages for you, and let you know that Bryce Canyon is the way to go.
At the heart of these new developments is Bard, Google's AI chatbot, which will be available throughout its services so that you can simply chat with it to find information, write emails, or plan trip itineraries. Though chatbots have been around for ages, they're finally capable enough to be your primary interface into the web and narrow down the internet's vastness into a far more approachable chat box. While the promise is incredible, we've certainly have our concerns with some of Bard's answers to questions we've posed, so it will be interesting to see its next stage of evolution.
Google AI and Android
These recent AI advances will trickle down to many of your everyday smartphone experiences too. An upcoming, new editor inside Google Photos, for example, will let you edit photos to the point you're almost distorting the reality. You could move where you're standing, replace a cloudy sky with a sunny one, and remove any unwanted objects or people, all with a couple of touches, and zero Photoshop knowledge. Starting with Android 14, the wallpaper picker will allow you to generate new backdrops, or turn your own photos into cinematic, live backgrounds.
Don't be evil
With AI also comes a lot of societal risks, and though no one heard these actual words at the keynote, Google spent a lot of it convincing us that it still stands by its foundational motto: "Don't be evil."
AI models like Google's now actively integrate drawing their capabilities from existing works of artists, writers, and the rest of the internet. And so far, few companies have bothered to extend credit.
At I/O, Google emphasized how it's tackling these concerns as it readies AI for mainstream use: photos its AI bot surfaces will have watermarks to tell you whether they're AI-generated, search results will have line-to-line citations when you want to verify the information, and its AI tools will have guardrails to prevent misuse and harm.
But while Google's focus on responsible AI is encouraging, it's also on the other side of the arms race, looking to profit off these developments. Its reassurances feel like a false sense of security and appear as footnotes inside services that most people won't bother to check.
More importantly, Google failed to address the greater issues of such a rampant AI takeover. It didn't reveal whether these new AI features will use people's personal data to improve, how the new AI summaries in search will affect publishers, and how the auto-generated text and images can become mass misinformation weapons. Even in the 91-page research paper Google published about its model, PaLM, it didn't say what kind of data it has used to train and build its new AI tools.
Bottom line
The arrival of AI will change how people see and use some of the internet's most popular services, and as it gets better, it will only encroach on more space inside Google's apps. But at the same time, this technology is the culmination of decades of efforts humans have put into the web, and in its current form, this AI will not only disrupt the internet, but also potentially kill the mechanics that have gotten it so far. And without a thriving and sustainable web, AI may never evolve past its gimmick, wallpaper-building phase.
Hopefully, though, as more people learn of the perils of AI, like its tendency to spit convincing falsehoods, companies like Google will be held accountable, and forced to step up with effective solutions even if that means slowing down their own bottom line.
Category
Back to Ultrabook Laptops
Brand
Processor
RAM
Storage Size
Screen Size
Colour
Condition
Price
Stay in the know with Laptop Mag
Get our in-depth reviews, helpful tips, great deals, and the biggest news stories delivered to your inbox.
Shubham Agarwal is a freelance technology journalist from Ahmedabad, India. His work has previously appeared in Business Insider, Fast Company, HuffPost, and more. You can reach out to him on Twitter.