Asus ROG Ally vs. Steam Deck: Which handheld gaming PC is the best?
PC gaming has never been more mobile, but which handheld is better?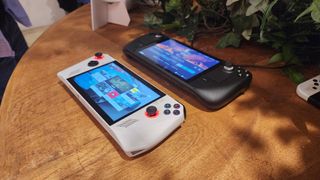 (Image credit: Future)
The Asus ROG Ally and Steam Deck are Nintendo Switch-like devices that make PC gaming more accessible on the go. They're fundamentally similar in design and function, with both companies clearly taking a few notes from Nintendo. In fact, it is now clearer than ever that the introduction of the Switch has caused massive ripples throughout the industry. With the reveal of the Steam Deck in 2021, a recently rumored Sony handheld and now the Asus ROG Ally, the return of the handheld craze is beginning.
But two similar products occupying a similar space causes a single question to arise: Which one is better? We've compared their specifications, software and functionality to see which PC gaming handheld comes out on top.
And if you want to know more about the ROG Ally before it launches, Asus is hosting a global launch event on May 11.
Asus ROG Ally vs Steam Deck: Price and configurations
We don't have an official price for the ROG Ally just yet. A user on Reddit who claims to have played around with the hardware says that there are two models of the Ally: The 512GB version ($649) and 1TB version ($899). We do know users get 3 months of Xbox Game Pass Ultimate after purchasing it.
The Steam Deck starts at a cheaper $399 for its 64GB eMMC model, and even the 256GB NVMe SSD model at $529 is less expensive than the rumored ROG Ally pricing. The Steam Deck's priciest model comes in at $649 for 512GB, so if the aforementioned Reddit rumor is true, Asus is matching Steam's pricing for that storage size.
If the ROG Ally rumor turns out to be authentic, it will offer better hardware for the same price, but the Steam Deck starting at $399 is a huge boon in configuration diversity. It means those who are looking for a more affordable way to play their favorite games on the go can do so without spending tons of money. As a result, the Steam Deck absolutely takes this one.
Winner: Steam Deck
Asus ROG Ally vs Steam Deck: Specs overview
The ROG Ally is built with a custom AMD Ryzen Z1 Series processor, RDNA 3 graphics, a 7-inch 1920x1080-pixel IPS 500-nit display with a 120Hz refresh rate and 7ms response time, 16GB of LPDDR5 RAM, 512GB of PCIe Gen4 SSD storage and an extra open slot. The ROG Ally also has dual front facing speakers and a "zero gravity thermal system" which ensures it can be rotated 360-degrees without detriment to its performance.
The Steam Deck is built with an AMD Zen 2 processor, RDNA 2 graphics, a 7-inch 1280 x 800-pixel, 400-nit display with a 60Hz refresh rate, 16GB of LPDDR5 RAM and either 64GB of eMMC or 256GB/512GB of NVMe SSD storage. It's no shock that the ROG Ally is coming out of the gates with better hardware than the Steam Deck, as the latter is more than a year old now.
Winner: Asus ROG Ally
Asus ROG Ally vs Steam Deck: Graphics
The ROG Ally's graphical power is set to be superior all-around compared with Steam Deck. RDNA 3 is an undeniable improvement over RDNA 2, with AMD claiming that it offers a 50% performance-per-watt increase. Even if it doesn't end up being that much better, we're confident it will deliver superior performance to the Steam Deck.
RDNA 3 features second generation ray tracing and AMD Infinity Cache (enhances VRAM efficiency), alongside new features like AI Acceleration, AMD Radiance Display Engine (12-bit HDR) and chiplet design. We'd frankly be surprised if the ROG Ally wasn't considerably stronger.
Winner: Asus ROG Ally
Asus ROG Ally vs Steam Deck: Display
The ROG Ally's display should hold a crushing victory over the Steam Deck, but we can't say for certain until testing is done. On paper at the very least, the ROG Ally is superior in virtually every metric with its 1920x1080-resolution, advertised 500-nit brightness and 120Hz refresh rate. Both displays are 7-inch IPS LCD screens, but the Steam Deck falls short with its 1280x800 resolution, advertised 400 nits of brightness and 60Hz refresh rate.
However, until we know for certain how well it scores in our DCI-P3 tests and brightness tests, the Steam Deck could still come back. Resolution and refresh rate aren't the end all be all of displays, and if we see Valve's handheld pull ahead in those other categories, deciding the victor won't be so easy.
Winner: Asus ROG Ally
Asus ROG Ally vs Steam Deck: Storage and RAM
The ROG Ally features a PCIe 4.0 SSD, while the Steam Deck is stuck with PCIe 3.0. While this isn't necessarily the end of the world, the former is faster than the latter. However, Steam Deck benefits from more storage options anywhere from 64GB to 512GB, although the eMMC isn't anywhere near as speedy as the SSD options.
Both devices feature 16GB of LPDDR5 RAM and an additional microSD card slot for additional expansion. While the ROG Ally is likely a little faster in SSD speed, we think the Steam Deck's additional options make this race close.
Winner: Draw
Asus ROG Ally vs Steam Deck: Size and weight
The ROG Ally (1.33 pounds, 11 x 4.4 x 1.5 inches) is both lighter and smaller than the Steam Deck (1.47 pounds, 11.7 x 4.6 x 1.9 inches), meaning it'll be more convenient to bring with you on the go. This isn't at a detriment to screen size either, as both handhelds feature a 7-inch display.
Smaller isn't a definitively positive trait, as some might prefer the slightly longer or wider handheld, but it's hard to deny that thinner and lighter should be in the ROG Ally's favor for a handheld gaming PC.
Winner: Asus ROG Ally
Asus ROG Ally vs Steam Deck: Software
The Ally runs Windows 11 and is fully compatible with Steam, the EA App, Epic Games, Xbox Game Pass, Ubisoft Connect, Battle.net and "more" straight out of the box. This is huge when compared to the Steam Deck, which operates based on SteamOS and runs Steam exclusively. After all, it is a Steam machine, but it does have a bit more potential within.
As SteamOS is based on Linux architecture, some fiddling around can allow the system to download tons of different applications besides Steam, but that extra tinkering can be inconvenient. Xbox Game Pass games can be played through Steam Deck by using Xbox Cloud Gaming, but it's not built-in automatically. With the ROG Ally, this capability is available right out of the box.
It's hard to deny that the ROG Ally having Epic Games, the EA App, Xbox Game Pass, Ubisoft Connect, and Battle.net over the Steam Deck is an enormous boon. It's a far more convenient machine to use out of the box for this reason, especially for subscribers of Game Pass or those with tons of unplayed titles on Epic Games (I fulfill both of these criteria). It's also hard not to let my creativity run wild here, as the inclusion of Battle.net makes me wonder if I can play a bit of WoW through it.
However, we're still uncertain how deeply some tech savvy users can customize the ROG Ally. Linux architecture is more malleable than a Windows 11 operating system, so if you're someone who likes to mess around with software and modify your handheld device to be capable of new things, hold out until we have more knowledge on what the ROG Ally can do.
The ROG Ally also features Armoury Crate, which offers key binding customization, performance profiles and a control panel overlay. You can also map through gamepad, keyboard/mouse and desktop modes. While these features aren't enough of a dealbreaker to completely destroy Steam Deck, it is convenient to have. It also features Windows Hello for fingerprint unlocking.
Winner: Asus ROG Ally
Bottom line
The ROG Ally is shaping up to be the Steam Deck killer with the final nail in Valve's coffin being price point. If Asus will sell the 512GB model of its upcoming handheld for less than or exactly $649, it will be directly competing with Valve's pricing. Considering the superior specifications, there would be an easy winner in this race.
But if the ROG Ally is more expensive, Steam Deck will reign as the budget pick. That's a fine alternative too, as the leaked pricing wouldn't be surprising considering what we've seen of the ROG Ally thus far: It is certainly the more powerful handheld, alongside its broader software support.
Overall the Asus ROG Ally wins this matchup as the current champion handheld gaming PC.
Stay in the know with Laptop Mag
Get our in-depth reviews, helpful tips, great deals, and the biggest news stories delivered to your inbox.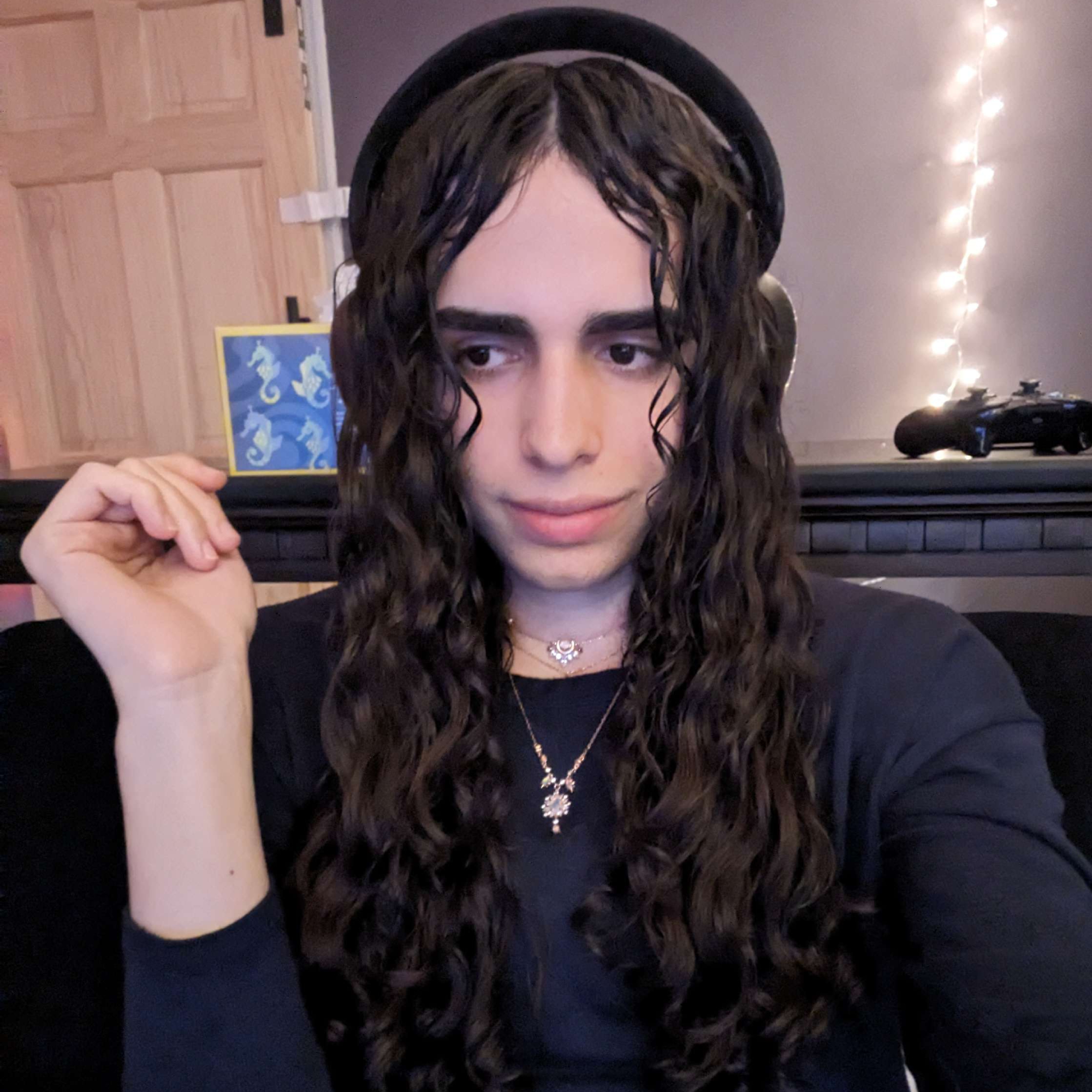 Self-described art critic and unabashedly pretentious, Momo finds joy in impassioned ramblings about her closeness to video games. She has a bachelor's degree in Journalism & Media Studies from Brooklyn College and five years of experience in entertainment journalism. Momo is a stalwart defender of the importance found in subjectivity and spends most days overwhelmed with excitement for the past, present and future of gaming. When she isn't writing or playing Dark Souls, she can be found eating chicken fettuccine alfredo and watching anime.