Best Chromebooks for students in 2023
The best Chromebooks for students — 2023 edition
QUICK LINKS
1. The list in brief
2. Best overall performance
3. Best overall design
4. Best display
5. Most powerful Chromebook
6. Best 2-in-1 Chromebook
7. How to find the right laptop
8. How we test
9. Why trust Laptop Mag
The best Chromebooks for students meet the daily demands of college coursework, and a whole lot more. Powered by Google's Chrome OS, Chromebooks are easy to use, power efficient and fast-booting. Factor in automatic updates, built-in virus protection, and secure logins — it's easy to see why Chromebooks are such popular Windows and MacOS alternatives.
For connecting a monitor or hard drive, the best Chromebooks come with plenty of ports. For example, the Acer Chromebook Spin 713 is equipped with two USB-C ports, one USB 3.0 port, one HDMI port, and a headphone jack; you also get a microSD slot, which comes in handy for expanding storage or transferring files between systems.
As a rule, we've found that 2-in-1 Chromebooks offer the best value for K-12 and college students alike. Convertible laptops are great since you're getting a flexible machine that you can take notes with (or easily read in tablet mode on your lap). While these Chromebooks are a little pricier than your average budget Chromebook, the right Chromebook deal can net you big savings. In fact, some of the best Chromebooks even allow for light gaming, believe it or not!
The Quick List
Best Overall Performance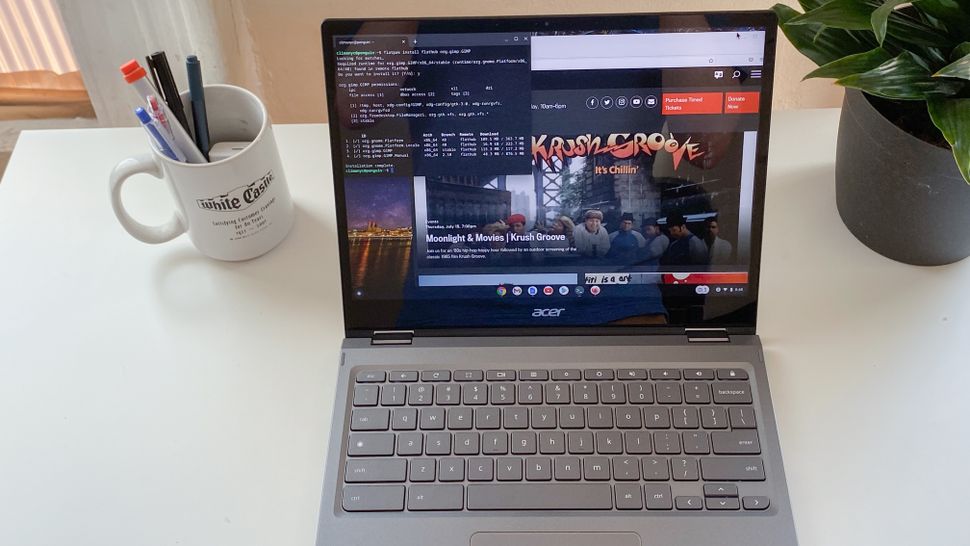 Best overall performance
Specifications
CPU:
11th Gen Intel Core i5
Display:
13.5-inch 2K (2256 x 1504)
Dimensions:
11.8 x 9.3 x 0.7 inches
Reasons to buy
+
Awesome 2K display
+
Sturdy construction
+
Strong performance
Reasons to avoid
-
Sensitive Touchpad
-
No stylus support
Starting at $699, Acer's Chromebook Spin 713 is a versatile 2-in-1 Chrome OS laptop. The base model packs a 13.5-inch 2K (2256 x 1504) touch screen, 2.1-GHz Intel Core i5-1135G7 4-core CPU, 8GB of RAM, and Intel Iris Xe graphics, and 256GB SSD.
The Chromebook Spin 713 is ideal if you're looking for a laptop that converts into a tablet for taking notes or sketching ideas. We took it for a "spin", and were impressed by its stunning display, durable build quality and strong performance. After lengthy real-world and overall performance tests, the Chromebook Spin 713 garnered a 4 out of 5-star rating and our Editor's Choice award.
If you're in the market for a flexible notebook with GeForce Now cloud streaming support, the Acer Spin 713 is worth considering.
Read our full Acer Chromebook Spin 713 review
Best Overall Design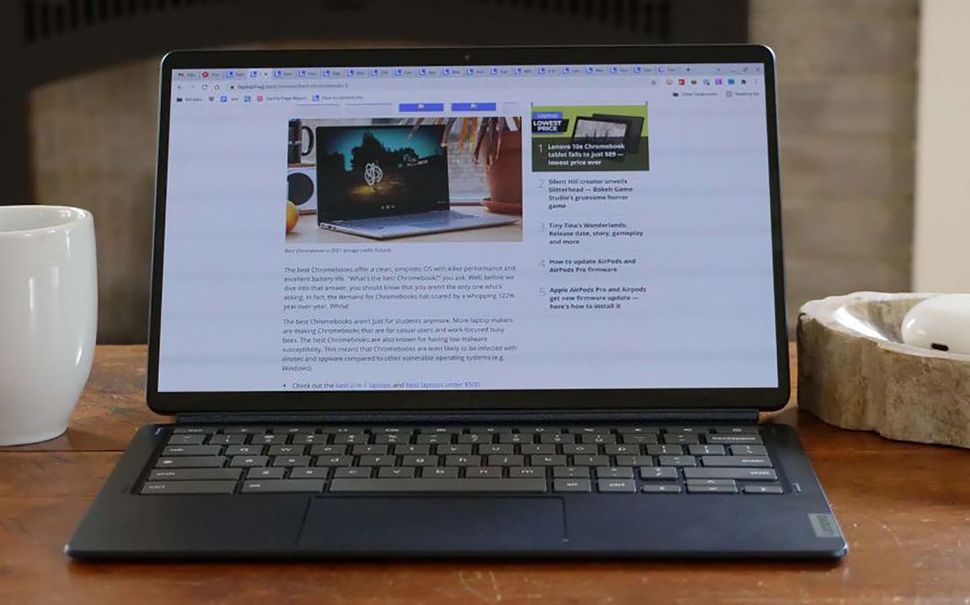 Best overall Chromebook design
Specifications
CPU:
Qualcomm Snapdragon 7c Gen 2
GPU:
Qualcomm (integrated)
Display:
13.3-inch FHD (1920x1080) OLED
Dimensions:
12 x 7.4 x 0.28 inches
Weight:
2.24 pounds (with keyboard/case); 1.5 pounds (tablet only)
Reasons to buy
+
Bright, color-rich OLED display
+
Long battery life
+
Includes detachable keyboard cover
For students on a tight budget, the beloved Lenovo Chromebook Duet 5 is the best 2-in-1 laptop for the money. The base sports a 13.3-inch (1920 x 1080) OLED 400 nit touch screen, 2.55-GHz Qualcomm Snapdragon SC7180 8-core CPU, and 8GB of RAM. Rounding out its specs are Qualcomm Adreno graphics and 128GB of eMMC storage.
We love the Chromebook Duet 5's bright, vivid OLED display and 2-in-1 design. It also wowed us with its long battery life — lasting 13 hours and 31 minutes on our Laptop Mag Battery Test. We gave the IdeaPad Duet 5 an overall rating of 4 out of 5-stars and our coveted Editor's Choice award.
If you're looking for a less costly Surface Pro alternative, the Lenovo Chromebook Duet 5 might be right for you.
Read our Lenovo Chromebook Duet 5 review
Best Chromebook Display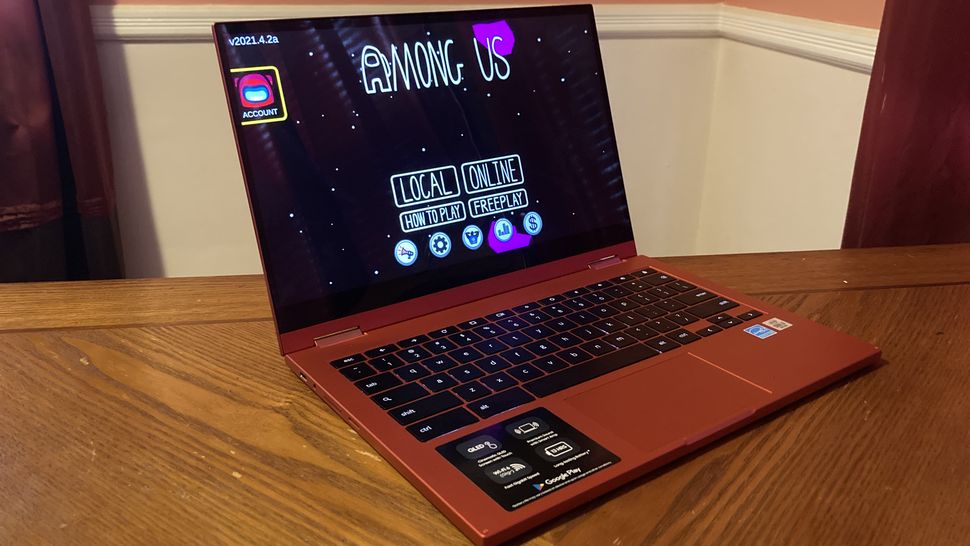 Best Chromebook display
Specifications
CPU:
Intel Celeron,m3/10th Gen Core i3-i5
Display:
13.3-inch FHD (1920 x 1080) QLED
Dimensions:
12.0 x 8.0 x 0.55 inches
Reasons to buy
+
Bright, color-rich display
+
Slim, lightweight design
+
Eye-catching design
Reasons to avoid
-
So-so battery life
-
No S Pen compatibility
Samsung's Galaxy Chromebook 2 is the world's first QLED Chrome OS laptop. It's also one of the best Chromebooks for students. Period.
Starting at $699, the base model Galaxy Chromebook 2 runs on a 2.1-GHz Intel Core i3-10110U dual-core CPU coupled with 8GB of RAM. Its 13.3-inch (1920 x 1080) QLED touch screen delivers life-like imagery with colors that pop. It affords you 128GB of storage, which is expandable via the laptop's built in microSD slot.
In our Galaxy Chromebook 2 review, we were wowed by its vibrant, color-rich display and an ultra-slim, lightweight design. During tests, rotating the Galaxy Chromebook 2 into tablet and tent mode was hassle-free.
If you want an ultraportable notebook that won't weigh down your backpack, the Samsung Galaxy Chromebook 2 is one to consider.
Read our full Samsung Galaxy Chromebook 2 review
Most Powerful Chromebook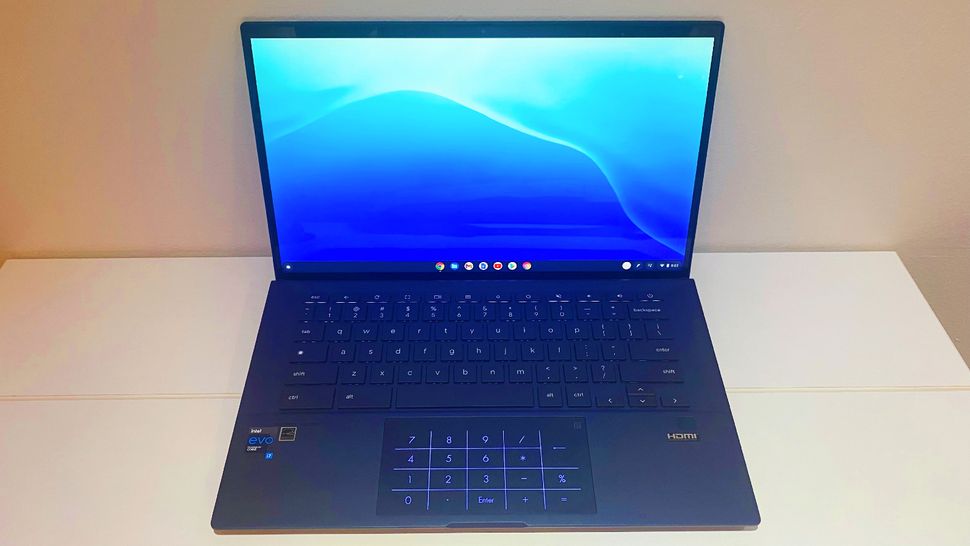 Most powerful Chromebook
Specifications
CPU:
11th Gen Intel Core i3/i7
Display:
14-inch (1920 x 1080)
Dimensions:
12.7 x 8.1 x 0.7 inches
Reasons to buy
+
Military-grade durable
+
Comfortable keyboard
+
Ample variety of ports
Reasons to avoid
-
Frail speakers
-
Webcam could be better
The base model Asus Chromebook CX9 has a 14-inch (1920 x 1080) touch display, Intel Core i3-1115G4 CPU, 8GB of RAM, Intel UHD graphics, and 128GB SSD. That's plenty of oomph for enjoyable gameplay on a Chromebook.
In our Chromebook CX9 review, we praise its dazzling display and powerful performance. We gave this Chromebook an overall rating of 4 out of 5 stars for its aforementioned attributes and long battery life.
Our review unit had an 11th Gen Intel Core i7 CPU, 16GB of RAM, and Iris Xe graphics. In our lab's Geekbench 5.0, a synthetic overall performance test, it achieved an overall score of 4,747. This beats the Chromebook category average of 2,666.
Built to military specs the Chromebook CX9 can take a beating. It's shock, drop, water and humidity resistant. Go for this laptop if you want a rugged, powerful machine that packs plenty of power for cloud gaming.
Read our Asus Chromebook CX9 review
Best 2-in-1 Chromebook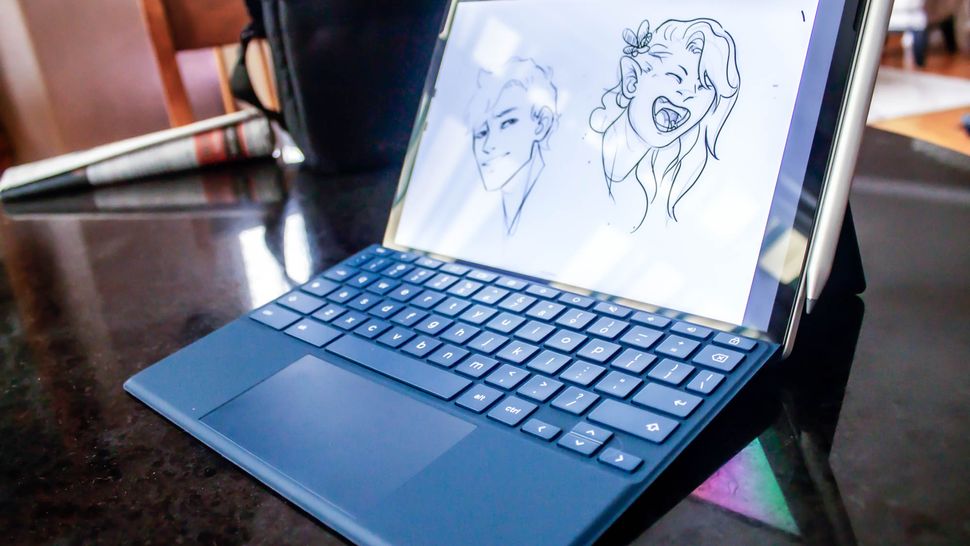 Best 2-in-1 Chromebook
Specifications
CPU:
Qualcomm Snapdragon 7c 8-core CPU
Display:
11-inch (2160 x 1440)
Dimensions:
9.9 x 4.6 x 0.3 inches
Reasons to buy
+
Gorgeous design
+
Immersive 2K display
+
Super portable
Digital art students looking for a portable easel will want to consider the HP Chromebook X2. Pricing for the HP Chromebook X2 starts at $569 for this compact, Surface-like detachable 2-in-1.
It features an 11-inch 2K (2160 x 1440) touch screen, 2.4-GHz Qualcomm Snapdragon 7c 8-core CPU, 8GB of RAM, Adreno 618 graphics and 64GB of eMMC storage. If you purchase Best Buy's model, it ships with a stylus.
We tested the HP Chromebook X2 and found its stunning, super-portable design with 2K display impressive. Despite its compact size, stereo speakers tuned by audio experts Bang and Olufsen deliver big sound. So if you're studying or creating, you can boost your productivity with your favorite music playlist.
Read our HP Chromebook x2 review
How to choose one of the best Chromebooks for students
Do your intensive daily workloads require more RAM than the average Joe? Are you a video editor who needs extra storage? Are you a gamer who wants a powerful GPU? Sorting through the best laptops to fit your lifestyle is a tricky business.
To make your shopping process a little easier, our Editor-in-Chief Sherri L. Smith has put together some tried-and-true guidelines to help you choose the best laptop.
Budget: What you get for the money.
You can find decent Windows laptops and high-quality Chromebooks for under $500. However, better mainstream laptops usually cost more than $700 and premium Ultrabooks can run over $1,000. The best gaming laptops can cost $2.000 and up, but you can play the latest titles at decent frame rates on gaming laptops under $1,000.
Screen Size: 12 to 14 inches for Portability
Knowing a laptop's screen size tells you a lot about its portability overall. If you want to use your computer on your lap or carry it around a lot, go for one with a 12, 13 or 14-inch display. If you want to use the computer on tables and desks and won't carry it around much, a 15-inch model may give you more value. Some gaming rigs, media machines and workstations even have 17 or 18-inch screens, but those are hardest to carry.
2-in-1 or Clamshell?
More and more of today's laptops are 2-in-1s with screens that either bend back 360 degrees or detach so you can use them as tablets. If you like the idea of using your laptop in slate mode for drawing, media consumption or just using it standing up, a 2-in-1 could be for you. However, you can often get better features or a lower price by going with a traditional clamshell-style laptop.
Battery Life: 8+ Hours for Portability
Unless you only plan to use your laptop on your desk, battery life matters. Even within the home or office, having plenty of juice enables you to work on the couch or at the conference table, without being chained to the nearest outlet. For the best portability, we recommend getting a laptop that lasted over 8 hours on the Laptop Mag Battery Test. The longest-lasting laptops endure for over 10 hours.
Specs: 1080p / Core i5 / 8GB Are Best Bets
You can spend a lot of time delving into specs, but here are the key components to think about. If you just want really good mainstream performance, go for a Core i5 CPU, 8GB of RAM, a 256GB SSD and a 1080p screen.
How we test the best Chromebooks for students
We put each laptop through extensive benchmark testing — both synthetic and real-world — before they end up in the hands of our reviewers. We evaluate each aspect of the laptop, including its performance, battery life, display, speakers and heat management.
In our benchmark testing, we use a Klein K10 colorimeter to detect the brightness and sRGB color gamut of the laptop's display. For performance testing, we run the laptop through a gauntlet of benchmarks, including Geekbench 4.3 and 5.0 and 3DMark professional graphics tests.
To determine real-world performance, we task the laptop to convert a 4K video to 1080p resolution and to duplicate a 4.97GB multimedia file. Our real-world graphics test is the Dirt 3 benchmark with medium settings at 1080p resolution.
We also run heat tests by playing a 15-minute full-screen video and measuring temperatures in different areas of the laptop. Last but not least, our battery test consists of continuous web surfing over Wi-Fi at 150 nits of brightness. For MacBooks and premium Windows 10 laptops, a runtime of over 9 hours is considered a good result whereas gaming laptops and workstations that can stay powered for longer than 5 hours deserve praise.
These tests are complemented with extensive hands-on testing from our reviewers who critique everything from the laptop's materials to the feel of its touchpad.
See this page on How We Test Laptops for more details on our benchmarking procedures.
Why Trust Laptop Mag
Laptop Mag reviews over one hundred different laptops every year, from paperweight ultralights to everyday workhorses to lumbering gaming notebooks that scorch the frame rates of even the hottest AAA games. We're not just experts in the laptop field, as we go one step further by meticulously testing smartphones, tablets, headphones, PC accessories, software, and even the latest in gaming.
We are 100% independent and have decades of experience to help you buy with confidence. In fact, Laptop Mag has been testing and reviewing products for three decades, and we continue to deliver trustworthy reviews you can rely on.
Our experienced team of writers and editors scour the available information about the laptop and put it through its paces to determine which is best for you. But before they start, the testing team subjects each system to a rigorous regimen of synthetic and real-world tests to see how a system handles the type of work and games you're most likely to throw at it.
Our editorial trustworthiness is enforced by one of the world's largest technology publishers, Future Publishing. As a company, we have unrivaled experience across every tech sector — and we're the group's specialist for all things mobile tech.
Stay in the know with Laptop Mag
Get our in-depth reviews, helpful tips, great deals, and the biggest news stories delivered to your inbox.
Hilda Scott uses her combined passion for gadgets and bargain shopping to bring you the best prices on all things tech. She has a bachelor's degree in film and media studies from Hunter College and 11 years of tech and entertainment journalism. Her work has been featured on Tom's Guide, iTechPost, Examiner.com, Parlemag, Enstars, and Latin Times. When she's not scouting for the best deals, Hilda's catching up on her favorite TV shows and pro-wrestling matches.