The Black Shark 4 Pro squeezes every last drop of potential out of last year's components, pairing them with 120W charging and physical shoulder buttons, to make a decent budget gaming phone. But there are too many problems and an extremely creepy assistant app, to make it worthwhile.
Pros
+

Pushes Snapdragon 888 to high speeds

+

Super smooth 144Hz display

+

Physical shoulder buttons

+

120W charging

+

Affordable price…
Cons
-

…but you can get better for a tiny amount more

-

Dull camera system

-

Picture watermarks on by default

-

Very gamer-centric hardware design

-

The Shark Chan app is creepy af
Why you can trust Laptop Mag Our expert reviewers spend hours testing and comparing products and services so you can choose the best for you. Find out more about how we test.
The Black Shark 4 Pro is being pitched as the ultimate budget gaming phone — packing a vivid AMOLED display, last year's Snapdragon 888 tuned to its max and physical shoulder buttons over touch surfaces.
But does it deliver? The gaming smartphone space is exploding with some seriously good powerhouses at competitive prices, so Xiaomi (the company behind Black Shark) needs to do something special.
Black Shark 4 Pro: Price and configurations
The Black Shark 4 Pro is available in three finishes (matte black, grey or a holographic black), and in either 8GB RAM + 128GB storage or 12GB + 256GB configurations.
Prices start from $579/£489, which puts this in a similar price range as the RedMagic 6R. For comparison, the new iPhone SE weighs in at $429 and, if you wanted the cream of the crop with Snapdragon 8 Gen 1 internals, the RedMagic 7 will set you back $50 extra at $629.
Black Shark 4 Pro: Design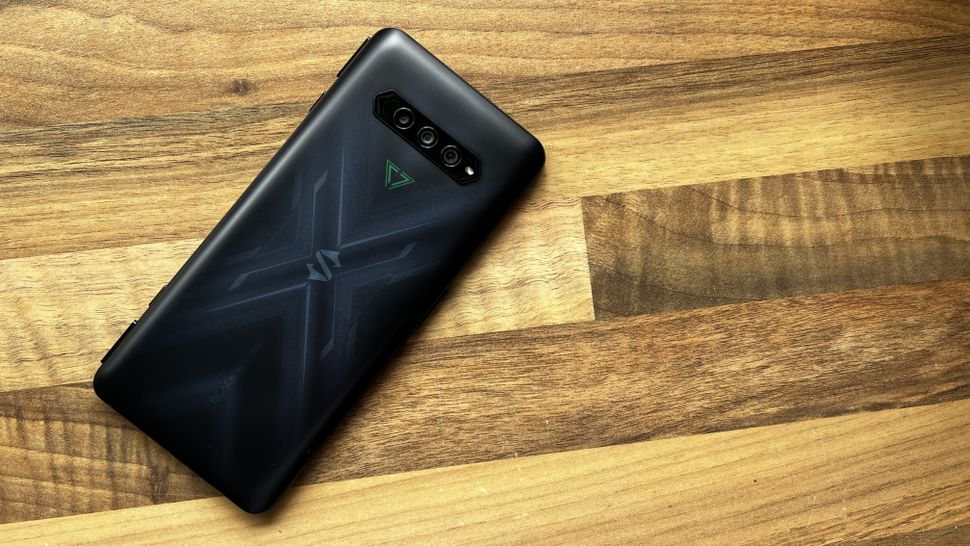 The Black Shark 4 Pro is a bit of a brick. Granted, it is curved on the back to fit nicely into the hand, but make no mistake about it, this is a chunky phone.
Looking at the numbers, the 4 Pro measures in at 6.5 x 3 x 0.4 inches with a weight of 7.8 ounces. This is markedly bigger and heavier than the RedMagic 6R (6.4 x 3 x 0.3 inches, 6.6 ounces), and just slightly smaller but heftier than the RedMagic 7 (6.7 x 3 x 0.4 inches, 7.6 ounces). When using this phone, you can really feel that mass.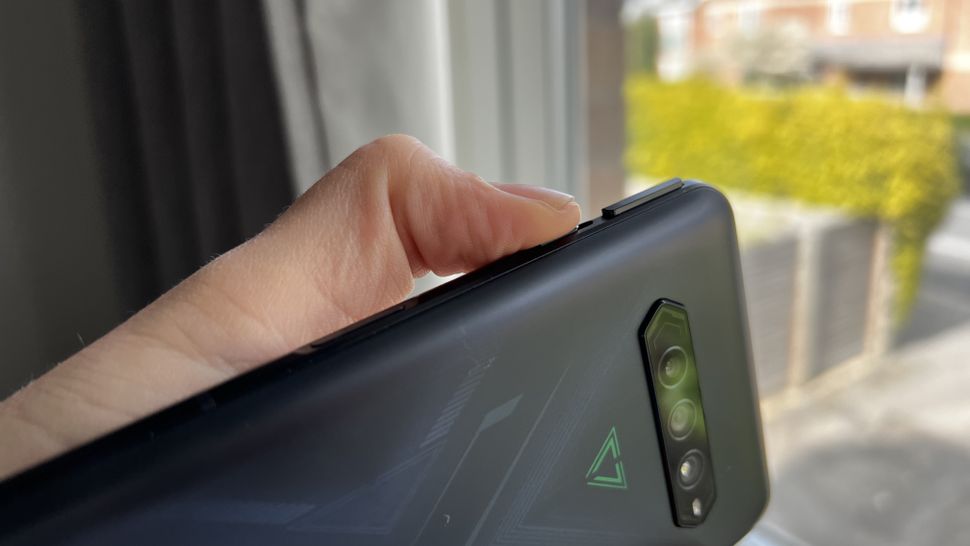 For the players, instead of touch sensitive shoulder areas, you can flick the two switches on the right side and pop out physical shoulder buttons, which are so much better to use. The frame has been sculpted for decent comfort and the holographic finish on the back does look pretty cool.
But that gamer-esque design is not going to be for anyone. Any sleekness to its curves doesn't make up for the fact that this isn't a pocket-friendly phone; it will leave a noticeable bulge in skinny jeans and the plastic on the back feels pretty cheap.
Black Magic 4 Pro: Display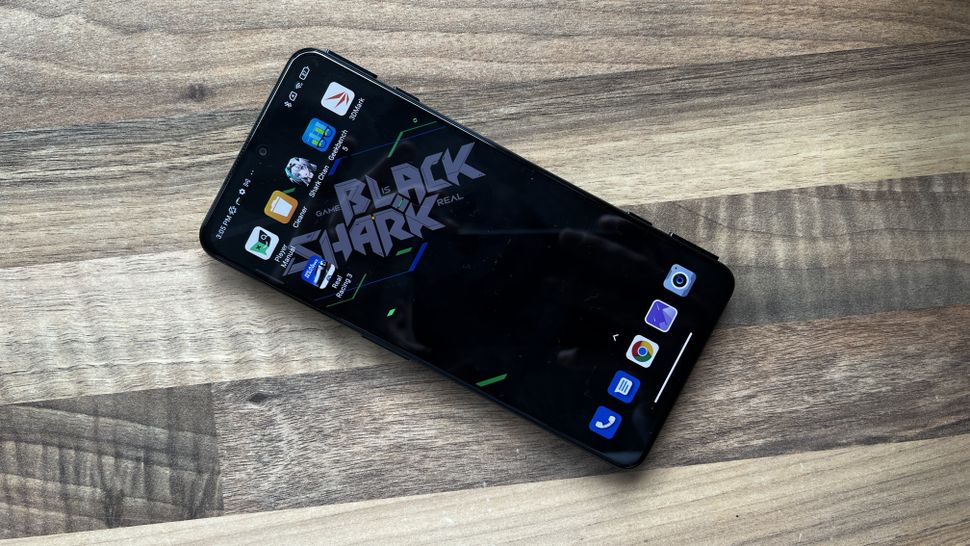 The display on the Black Magic 4 Pro is, to paraphrase Zoolander, really, really, ridiculously good looking.
Here, you'll find a 6.67-inch AMOLED screen with a 2400 x 1080 resolution and silky smooth 144Hz refresh rate (and 720Hz reporting rate for rapid touch interactions). Black Shark also claims it has HDR 10+ support, a 111% DCI-P3 calibration and a 1,300 nit peak brightness.
The end result is a spectacularly vivid panel for your games to look at their best both indoors and in direct sunlight outdoors. The Doctor Strange in the Multiverse of Madness trailer was the perfect showcase for the display as spells glow off the screen with vivid color. Color accuracy is impressive, the brightness levels are outstanding and the fluidity of that 144Hz refresh rate actually helped me in games like Real Racing 3.
Black Shark 4 Pro: Audio
Of course, a good screen needs good sound for immersive gameplay, and the Black Shark 4 Pro delivers with a stereo experience on dual speakers. It does distort slightly at high volumes though, and the orchestral uprising section of The Beatles' "A Day in the Life" just sounds like a mess.
As for headphones, the inclusion of a 3.5mm headphone jack means you can enjoy lag-free audio. Classy move, Black Shark.
Black Shark 4 Pro: Performance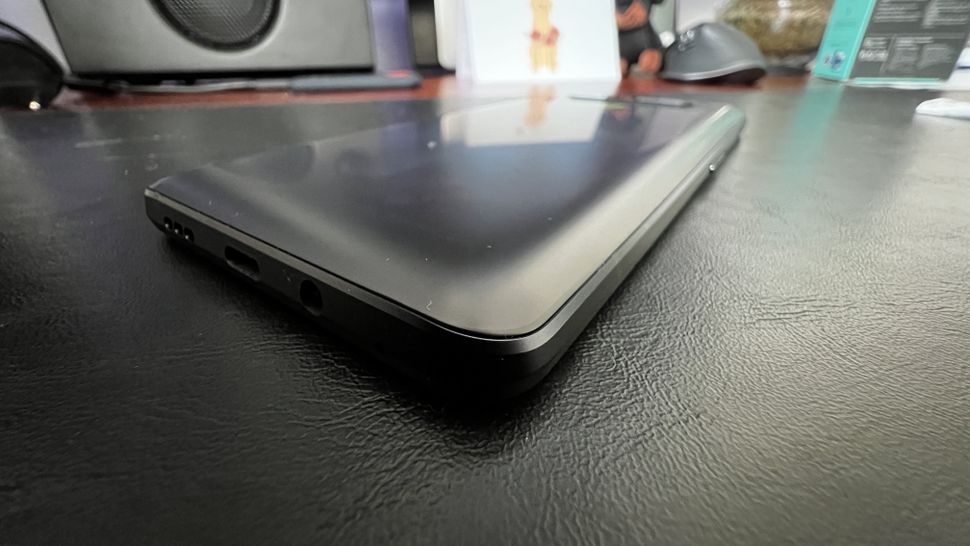 Now for the bread and butter of this phone. The Black Shark 4 Pro features last year's Qualcomm Snapdragon 888 processor with up to 12GB LPDDR5 RAM and 256GB of UFS 3.1 storage.

This power is kept at optimal temperatures via a "sandwich" liquid cooling system that keeps thermals at an optimal level. As far as benchmarks go, we've seen the Snapdragon 888 deliver impressive results, but the 4 Pro takes its performance to another level.
In the Geekbench 5 test, the 4 Pro hit a multi-core score of 3,742 and a 3DMark Wild Life average frame rate of 35.2 FPS. Unsurprisingly, the iPhone SE's A15 Bionic demolished this with 4,482, but as for this gaming phone's real competition, the RedMagic 6R hit a multi-core score of 3,652 and matched the average FPS.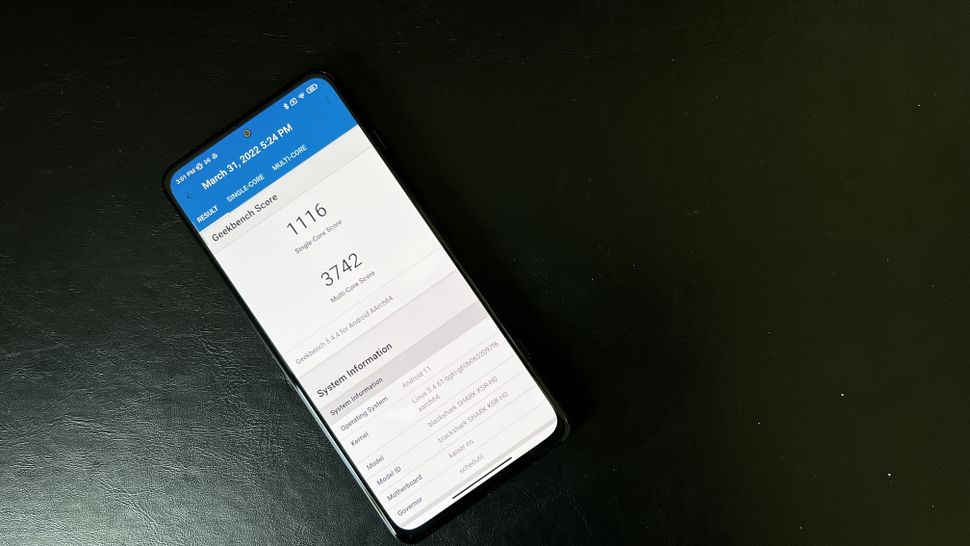 For a laugh, I also compared this with the OnePlus 10 Pro's Snapdragon 8 Gen 1 (3,682 multi-core) and at the moment, the 4 Pro is beating this. It seems like there was a shift in priorities with the 8 Gen 1 as the OnePlus 9 Pro outperformed the 10 Pro as well (3,685), but graphics performance is dramatically improved with the 10 Pro delivering 61 FPS on 3DMark Wild Life..
Regardless, in real-world use, it translates to a phone that doesn't get a single hint of slowdown no matter what games you throw at it. Same goes for your everyday tasks, including multitasking and swiping between apps. Yes, there are newer components offering faster speeds, but you're getting a good price-to-performance ratio here and while it can get hot under intense use, no temperature spikes hamper the speed of this phone at all.
Black Shark 4 Pro: Battery Life & Charging
The Black Shark 4 Pro comes packed with a 4,500mAh battery, which is a little lacking when compared to the 5,000mAh monster cells you can find in phones at this price point.
Under general daily use, which for me includes hours of podcasts, plenty of gaming, a lot of social media and email use, and a fair bit of YouTube, I just got through to bed time with 5% of battery remaining.
There is one saving grace, which is Xiaomi's redonkulously fast 120W Hyper Charge technology. You get the plug in the box and you can juice this phone back up to 100% in just 18 minutes in my testing. That's barely the time for a cup of coffee in the morning.
If you are out and about using your phone a lot, provided you're near a plug, then you can keep going for as long as you need.
Black Shark 4 Pro: Cameras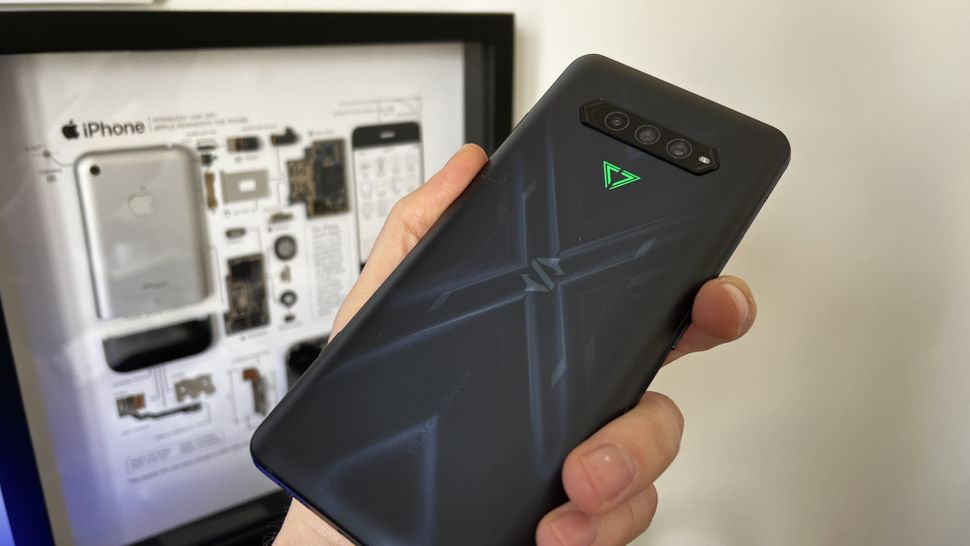 As with most gaming phones, Black Shark hasn't spent much time in this department.
The Black Shark 4 Pro packs a 64MP main camera with an f/1.8 aperture, an 8MP ultrawide with f/2.4 and a 5MP macro with f/2.4. Round front, you've got a 20MP selfie shooter with an f/2.45 aperture.
When it comes to phones primarily built for blistering gameplay performance, the photos are usually either really dull and grainy or really vivid but spongey with a lack of detail. Somehow, the 4 Pro manages to be both.
The main camera's color science is on the slightly cooler side with some exceptions being when the world's hue is significantly warmer like the light of a glowing orange sunset. In anything other than daylight, prominent noise starts to creep into darker parts of a picture.
Image 1 of 5
The ultrawide cranks up the color but with its detail lacking, produces quite a mushy photo with no real clarity when you zoom in. The front-facing camera is pretty good, though — 4-in-1 pixel binning the 20MP shot with decent HDR to make a balanced image. Just don't use the AI features, unless you want to look like a horrifying human/anime hybrid.
As for video, it is technically capable of shooting 4K, but really, you already know where this is going. The 4 Pro's camcorder capabilities are for family and friends scenarios only, and that may even be a bit of a stretch with the dull, noisey picture produced and the EIS turning everything into jelly the moment you move your hands.
Plus, as you may remember from my RedMagic 7 review, I declared that I would start to factor in default image watermarking into my phone scores. Black Shark (and by extension, Xiaomi) has tried to call my bluff and the 4 Pro suffers because of it.
In 2022, this is beyond unacceptable. Have watermarks off by default and I won't have to go on this crusade!
Black Shark 4 Pro: JoyUI 12.5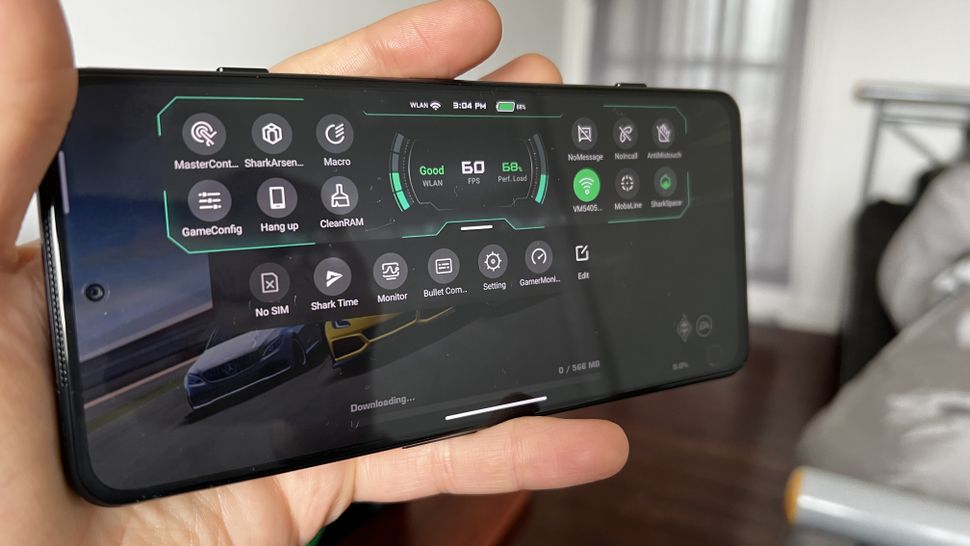 The gamer-ish look and feel is great for a small audience, but others may be looking for something that just isn't quite awkward to be caught with in public. You may need to do some work on removing some of these visual tweaks. Plus, you're stuck with Android 11 instead of the more recent Android 12 for now and so far, there's been no word on how many Android versions or security updates you will receive.
And finally, we've got to talk about Shark Chan. I understand Black Shark's intent to introduce a mascot/smart assistant and while anime is not really my thing, I can totally appreciate that the Shark Chan herself will have some fans.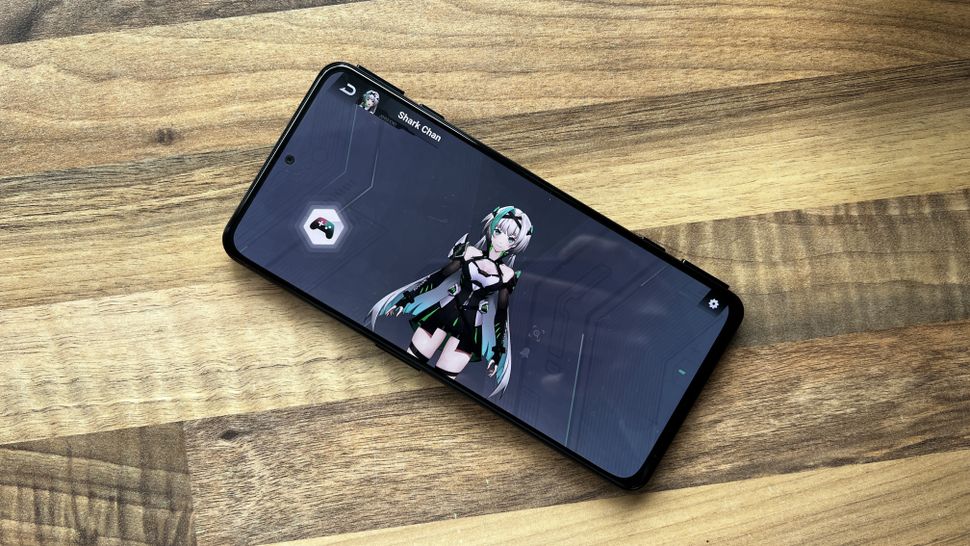 But the companion app opens with a screen where you can poke the mascot wherever with several heart-filled reactions and playful-sounding requests to "stop." There's a far better way of integrating a smart assistant than giving you a virtual being that you can touch, and it left me craving a shower given how creepy the whole thing was.
Bottom Line
The Black Shark 4 Pro is a good gaming phone for the price. The screen is gorgeous, the inclusion of physical shoulder trigger buttons improve your gameplay performance, and the 120W charging keeps you playing with very minimal interruptions.
It does fall into the same traps as other gaming phones, such as the battery is lacking, the camera is dull and hardware design is very much gamer-esque.
There is another problem. For $50 extra, you could get the RedMagic 7 with additional power and a faster display refresh rate, all of which is worth far more than that additional 50 bucks. But in picking that, you'll get 65W charging rather than the full 120W of the 4 Pro.
So, as a gamer, you need to ask yourself what's more important: better trigger buttons and faster charging, or faster internals and a slightly smoother screen? As someone who uses the GameSir X2, the on-phone buttons become redundant and I know I'd rather go for RedMagic's flagship.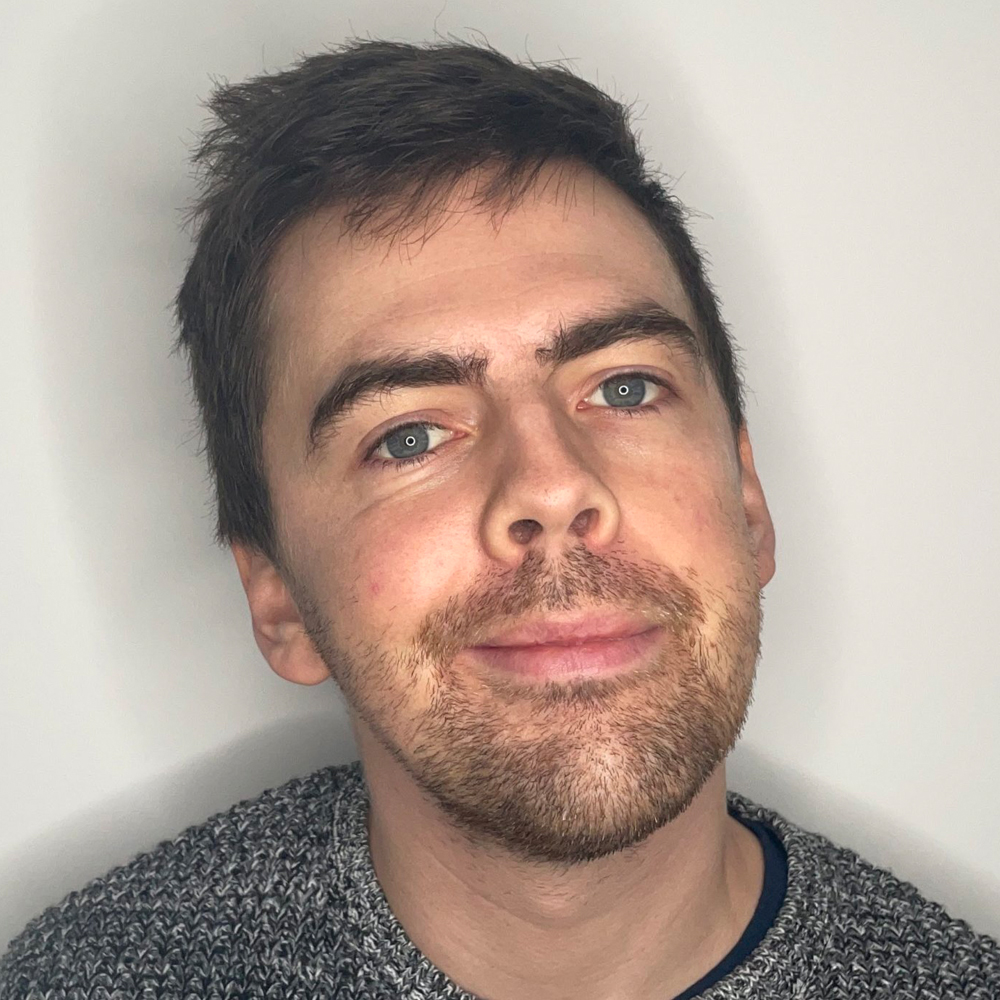 Jason brings a decade of tech and gaming journalism experience to his role as a writer at Laptop Mag. He takes a particular interest in writing articles and creating videos about laptops, headphones and games. He has previously written for Kotaku, Stuff and BBC Science Focus. In his spare time, you'll find Jason looking for good dogs to pet or thinking about eating pizza if he isn't already.