You can send HD photos on WhatsApp now, but what was it doing with your pics before?
Send small files or high-quality photos — you've got options now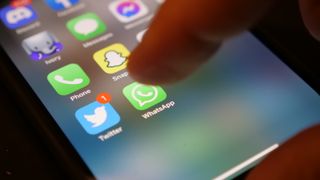 (Image credit: Laptop Mag)
As soon as you update WhatsApp, you'll have access to the app's latest feature: HD photos. This feature was first released a few months ago in beta, but Mark Zuckerberg's official announcement confirms it's now available to everyone. You'll have the option to send and receive photos with higher resolution and less compression.
Sending high-quality photos has been one of the biggest requests from WhatsApp users, especially since other messaging apps like Telegram and Signal allow users to HD photos. Although it took a while for WhatsApp to green light sending HD photos, we're happy to finally see the feature added.
What kind of pics were you sending before the HD update?
Before this update, when WhatsApp users sent photos to friends and family within the app, the image would automatically be compressed with a lower resolution. The result? A poor-quality image that almost didn't feel worth sending.
Meta previously explained that WhatsApp compressed images to save storage space and enable faster data transfer speeds. Now, the app still defaults to the Standard quality option that compresses the image, but WhatsApp users have the option to change to HD quality before sending an image. As an example, on a Samsung Galaxy S21 Ultra, the standard quality is 1080 x 1920 pixels and HD quality is the phone's native resolution of 2160 x 3840 pixels.
A lot of people have been asking for this one! You can now share your photos in HD. https://t.co/JxBlEc3vIJAugust 17, 2023
When you send an HD photo through WhatsApp, there will still be some compression, but the result will be much clearer than sending a standard photo. If you ever forget the difference between HD quality and standard quality in WhatsApp, the app shows the resolution for each mode when you tap on the HD icon and adds a reminder that reads "HD photos are clearer. Standard photos use less storage space and are faster to send."
Whether you snap a new photo or choose an image from your phone's library, any photo that can be sent in HD quality will show a bubble icon with HD in the center.
This HD icon can be found at the top of the screen once you've selected or taken a photo. Tapping on the HD icon opens up a short menu that lets you swap between Standard quality and HD quality. When you send or receive an HD photo in WhatsApp, the image will have an HD mark in the bottom left corner.
Meta has confirmed that WhatsApp users will also soon be able to send HD videos, but there's no clear public release date for this feature. In the meantime, be sure to check out this iOS 17 feature WhatsApp stole and executed perfectly or discover how you can read WhatsApp messages without the sender knowing.
Stay in the know with Laptop Mag
Get our in-depth reviews, helpful tips, great deals, and the biggest news stories delivered to your inbox.