TechRadar just got a huge makeover — and it's getting a lot more than just a visual glow up
TechRadar's relaunch is the first step towards a reader-focused Future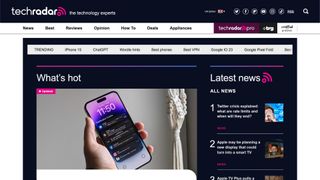 (Image credit: Future)
TechRadar, if you didn't know or notice already, is going through a bit of a glow-up of sorts — and it's more than just a funky redesign and a new marketing slogan. It's a push by digital publisher Future plc to make its sites a more reliable network of visitor-focused sites that promote trustworthy and relevant content for the mobile-first era.
You see, something is lacking out there in the digital ether: trust. As an industry, we may have done it to ourselves by pushing sensation and clickbait in an attempt to stay competitive amidst an ocean of publications, ever thirsty for the clicks and hits of an audience who react to shock and awe.
If we want to maintain trust with our audiences, we have to make certain that they know it's not about hocking them the latest uber-expensive laptop and hoping to get an affiliate kickback. Instead, it's about providing accurate insights to ensure they spend their hard-earned dollars in a way that won't leave them feeling cheated.
As such, the site you used to know as the "Source for tech buying advice," is now home of "The Technology Experts."
TechRadar: 15 years and counting
TechRadar has been providing its readers with news, reviews, and advice for the last 15 years. It's a funny turn of phrase, that. "The last 15 years." Of course, the phrase implies that we're talking about the most recent 15 years that have passed, but the other way of reading it is that we've reached the end of something. That maybe these 15 years were the last. It's a dour note, but it's one shared by many peddling the written word online.
It seems that the recent meteoric rise of AI has had more than a few of us unnerved about the stability of our profession. Both Google and Microsoft have developed generative AI to churn out algorithmically-sound buying guides and made efforts to divert your curious eyes from the middleman in your search results (while ironically harvesting all of the information the middleman provides without much in the way of credit).
So are we nearing the end of something? Has the digital publication's time in the sun come to an end? Is it time to call last orders and reminisce over the last decade and change while offering Future's flagship fanzine of tech a heartfelt golden handshake? Quite the opposite.
The last 15 years have been a blast, I'm sure. But if we're stepping into a brave new world, we need a brave new mentality, and that starts by fortifying the bridges between us and you — our readers.
A reader-first mentality
TechRadar's homepage has been overhauled to trial a newer, cleaner and improved user experience divided into comprehensible categories with a responsive layout that works great on mobile.
The brand is even overhauling its content with a range of recurring features to keep people coming back like Home Screen Heroes (focusing on the latest must-have apps), Smart Ideas (showcasing the best smart home tech there is), How To Choose (a buyer's guide for buyer's guides), The $20 Challenge (putting budget tech to the test), and ICYMI — a weekly briefing on everything you need to stay up to speed in the ever-changing world of tech.
These changes may sound daunting if you're a long-time TechRadar reader, but rest assured it's still the same fount of expertise it always has been — built and backed by over 300 years of human capital and experience. What's going on with TechRadar is less of a relaunch and more of a renewal of vows with its visitors. Promising to deliver the kind of advice, guidance, and content that readers can rely on for accuracy and honesty.
To further that mentality, TechRadar is also unveiling "Shop TechRadar, Shop Once," an initiative that reflects the confidence in the expert opinions and advice of its staff to deliver expert buying advice to visitors. TechRadar will also be offering readers a free "Ask An Expert" service to get one-to-one, tailored recommendations on products they're seeking out.
The next step in user experiences for Future-branded sites puts the reader in a place where they can trust the information they receive and make buying decisions with full confidence (e.g., knowing that their decisions are backed by the know-how of human expertise).
The only question that remains is…
Why should you trust sites like TechRadar and Laptop Mag?
Trust in the media is dipping to an all-time low — and I get it. If you'd have told me five years ago that one day I'd be writing from within a media publication myself, I'd have assumed you meant I'd be scrawling out a list of ransom demands after storming into the offices with a water pistol filled with hot sauce.
I always assumed that positions like this were far beyond my reach and that much of getting your foot in the door was who you know and not what you know. I also assumed that many of those high-scoring reviews had a little sweetening going on to keep manufacturers keen.
I guess you could say that I had a lot of assumptions. Like, how my first day on the job would be a blur of Adderall-fueled parties where everyone trades the phone numbers of adrenochrome suppliers and brags about the kickbacks received for shilling the latest aluminum-cased crap.
So imagine my disappointment when my first day ended and I didn't get so much as a whiff of a laminated invite to this year's Bohemian Grove — just a pretty run-of-the-mill 2020 Microsoft Surface Laptop Go as my work device and a "See you tomorrow." There were no backhanded deals to be made, no rules on keeping manufacturers happy, and no meetings about squeezing readers dry of every red cent.
Just some hard-working people who love tech. People just like you and I who are fortunate to get their hands on things early enough to recommend to you or warn you away from certain products. People with the same gripes about inflated prices, frustrating design decisions, and confusing business tactics as anyone else.
When I first landed this role, I promised myself I'd be nothing short of honest with the things I take on, be it reviews, buying guides, or opinions. When it came to sticking by those ideals, I only ever found myself in incredible company.
Just spare me any judgment from the occasional spicy headline; you've gotta have some fun on the job.
Stay in the know with Laptop Mag
Get our in-depth reviews, helpful tips, great deals, and the biggest news stories delivered to your inbox.
Rael Hornby, potentially influenced by far too many LucasArts titles at an early age, once thought he'd grow up to be a mighty pirate. However, after several interventions with close friends and family members, you're now much more likely to see his name attached to the bylines of tech articles. While not maintaining a double life as an aspiring writer by day and indie game dev by night, you'll find him sat in a corner somewhere muttering to himself about microtransactions or hunting down promising indie games on Twitter.