Google Photos updates means what's locked can't be lost (even for iOS)
Locked Folder doesn't mean Lost Folder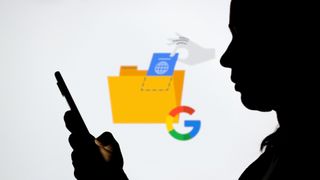 (Image credit: Laptop Mag / Rael Hornby)
Today, Google Photos expands upon its popular Locked Folder feature by adding the ability to back up your most personal snaps to the cloud even on IOS – free to be accessed by any of your devices with just your passcode.
Locked Folder has been a vital feature on Android for a number of years, allowing users to stash a selection of sensitive documents, keep their family snaps under lock and key, and, no doubt. ensure their tastefully taken body references images (wink wink nudge nudge) never see the cold light of day.
Google Photos: All your sensitive snaps, secure, safe, and saved
With just a passcode, all your personal snaps are locked up tight on Google Photos. However, they would be locked to the device you were using them on, which could lead to some awkwardness if you needed to retrieve that information to another device for whatever reason.
The new Cloud Backup update for Google Photos changes this, allowing you to upload your Locked Folder to the cloud, still secure and safe, but now easy to access by yourself from wherever you choose. Even if the original device used to create the locked folder is lost or damaged, you'll still have access to your stash of slides and shots safe and sound in your cloud-based strongbox.
Better still, it's not just Android users who can make the most of this new feature. Locked Folders and Cloud Backup will be rolling out to web and iOS users from today! Meaning even those on Microsoft or Apple's ecosystems can enjoy the additional security offered by Google Photos.
Outlook
The digital age has many a blessing, but security is always a vital aspect of how well a service can perform and be trusted – especially when it comes to storing your most personal and sensitive memories. Today's update bring a considerable boost to Google Photo's digital depository for all users concerned about the safety and preservation of their pics and vids.
Android, iOS, and web users will see these new updates begin to roll out from today, with all of the relevant changes appearing on a revamped Settings menu – easily broken down into Privacy, Backup, and Sharing sections to make any changes easy to manage and even easier to access.
For news, rumors, and updates on all things software, security, and tech, follow Laptop Mag on Twitter, Facebook, and Flipboard for the latest word as it arrives.
Stay in the know with Laptop Mag
Get our in-depth reviews, helpful tips, great deals, and the biggest news stories delivered to your inbox.
Rael Hornby, potentially influenced by far too many LucasArts titles at an early age, once thought he'd grow up to be a mighty pirate. However, after several interventions with close friends and family members, you're now much more likely to see his name attached to the bylines of tech articles. While not maintaining a double life as an aspiring writer by day and indie game dev by night, you'll find him sat in a corner somewhere muttering to himself about microtransactions or hunting down promising indie games on Twitter.